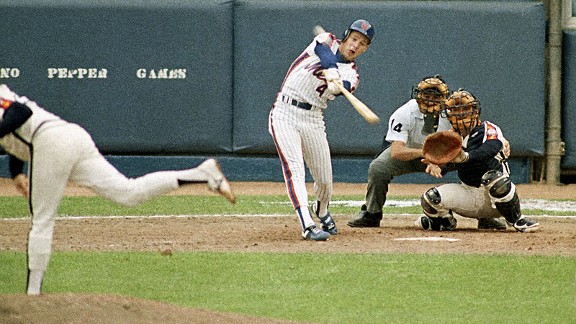 Richard Drew/A.P. Photo
The swing that gave the Mets a 2-games-to-1 lead in the 1986 NLCS.
Over the next three weeks, Mark Simon will reminisce here about the 1986 postseason, which ended in a Mets championship. Here's a capsule look at Game 3 of the 1986 NLCS, played on this date, 25 years ago
The Mets and starting pitcher Ron Darling spotted the Astros an early 4-0 lead, but true to the way the postseason played out, they would rally to win in dramatic fashion.
The Mets tied the game with a four-run sixth, evening things on a Darryl Strawberry three-run home run against Astros starter Bob Knepper. Strawberry was 3-for-22 in his career against Knepper (combining regular season and postseason) prior to the homer.
Winning HR in 9th Inning or Later
Mets Postseason History
The Astros took the lead with a run in the seventh, helped by an error by third baseman Ray Knight, which preceded a run-scoring force play. That lead held until the bottom of the ninth when a pair of mighty-mites would lead the way to a victory.
Scrappy second baseman Wally Backman led off the inning by bunting for a hit, sliding around the tag attempt from Astros first baseman Glenn Davis.
A passed ball advanced Backman to second. Danny Heep failed to advance the runner, flying out to centerfield, but 5-foot-10, 160-pound centerfielder Len Dykstra, inserted into the game after pinch-hitting in the seventh inning, rendered that moot, with a two-run golf-swing walk-off home run into the Mets bullpen to give the team an improbable triumph.
1986 NLCS Review
Turning Point
The Strawberry home run in the sixth inning was preceded by the break the Mets needed to get back into this game. After back-to-back hits by Kevin Mitchell and Keith Hernandez, Gary Carter hit a chopper that Astros shortstop Craig Reynolds butchered for an error, one that scored Mitchell. Strawberry hit a monstrous home run to right field on the next pitch
What They Wrote
"There is a doorway outside Shea Stadium marked "Midget Mets," but there is no truth to the rumor that it is Lenny Dykstra's private entrance"
-- Bud Shaw, Atlanta Journal-Constitution
"He uncoiled like Dave Parker, exhorted like Carlton Fisk, was mobbed like Bobby Thomson."
-- Mark Kreidler, Denver Post
"If the Astros recover from this, then they will have recovered from brain damage. For, painless though this defeat was for them physically, it had to be a railroad spike through the temple mentally."
-- Tom Melody, Akron Beacon-Journal
Quote of the Day
"I was saying to myself 'Lenny, PLEASE don't try to hit a home run.' Then I thought for a second and said, `Hey, OK, go for it."
-- Backman, Richmond Times-Dispatch
Further Reading
"When the ball took off, all I said was 'Maybe.' What else could I say? 'Maybe, maybe, maybe.' And my voice got higher with each one. Most of the time I can tell if a ball I hit is going out. But I haven't hit that many home runs that I can always tell. Straw can tell on his. He can just stand there and watch it go out. Me, I've got to get going and get to first base at least. I'd look pretty weak if I watched it and it hit the wall. So I headed to first, saying 'Maybe' and hoping 'Yes.'
"It was a 'Yes.' It was. A home run. We win. We win. Sweet, man. Sweet."
-- Dykstra to author, Marty Noble in their book recapping the season, Nails
For those that wish to read Dykstra's recap of the year (fair warning, the book is a fun read, but is "Rated R"), there are plenty of copies available online.
Stats To Remember
1-- This was the first time since postseason play began in 1903 that a player hit a walk-off home run with his team trailing. There have been two such home runs since this one- one by Kirk Gibson for the Dodgers against the Athletics in Game 1 of the 1988 World Series and one by Joe Carter to beat Dykstra's Phillies in Game 6 of the 1993 World Series.
Dykstra, who had eight home runs in 431 at-bats in the regular season, said afterwards that the last time he hit a game-winning home run in the ninth inning was while playing Strat-O-Matic against his brother.
2-- Dykstra did not close the regular season strong. In his last 46 games, he hit just .214 with two home runs.
3-- During the regular season, losing pitcher Dave Smith made three appearances against the Mets and allowed at least one run in each game. In those three games, he yielded five runs in three innings. Against the rest of the NL, he allowed just 12 runs in 53 innings.