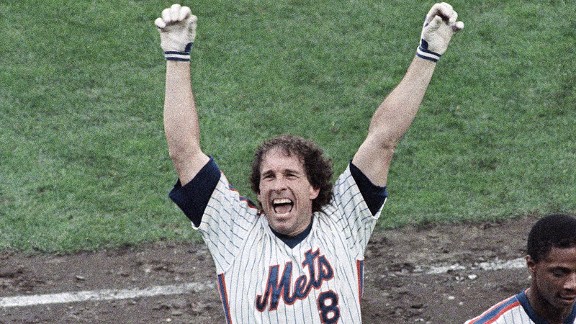 Lou Requenia/A.P. Photo
Gary Carter was a happy man moments after the hit that won Game 5 of the 1986 NLCS and took much of the pressure off Carter's shoulders.
Over the next three weeks, Mark Simon will reminisce here about the 1986 postseason. The 1986 Mets won the World Series in an exhilarating fashion. Here's a capsule look at Game 5 of the 1986 NLCS, played on this date, 25 years ago.
Game 5: Mets 2, Astros 1 (12 innings)
Game 5 of the 1986 NLCS was about as epic as last week's Chris Carpenter-Roy Halladay pitcher's duel, except that the winning team and losing teams each scored one more run on this day.
This was a matchup of the fireballer present against the fireballer past- 21-year-old Dwight Gooden against 40-year-old Nolan Ryan, made possible when rain postponed the game by a day, and Astros manager Hal Lanier elected to pitch Ryan on four days rest after initially planning to start rookie lefty Jim Deshaies.
Ryan pitched arguably one of the best games in postseason history. He struck out a pair of hitters in each of the first four innings and looked like someone for whom one run would be enough when the Astros touched Gooden for the game's first run in the top of the fifth.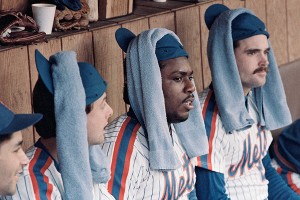 Ray Stubblebine/AP Photo
The Mets were big believers in the power of the rally cap in 1986.
But with one out in the home fifth, Darryl Strawberry put a blemish on Ryan's record with a line drive home run down the right field line.
The Mets would manage one more hit in regulation, putting two men on base in the seventh inning, but failed to score. Ryan allowed one run and two hits, striking out 12 and walking one in nine innings of work.
Meanwhile, Gooden got some key outs in big spots, the biggest being a line drive to left with a man on second and one out that left fielder Mookie Wilson turned into a double play.
For the first time in their three years together, manager Davey Johnson allowed Gooden to pitch into the 10th inning and Gooden survived a two-out rally by getting Billy Hatcher to fly to right field with two men on base. Gooden left after that, and to this day is the last National League starting pitcher to go at least 10 innings deep into a postseason game.
Both teams turned the game over to reliable relievers. For the Mets, that was Jesse Orosco, who got through both the 11th and 12th innings. For the Astros, that meant chunky, quirky, Jetsons-cartoon loving moundsman Charlie Kerfeld, who'd stirred the Mets up when, among other things, he made a behind-the-back snag of a Gary Carter grounder earlier in the series.
With one out in the 12th, Wally Backman reached on an infield hit, a grounder off the chest of Walling at third base. Kerfeld then made a mistake, throwing away a pickoff attempt, allowing Backman to go to second base.
Most Game-Winning RBI
Mets Postseason History
The Astros played for the double play, walking Hernandez to pitch to Carter, who was 1-for-21 in the series.
Carter's at-bat fit in perfectly with the epic nature of this game. He took three straight balls, then a strike, then fouled off the next three pitches, making pretty good contact. On the eighth pitch of the at-bat, he hit a hard grounder past Kerfeld and into centerfield. Backman beat the throw home easily and the Mets had a win, and a 3-2 series lead.
Turning Point
The Astros were deprived a second-inning run when first base ump Fred Brocklander called shortstop Craig Reynolds out at first base on an inning-ending double play with runners on the corners. TV replays showed Reynolds was safe.
What They Wrote
"They call him Kid. Not The Kid, or the Say Hey Kid. Just Kid. As in: `Kid was due.' As in: 'Kid loves the spotlight.' As in: `Kid was pressing, but he wants to be up there with the game on the line. And he's the guy we want up there.'''
To you, he's Gary Carter. In the New York Mets' clubhouse, he's Kid.
Kid is 32, pushing middle age on a baseball field, but teammate Darryl Strawberry, who's 24, will say:`Kid has come through for us all year.'
And he came through yesterday, but it was a near thing, and Kid, whose youthful exuberance got him his name, whose never-failing enthusiasm is legend, knew it better than anyone."
-- Mike Littwin, Baltimore Sun
Quote of the Day
"When I was standing there on second, Billy Doran told me, `The way Carter is swinging the bat, he's the last person I want coming to the plate right now."
-- Wally Backman
"In the at-bat before I said, `Yes, there is the old Carter swing," he said. "When you go into a slump it's that one at-bat where you hit the ball and you say that's me, that's my swing. I told him when he got back on the bench, you're back, you have to feel good about that."
-- Keith Hernandez
Further Reading
If you like websites that provide thorough reviews of a player's career, there is an outstanding one for Carter. Check out http://thekid8.com which contains a level of detail and tribute that show the impact that the Hall of Famer had on his fan base.
Stats To Remember
1-- Carter had six regular season walk-off hits in his career and in a neat twist, his first was against the Mets as a rookie against Mets pitcher Rick Baldwin on June 19, 1975, in the 13th inning of a 3-2 Expos win
2-- Bill James Game Score is a metric to measure starting pitcher performance, usually on a scale of 0 to 100, with 49 to 50 being average, and the rare game topping 90.
The stat is based on a pitcher's innings, runs allowed, hits, strikeouts, and walks.
Ryan's combination resulted in a Game Score of 90. There have been 21 postseason games in which a starting pitcher posted a Game Score of 90 or better. Game 5 of the 1986 NLCS is the only one in which that team's pitcher lost the game.
3-- Gooden and Carter teamed up for a big play in the sixth inning, with Carter throwing Kevin Bass out trying to steal second base. Carter threw out only six of 30 runners attempting to steal when Gooden, who had a very high leg kick, was on the mound during the regular season.