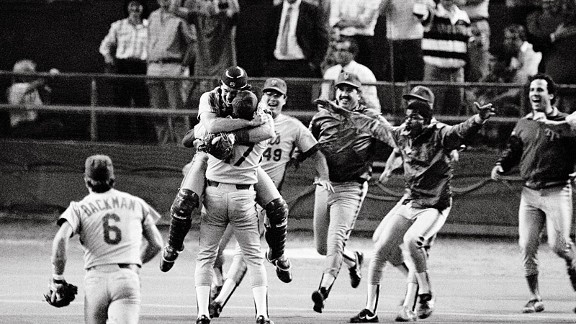 Mike Murphy/A.P. Photo
On this date 25 years ago, the 1986 Mets celebrated a National League championship.Over the next three weeks, Mark Simon will reminisce here about the 1986 postseason. The 1986 Mets won the World Series in an exhilarating fashion. Here's a capsule look at Game 6 of the 1986 NLCS, played on this date, 25 years ago.
NLCS Game 6: Mets 7, Astros 6 (16)
To the 1986 Mets, though this was only Game 6 of the NLCS, it felt like Game 7, with the unbeatable Mike Scott scheduled to pitch if the Astros could even the series at three games apiece with a win at home.
It took 19 pitches for the Astros to gain a three-run advantage on Mets starter Bob Ojeda in the first inning, and it looked like Astros starter Bob Knepper would make that lead stick.
1986 NLCS Game 6
By the Numbers
Knepper pitched arguably the eight best innings of his career, holding the Mets to two hits and no runs. Ojeda and reliever Rick Aguilera kept the game close, but the Mets still trailed 3-0 headed to the top of the ninth inning.
It was here that the team first stamped its legacy, with an improbable comeback to tie the score. Len Dykstra pinch-hit a leadoff triple on a 1-2 pitch, a ball that Astros center fielder Billy Hatcher didn't miss by much.
Mookie Wilson followed with a two-strike hit of his own, a smidge over the glove of leaping Astros second baseman Bill Doran. Kevin Mitchell grounded out, sending Wilson to second base with one out, but the heart of the Mets lineup was now up.
Keith Hernandez, aided by an in-game phone call to his brother, Gary, took the best swing any Mets player enjoyed that day, lining a double that scored Wilson and got Knepper out of the game.
The Mets' next two hitters, Gary Carter and Darryl Strawberry, both walked in seven-pitch at-bats against Astros reliever Dave Smith, loading the bases with one out.
Ray Knight followed with another tough at-bat, hitting a fly ball well enough to right center field to score Hernandez to tie the score, 3-3. Smith would escape the ninth without further scoring, though it took a nine-pitch strikeout of Danny Heep to survive still tied.
Extra innings were a game unto themselves. Reliever Roger McDowell got the Astros out in the ninth, and then from the 10th to the 13th and the Mets likewise failed to score in their turns.
They would strike in the 14th inning on a hit by Wally Backman that scored Strawberry. But two outs from elimination, the Astros struck back when Hatcher's fly ball down the left field line stayed fair, hitting the foul pole to tie the score, 4-4.
In the 16th, the Mets scored three runs on RBI hits by Knight and Dykstra that were sandwiched around a run-scoring wild pitch.
Mets announcer Bob Murphy described the bottom of the 16th inning as "heart-stopping baseball, pulsating baseball." It was nearly disastrous for the Mets.
A walk and two hits scored a run with one out, cutting the Mets' lead to 7-5. Then, on a play often overlooked, Jesse Orosco induced a force out at second base, when Keith Hernandez made a daring throw to second on Denny Walling's ground ball.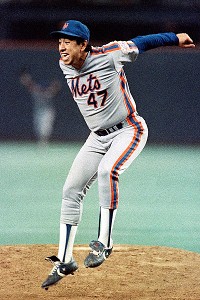 Mike Murphy/A.P. Photo
To say Jesse Orosco was excited after the game's final out was an understatement.
That gave the Astros runners on first and third with two outs, instead of second and third, and when Glenn Davis singled, only one run scored instead of the two that would have tied the game.
The contest came down to Orosco against Astros right fielder Kevin Bass, with the tying and winning runs on base.
"I was ahead 1-2 and I knew he was looking for a breaking ball," Orosco said on Friday. "I tried to snap it harder, and it missed away. The 2-2 pitch to Bass was close to a strike. I just missed the outside corner with it. On 3-2, I knew I had to throw something he would want to swing at. Sometimes a hitter gets antsy when they know a breaking ball is coming."
Orosco threw a slider that was tempting enough for Bass to swing … and miss. The strikeout gave the Mets the pennant and left Mets fans completely mesmerized by what they'd seen.
Turning Point
Smith missed the outside corner by a hair with his 1-2 pitch to Knight in the ninth inning. That would have been the second out and the Astros would have been up 3-2 with the bases loaded, but just one out from victory.
Instead, Knight fouled the next pitch off, then hit Smith's sixth pitch of the at-bat for the game-tying sacrifice fly.
What They Wrote
"This was Da Vinci on the diamond; baseball's version of Bach; Shakespeare performed with strikes and singles. Game 6 of the National League Championship Series was a classic, destined to hold a special place in the annals of baseball's most dramatic performances."
-- Mike Barnes, UPI
"Through the regular season they wore like a badge names such as bullies, tough guys, conceited folks who were as ruthless as the city from which they come, New York. There are, however, a few more monikers befitting the 1986 Mets. Label them tenacious. Call them a team on a mission. And, yes, term them winners."
--W.H. Stickney Jr, Houston Chronicle
Quotes of the Day
"I don't have any idea what it must have been to watch, but I'm a fan. I might have had a heart attack, might have had more than one."
-- Mets second baseman Wally Backman
"It does feel like 25 years, but it also seems like not so long ago. It's funny, at this time of year, it comes up all the time. My friends try to do something to celebrate like the way I did."
--Orosco, remembering the final out
Other Memories
On Oct. 15, 1986, this author, then a nerdy 11-year-old Mets fan living on the Upper East Side of Manhattan, abided by his mom's desire for him to attend Hebrew School that afternoon, rather than stay home and watch the final innings of regulation of Game 6 of the 1986 NLCS between the Mets and Astros.
Inside the Series
Mets win NLCS, 4-2
The feeling then was that I would get more out of learning about my religion than watching a baseball game. I wasn't so sure.
Thankfully, the good folks teaching sixth grade at Temple Shaaray Tefila on 79th Street (a man named Stephen and a woman named Nancy) provided a rescue of sorts. A little after 5 p.m., Nancy brought her class in to meet with our class for a group project. But she brought something else: a portable radio.
The "group project" turned into both classes listening to the Mets make their ninth-inning comeback, with students taking turns posting at-bat-by-at-bat updates on the chalkboard. It was exciting, nerve-wracking and intense, though I do recall some of the girls in the class wondering why some of the boys were so nervous.
Scenes like this were playing out all across New York City that day. The 1986 Mets highlight video, "A Year To Remember" shows one group following the game in Grand Central, living and dying with the anticipation of each pitch.
This fan bought the audio tape of the game and eventually wore it out from listening to the ninth inning, over and over again. Some of my high school cllassmates listened to music to psych themselves up for big exams, such as the SATs. I had Mets announcers Bob Murphy and Gary Thorne rocking and rolling through the ninth inning. My college admissions essay subject was always "The Power of Game 6."
Whatever their off-field faults, the 1986 Mets were an inspirational baseball team. This was the first of two rallies that postseason that impacted the baseball-watching lives of thousands upon thousands of Mets fans in my age range.
It made them believers. Even when the baseball circumstances were at their worst, there was always this game and Game 6 of the 1986 World Series to look back upon and say "Never give up. This could always be like 1986."
• • •
Greg Prince of the Mets blog Faith and Fear in Flushing has an entertaining story of what the experience of watching Game 6 of the 1986 NLCS was like for him and a few others of note.
Bass was a good sport many years later when asked about the game's final at-bat. He shared his story with members of the Society for Baseball Research last year in Houston.
The website Ultimate Mets Database collects stories and fan memories from every Mets game. This page has a variety of memories from fans sharing their recollections.
Stats To Remember
1-- Via the Elias Sports Bureau, the 1986 Mets are the last team to come back to win a postseason game in which it trailed by at least three runs in the ninth inning or later. In fact, it only happened twice previously, both in Games 4 and 5 of the 1986 ALCS between the Red Sox and Angels.
2-- Only three players have had a game-tying or go-ahead RBI in the ninth inning and then a game-winning RBI in extra innings of a postseason game. Dave Henderson did it three days before Knight, for the Red Sox against the Angels, in Game 5 of the 1986 ALCS.
The other player to do it was Hall of Famer Roberto Alomar in Game 4 of the 1996 ALDS for the Orioles against the Indians (coincidentally, one of Alomar's teammates that season was Orosco).
3-- McDowell is the only pitcher in postseason history to throw at least five innings of relief in a postseason game, in the ninth inning or later, without allowing a run.
4-- Twenty five years later, Orosco remains the only pitcher in postseason history to win three games in relief in the same series.