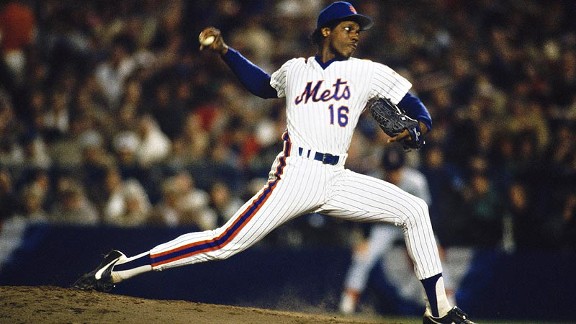 Focus On Sport/Getty Images
Dwight Gooden's performance in Game 2 of the 1986 World series did not live up to expectations.Over the next week, Mark Simon will reminisce here about the 1986 postseason. The 1986 Mets won the World Series in an exhilarating fashion. Here's a capsule look at Game 2 of the 1986 World Series, played on this date, 25 years ago.
Game 2, Shea Stadium: Red Sox 9, Mets 3
There was great anticipation of the matchup in Game 2 of the 1986 World Series between Dwight Gooden and Roger Clemens, with baseball experts labeling it a once-in-a-generation meeting of the two best young pitchers in baseball (Gooden won the NL Cy Young in 1985, Clemens won the AL MVP in 1986). But the game itself was a dud, an easy Red Sox win that put them up 2-0 in the World Series.
After not allowing a hit through the first two innings, Gooden ran into trouble, partly due to an error by Gold Glove first baseman Keith Hernandez. The top three hitters in the Red Sox lineup -- Wade Boggs, Marty Barrett and Bill Buckner -- each followed with RBI hits to give the Red Sox a 3-0 lead.
Most Hits Allowed
Postseason Game, Mets History
Gooden tried to make up for matters with a bunt hit in the bottom of the third, and the Mets scored twice that inning, on RBIs by Wally Backman and Hernandez to make it a one-run game. But Boston countered with a home run by Dave Henderson in the top of the fourth and a two-run blast by Dwight Evans in the top of the fifth, giving them a 6-2 lead.
Though Clemens was pulled after getting into a fifth-inning jam, the Mets could not mount enough of a comeback. Meanwhile, the Red Sox kept pounding Mets pitching. They had what was then a postseason single-game record (since broken by the 1993 Blue Jays) 22 at-bats with runners in scoring position. They cashed in for three more runs, then used reliever Bob Stanley to close out the last three innings of their 9-3 triumph.
Turning Point
In the bottom of the fourth, with two on and two outs, Gooden grounded out, keeping the Mets' deficit at 4-2. Two batters into the top of the fifth inning, after Evans homered, it was 6-2 and the Mets were all but done.
What They Wrote
"Gooden vs. Clemens, the dream matchup of the '80s, left something to be desired in its execution.
"And speaking of executions, the Mets are on the verge of using up all of their appeals. They are coming perilously close to discovering that their only alternative is whether or not they want blindfolds."
-- Sheldon Ocker, Akron Beacon-Journal
"Now, maybe only a classic Red Sox collapse can keep Boston from winning the World Series."
-- Ben Walker, Associated Press
Quote of the Day
"Someone asked me if we would have been happy with a split in New York. The answer is no. After we won the first game, we wanted to fight and scratch and kick and punch to win the second."
-- Red Sox rightfielder Dwight Evans
Further Reading/Viewing
Let's remember the Mets' better times, and what better way to do that with a bizarre rap song created in the 1980s to honor the Mets team -- Get Metsmerized.
Stats To Remember
1-- Only once in postseason history prior to 1986, had a team come from behind to win a series after losing the first two games at home. That happened the year prior in the 1985 World Series, when the Royals rallied from a 2-0 series deficit to beat the Cardinals in seven games.
2-- Gooden's six runs allowed match the most allowed by a Mets pitcher in a postseason game, tying some pretty good Mets-- Jerry Koosman (1969 NLCS Game 2), Sid Fernandez (1988 NLCS Game 5), Ron Darling (1988 NLCS Game 7), and Bobby Jones (2000 NLCS Game 4).
3-- The 18 hits allowed are tied for the sixth-most allowed in a World Series game. That Mets pitchers struck out 12 is unusual. In postseason history, they're the only team to allow at least 18 hits and record at least 12 strikeouts in a game.
It's a combination done only once in a nine-inning game in the Mets 50-year regular season history, against the Reds on April 29, 1978.
The Red Sox could easily have whiffed more. Mets pitchers gave up five hits on 0-2 counts in this game.