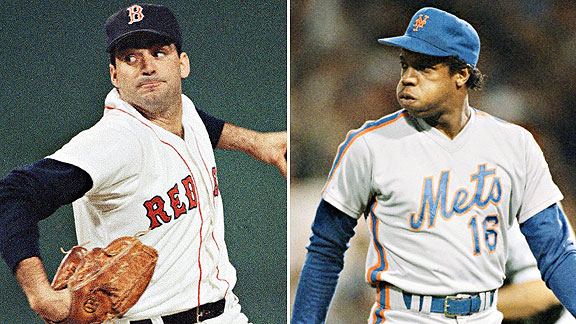 A.P. Photos
Why did the Red Sox win Game 5? Because Bruce Hurst (left) rose to the occasion against Mets ace Dwight Gooden (right).
Over the next few days, Mark Simon will reminisce here about the 1986 postseason. The 1986 Mets won the World Series in an exhilarating fashion. Here's a capsule look at Game 5 of the 1986 World Series, played on this date, 25 years ago.
Game 5, Fenway Park: Red Sox 4, Mets 2
Red Sox lefty Bruce Hurst proved to be every bit the problem in the World Series that Mike Scott was for the Mets in the NLCS, minus any accusations of scuffing the baseball.
Hurst's win in Game 5 put the Mets on the brink of losing out on what they thought was meant to be their championship.
Mets starter Dwight Gooden was fortunate to escape the first inning undamaged, getting out of a bases-loaded jam via a Dwight Evans flyout.
He wouldn't be as fortunate in the second as Dave Henderson tripled with one out (helped when rightfielder Darryl Strawberry couldn't come up with the ball and centerfielder Lenny Dykstra fell down on the warning track) and Spike Owen drove him in with a sacrifice fly.
Evans added to that lead with a two-out RBI single in the third inning, a run made possible by a Rafael Santana error on a ground ball.
The Red Sox tacked on two more runs in the fifth, chasing Gooden with a triple from Jim Rice and back-to-back singles from Don Baylor and Dwight Evans. Henderson's double brought in Boston's fourth run.
Reliever Sid Fernandez was able to stall the Red Sox offense after that and the Mets managed a late comeback after doing little against Hurst through the first seven innings.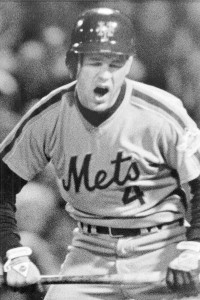 Dave Tannenbaum/A.P. Photo
Lenny Dykstra was frustrated by the Mets results in Game 5.
Tim Teufel homered in the eighth to cut the Red Sox lead to 4-1 and a two-out single by Rafael Santana in the ninth inning made it a two-run game and brought the tying run to the plate in Len Dykstra.
The Red Sox had griped during the series, wondering as the Astros did if Dykstra was using a corked bat. But Hurst made sure Dykstra wouldn't make contact on a two-strike fastball up around the eyes, one Dykstra whiffed on with a meek checked swing to end the game.
Turning Point
With two on and one out in the visiting third, with the Mets down 1-0, fly balls by Teufel and Keith Hernandez into a stiff New England wind were caught in left field by Rice. The Mets missed out on an early chance to score, and the Red Sox had the game's momentum the rest of the way.
What They Wrote
"Perhaps the most noteworthy development of Game 5, however -- even more so than Smokey Robinson's two-minute, 30-second rendition of the National Anthem (just seven seconds shy of the record held by Jose Feliciano) -- was another failure by Dwight Gooden.
"Remember Dwight Gooden? Dr. K? It seems like only yesterday when he was baseball's latest prodigy.
"Now, at the tender age of 21, he has become just another pitcher who can be beaten."
-- Rick Talley, Los Angeles Daily News
"One of the hottest plays on Broadway right now is 'The Mystery of Edwin Drood.' But without a doubt, the hottest subject in all five boroughs of New York today is the mystery of Dwight Gooden. It is a tragedy of Shakespearean proportions whose latest act was played out Thursday night at Fenway Park. And when the curtain fell on Game 5 of the World Series, Hamlet had nothing on Gooden in the problem department."
-- Fran Blinebury, Houston Chronicle
Quote of the Day
"It seems like there's divine intervention from somewhere. Being able to come back when we were down to our last strike, our last swing, well, there must be a reason. I think we have to win it. If you sat down and told this story, I don't think anybody would believe it."
-- Red Sox DH Don Baylor
Stats To Remember
1) Hurst dominated the Mets in the regular season as well. He would go 9-1 against them in his career, including 4-0 with an 0.51 ERA and three complete games in 1992. His .900 winning percentage is tied with Wade Blasingame for second-best against the Mets, trailing only Larry Jackson, who was 21-2 (.913 winning percentage) against them for his career.
2) Gooden made nine postseason starts in his career without winning one, the most starts by a pitcher who failed to win a postseason game. Gooden is also one of only two pitchers in major league history to go 0-3 in the postseason for a team that won the World Series. He's joined by Jack Morris of the 1992 Blue Jays.
3) Fernandez foreshadowed his appearance in Game 7 of the World Series by pitching four scoreless innings in relief in this one. Only one pitcher has thrown four scoreless relief innings in a World Series game since -- Kirk Rueter for the 2002 Giants.