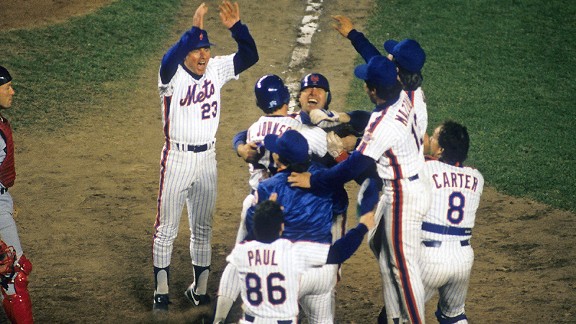 Focus on Sports/Getty Images
The Mets weren't the only ones jubilant when Ray Knight scored the winning run in Game 6 of the World Series.
We asked Mets bloggers, a couple of our ESPN friends and an ex-Mets employee to reminisce about Game 6 of the 1986 World Series. Feel free to share your stories in the comments section below.
Michael Baron, Metsblog
October 25, 1986 was my mother's 41st birthday, so my father was obligated to take her out for dinner rather than go to the game. Instead, he sent me with my cousins to Game 6 of the World Series, which I knew was do-or-die.
We were seated in our usual Loge Box 472A at Shea Stadium, the first box in fair territory in left field. It was an emotional night through nine innings, but as Dave Henderson's go-ahead home run hit the scoreboard just beneath us in the tenth, I had never heard Shea grow so quiet. However, just a few minutes later, I had never heard Shea roar so loud.
When Bob Stanley knocked Mookie Wilson down and Kevin Mitchell scored the tying run, strangers around us were yelling, screaming and hugging. By the time that little roller squeaked through Bill Buckner's legs, those same strangers began to kiss each other.
From those seats, it was hard to see the ball roll through Buckner's legs, but as the Loge began to shake and the roar of the fans grew to the loudest I had ever heard in that building, all this six year old knew was something extraordinary had happened and the Mets were playing tomorrow.
Linda Cohn, ESPN anchor
Did I really think the Mets were going to do the unthinkable as I sat on my couch in my home in Astoria, Queens?
Yes, that's where I was. Astoria, Queens, located just minutes away from Shea Stadium. Don't get me wrong. I didn't give up. I didn't shut off the television. Hey, no matter how bleak I never shut off a game that involves one of my teams when there is always a chance.
I'll always remember my doubt and disappointment disappear when that ball went through the wickets of Buckner. So much for sitting on my couch. I jumped straight up and neighbors dropped by to peel me off the ceiling.
Down By 2+, 2 Outs, 0 On
9th Inning or Later, Mets Rally to Win
Taryn Cooper, KinersKorner
I just remember sitting at the edge of my mom's bed, watching the end of the game. I was 10 years old, my dad was actually AT the game, and my mom was sleeping or at least trying to (she's not a sports fan).
I was in charge of taping the games on the old VHS recorder, and I usually edited the commercials. Of course, I was in shock after the Red Sox took a 2-run lead, I forgot to reset the tape! I realized it after the rally had taken charge, then of course, the end. I was 10, so a lot of this was a daze. But I do remember that my dad called my mom a little bit later, to tell her he had met some people at the game who couldn't make Game 7, but had four tickets.
Guess who was going to Game 7? **THIS CHICK!!**
Dennis D'Agostino
I was the assistant PR director for the Mets then.
When Henderson swung and the ball passed over the infield, I knew it was gone and I remember saying to myself, "Hit something! Hit a plane, hit a bird (this was a year before Dion James did hit a bird!), hit something!!" What it hit, of course, was the Newsday sign beyond the left field fence.
When I got down there, Rick Cerrone of the Commissioner's Office called down to the clubhouse phone (remember, no cell phones, e-mails, text messages, Tweets or twits back then) and said that we were to bring Davey Johnson into the interview room as fast as possible (while the Sox were still celebrating), and that would take care of our interview room obligations (in other words, no players). Then the Sox would take it over.
I distinctly remember that when Gary Carter came up I remembered thinking that if there is a God in heaven that He won't allow this guy, who played so hard and waited so long, to make the last out.
I think the whole Kevin-Mitchell-in-the-clubhouse thing is a bit overblown. Mitch WAS in the clubhouse, but if you watch the tape he's on deck during Carter's at bat, so it wasn't like they had to hold up the game to go look for him.
What I will remember most of all was the scene in Davey's office when Keith Hernandez came in after making the second out -- Jay Horwitz was sitting in front of the big TV set, cross-legged on the floor. Keith was behind him in the blue Adidas director's chair, a Budweiser in one hand and a cigarette butt in the other.
Charlie Longo, one of our clubhouse kids, was sitting at Davey's desk. Darrell Johnson, the old Red Sox manager who was now working in our minor league department, was sprawled on the couch.
I was hovering in the doorway. I saw the wild pitch (soundless) on a little monitor outside near the big bat rack, then raced into Davey's office to see Keith and D.J. hugging and motionless in front of the TV, with me, Jay and Charlie jumping and screaming.
Then the phone rang again and it was Cerrone, this time screaming, "Mookie and Knight [in the interview room] if you win!!"
The rest, as they say, is history.
Howard Megdal, Lower Hudson Mets Blog
At age six, I actually saw Game 6 about 12 hours after everyone else. At my mother's behest, I was sent to bed while my father recorded the game on our VCR.
Remembering the 1986 World Series
Obviously, I couldn't wait to see it in the morning, and he couldn't wait to show it to me. Two days later, I got to stay awake on a school night and see the Mets capture their last World Series championship. I still remember racing with my father up to their bedroom, jumping up and down and screaming to wake my mother. I like to think my daughter and I will do the same thing to my wife someday.
Greg Prince, Faith and Fear in Flushing
When Backman led off, I was filled with hope. He was Wally Backman, .320 hitter, and I trusted him to start a rally. After Backman made out, I remained filled with hope because Keith Hernandez was up and I couldn't imagine Keith not coming through in a desperate situation. When he made out, I gave up.
When Carter got his hit, I refused to believe it was anything more than a tease. When Mitchell got his hit, I thought it was just cruel to keep the tease going. I didn't buy into anything until Knight's hit, because I assumed Knight was going to revert to his 1985 self (.218) and make the last out.
When he didn't, I was fully invested in the possibility the Mets could come back, but I also decided Mookie Wilson was going to let me down in some kind of cosmic throwback to his rookie year when I waited for him to become the kind of player Tim Raines was and all he turned out to be was Mookie Wilson. While my dark cloud of foreboding grew ever wider, Mookie jumped out of the way of Bob Stanley's pitch, the game was tied, and I fully stopped expecting the worst.
For a fan who subscribed heart and soul to "You Gotta Believe," it took total apostasy toward the Mets' creed to find myself a born again believer.
Gus Ramsey, ESPN producer
I watched the game in the common room of my dorm at Rollins College.
When Mookie was up I remember saying to my roommate, and fellow Strat-O-Matic baseball player, Troy, "We really need a catch-x (Strat-O-Matic for potential wild pitch or passed ball) here."
And moments later Stanley threw the wild pitch.
Then when the ball went through Buckner's legs I jumped up and ran circles around the common room with my arms in the air.
I still get goosebumps and giggle whenever I see that moment.
Shannon Shark, Metspolice
My friend Jim and I used to call each other the second the other guy's team was eliminated. Islanders/Rangers or Mets/Yankees.
I watched the first 9.5 innings in the living room with my dad, and then went into my bedroom to be depressed and wait for the call. It never came.
The next day Jim told me he had my phone number dialed except for the last digit.
Matt Silverman, MetSilverman.net
I had used the last of my savings to travel to New York from college in southwestern Virginia for the NLCS and the first two games of the World Series. Broke and preparing to be broken hearted, I sat in my friend's dorm room at Roanoke College in the bottom of the 10th inning, trying to think how I was going to make good on previously friendly bets I had defiantly doubled after the Mets went down two games to none.
Then bing, bam, boom, Kevin Mitchell scored on the wild pitch to tie it. Having grown up with the Mets in the 1970s, I knew that thoughts of impending victory usually resulted in crushing anguish. So I concentrated on Mookie Wilson. I'd always liked Bill Buckner as a Cub, but I liked him more on the Red Sox that evening.
Mike Silva, New York Baseball Digest
I fell asleep during Game 6 of the 1986 World Series. I woke up to hear my dad throw his Mets hat across the living room and talking to my mom about how they blew a great season. I was in that half asleep/half-awake mode, but the next thing I know is I hear my dad jumping after the Buckner error and saying "hello, Oil Can Boyd" after the play.
I can remember laying in bed and listening to my dad's emotions of the moment. I was just getting into baseball and that playoff run was what got me into the game.