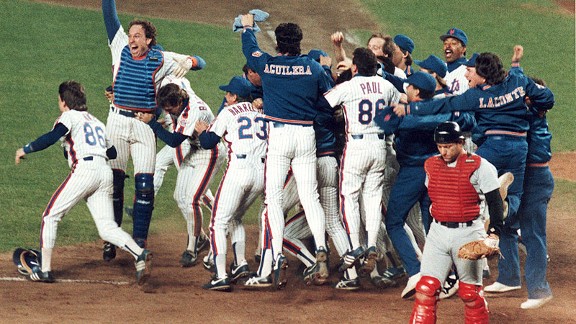 Focus on Sports/Getty Images
Rich Gedman (front right) is the picture of Red Sox despair as the Mets celebrate the most improbable win in team history, a 6-5 triumph over the Red Sox in Game 6 of the World Series.Over the last three weeks, Mark Simon has reminisced here about the 1986 postseason. The 1986 Mets won the World Series in an exhilarating fashion. Here's a look at Game 6 of the 1986 World Series, played on October 25, 25 years ago.
"I'm sitting here and I still don't believe it."
That's what Hall of Fame-honored sportswriter Bus Saidt wrote to open his story for my former employer, the Trenton Times, and it still holds true 25 years to the day after the most remarkable, unbelievable and amazing of the Mets' 3,854 regular-season and postseason wins. Let's review all that went into the greatest game of the greatest season in Mets history.
Game 6, Shea Stadium: Mets 6, Red Sox 5
Game 6 of the 1986 World Series began as Game 6 of the 1986 NLCS did, with Mets starting pitcher Bob Ojeda on the ropes early.
He allowed a run in the first inning on a two-out double by Dwight Evans that hit the top of the fence in left center and a run in the second on a two-out RBI single to left field by Marty Barrett just in front of Mookie Wilson.
The lead could have been bigger. Evans' ball hit the top of the fence. Had it gone over, it would have been a three-run homer instead of a single-run double. In the second inning, a catch by backpedaling right fielder Darryl Strawberry on Bill Buckner's fly ball to right field saved two more runs from scoring.
As Vin Scully pointed out on NBC's telecast, there had not been a come-from-behind win in the World Series yet. With AL MVP Roger Clemens on the mound for the Red Sox, that stat hung over the Mets through the first four innings, in which they were hitless.
But Ojeda settled down, as he did in Game 6 of the NLCS, and that kept the Mets in the game.
They would rally to tie in the fifth inning. Strawberry walked, then stole second and Ray Knight's single past Clemens into center field on a 2-2 breaking ball brought Strawberry home.
Wilson then had a great at-bat after falling behind 0-2. He took two balls well out of the strike zone to even the count, than fouled two off before hitting a breaking ball into right field for a hit. When Evans bobbled the ball, Knight went to third base.
That turned out to be huge, because it meant he could score to tie the game rather than just advance to third when pinch-hitter Danny Heep grounded into a double play
Hernandez made a nice play on a Clemens bunt to get a force play that thwarted a Red Sox threat in the sixth. The Mets then left runners at the corners in the home sixth when Clemens struck out Mets catcher Gary Carter with a nasty fastball on the outside corner and got Strawberry to ground out.
In the seventh, the Red Sox took the lead partly thanks to Knight's throwing error at third base, which put runners at first and third with one out (instead of having a man on second with two outs). On a 3-2 pitch, with Jim Rice running on reliever Roger McDowell's delivery, Evans grounded out. The Mets were unable to get a double play, allowing a run to score and Boston to take a 3-2 lead.
The Red Sox had a chance for another run, but Wilson threw Rice out at the plate on Rich Gedman's hit to end the inning.
Clemens got through the seventh, but was pinch-hit for in the eighth inning with the Red Sox threatening (he'd exceeded 130 pitches by this point and there is controversy over whether Clemens asked out due to a blister, or was removed by manager John McNamara). The Red Sox had another chance to add to the lead, but Jesse Orosco got Buckner to fly out to end the eighth.
Walk-Off Wins
Mets Postseason History
Trailing by a run with six outs left in their season, the Mets rallied. Lee Mazzilli got a two-strike single and was safe at second when Red Sox reliever Calvin Schiraldi's throw on Lenny Dykstra's bunt couldn't be handled cleanly by Red Sox shortstop Spike Owen. Wally Backman advanced the runners to second and third with a sacrifice bunt.
An intentional walk to Keith Hernandez loaded the bases for Carter, who took three balls, then lined to deep enough left to plate Mazzilli with the tying run. Strawberry flied out to leave the teams tied heading to the ninth.
After Gedman's double play ended the Boston ninth, the Mets had a great chance to win in the home frame, putting the first two men on base (after Boston botched another bunt). But Howard Johnson failed on his first bunt attempt, then struck out. Mazzilli and Dykstra both flied out to send the game to extra innings.
Red Sox center fielder Dave Henderson, whose home run in Game 5 of the ALCS helped the Red Sox overcome a 3-1 deficit against the Angels, got a low fastball to his liking from reliever Rick Aguilera and pounced on it, crushing it for a home runjust below the loge seats in left field.
The Red Sox tacked another run on at the end of the inning when Wilson misjudged Wade Boggs' two-strike liner to left, which turned into a double, and Boggs scored on Barrett's full-count single (Barrett was 10-for-14 in the series with men on base). That made it 5-3 and put the Red Sox within half-an-inning of their first championship since 1918.
The only solace a Mets fan could take at this point, with the season three outs from devastating completion, was that the team had the 2-3-4 hitters up in the bottom of the 10th. But when Backman popped to left and Hernandez skied to center, it looked like the Mets were done for the year.
3 Outs From Postseason Elimination
Rallied to Win World Series
"Everybody sitting very quietly in that New York Mets dugout," said Mets radio announcer Bob Murphy, "hoping against hope that something will start to happen."
The public address system played "Charge!" as Carter came to the plate and, perhaps overeager, Carter popped the first pitch foul, but it went out of play behind home plate. Schiraldi then missed up-and-in with one fastball and down and away with another. On his 2-1 offering, Carter slammed the pitch into left field for a hit.
Kevin Mitchell came up as a pinch-hitter representing the tying run. He started to swing at an inside fastball checked it and fouled it off. Schiraldi then went to a curveball away and Mitchell whacked it to center for another hit.
With two men on, the Mets had some life, and had one of their best clutch hitters up in Knight, who took a fastball down the middle for a strike, then hit a slow roller down the third base line that Boggs let roll foul.
The next pitch is an oft-forgotten one in the grand scheme of what happened, but the results were impressive. Schiraldi threw a tailing fastball, that came inside but Knight adjusted, curled his back foot, and got just enough of the good part of the bat on the ball to muscle it into shallow center for a hit, allowing Carter to score and Mitchell to advance to third base.
With the Red Sox lead now a run but still just an out from victory, McNamara pulled Schiraldi for Bob Stanley, with Wilson at the plate.
Wilson fouled off the first pitch solidly, than took a fastball wide for ball one and another high for ball two. Wilson fouled the next pitch off his foot, to put Boston within a strike of the title. He fouled the next pitch straight down into the dirt, and another foul behind the plate on a pitch away.
Stanley reversed course on the next pitch and tried to come inside, but came too far inside. Gedman, the catcher, reached for the ball, but never moved his body to block it as Wilson leapt to avoid it, and the ball went to the backstop. Mitchell came racing home with the tying run.
Wilson fouled the next two pitches off and the Mets were fortunate on the last of those, because according to TV analyst Joe Garagiola, had Stanley tried for a pickoff at second base, he'd have had Knight out easily.
Instead came the 10th pitch of the at-bat, one that Wilson was able to roll along the first base line. The ball trickled to Buckner at first base, but then bounced right through his legs for the most infamous miscue in sports history. Knight leapt on the plate with the winning run.
As Scully noted they were "not only alive, they are well" and they would be playing the Red Sox in a Game 7 for the championship.
Turning Point
There were so many turning points in this game, and we were able to document most of them above, but there were also a couple of bad karma moments of which you may not have been fully aware.
The more well known of them is that McNamara didn't bring Dave Stapleton in to play first base in the bottom of the 10th inning. Stapleton, a far better and far healthier defender than Buckner, had relieved Buckner at first base in all seven of the Red Sox postseason wins.
McNamara had the perfect opportunity to do so after Buckner grimaced when hit just below the belt buckle by a pitch in the top of the 10th, but chose not to make the switch.
Interestingly, Buckner was left in to play first base in the ninth inning of Game 4 of the ALCS, with the Red Sox leading the Angels, 3-0. The Red Sox blew that game too, losing 4-3 in 11 innings.
Also, someone saw fit to vandalize the visitors bullpen with spray-paint graffiti, as the initials R.C. can be seen in the background of a couple of NBC's pre-celebration shots of Red Sox players in the 10th inning. We don't know who committed the "crime," but one of the shots did feature Clemens exchanging high-fives with his teammates.
What They Wrote
"Bill Buckner has just limped off the field, carrying the weight of the world on his back. He can ice those aching ankles all night so he can play in Game Seven of the World Series tonight, but there isn't enough ice to freeze the pain in his heart."
-- Ray Sons, Chicago Sun-Times
"The ghosts of World Series past, of seven-game losses in 1946 and 1967 and 1975, wrapped their cold fingers around the Red Sox' throats Saturday night and choked the life out of what the people of Boston had been calling 'The Possible Dream.'
"If the Red Sox couldn't win their first World Series in 68 years after leading ... by two runs ... with two out ... and the bases empty in the bottom of the 10th inning of Saturday's sixth game, well, maybe it's impossible after all."
-- Kevin Modesti, L.A. Daily News
"Their history has been one of pathos and heartbreak, of lofty dreams and crushing disappointments. But no night in the 68-year-old losing legacy of the Boston Red Sox could match what befell them last night."
- Peter Pascarelli, Philadelphia Inquirer
"It was enough to make you believe there are curses that haunt this team. It was enough to make you believe that the Mets are on some highway toward destiny."
-- Jayson Stark, Philadelphia Inquirer
"From 200 miles away, you could practically feel New England quaking with fear, grief and disbelief. The Boston Red Sox were one out away from their first World Series championship since 1918 early this morning, and the New York Mets rose up like the ghosts of Denied Christmases past and extended big-league baseball's most extraordinary postseason by one more game.
"The denouement of this stirring October drama is scheduled tonight at Shea Stadium, but the forecast is for rain, possibly lasting two days. But 48 hours of steady showers would likely not produce more moisture than the tears shed by the Red Sox's long-suffering fans last night."
- Barry Lorge, San Diego Union
Most Extra-Inning Wins
Single Postseason
"I can only imagine what the good citizens of Boston are doing now. Are the blindfolds in place? Are they out on the window ledges? Have they wrapped up the sharp instruments?"
- Tony Kornheiser, Washington Post
"If the World Series had been a pleasure cruise to the fans of most teams, it has been to two generations of Bostonians, a stateroom on the Titanic, a deck chair on the Lusitania, first class passage on the Hindenburg."
-- Bruce Lowitt, St. Petersburg Times
"It would not happen this time, the Boston Red Sox had promised. Not in this World Series. Their failures belong to the past. That was then, this is now. Alas, the team that lived by the last strike in the American League playoffs died by the last strike when the World Series was in hand against the New York Mets in Game 6."
-- Hal Bock, Associated Press
Quote of the Day
"My legs didn't have any effect. I felt good out there. It just shows you anything can happen. I feel lousy. Tomorrow, hopefully, will be a different story. We don't have a day or two to forget about it. You can't get down about it.
"Hey, we outhit them tonight. We hit good out there. We just made some big mistakes. I hate to say I missed a ground ball. I did concentrate on that ball. I saw it well. It bounced and bounced and then it didn't bounce. It just skipped. I can't remember the last time I missed a ball like that, but I'll remember that one."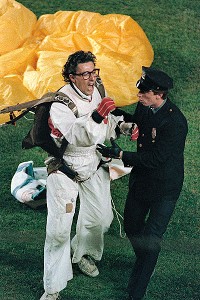 Amy Sancetta/A.P. Photo
Michael Sergio chanted "Let's Go Mets" as police escorted him off the field.
"It was a slow roller with a lot of spin on it. I thought I watched it good. I was playing deeply Than I normally do because I didn't want it to get through the infield.
"If Mookie didn't run so fast I'd get down on a knee to block it. It bounced and bounced And then skidded right under my glove. I was waiting for it to bounce. It didn't."
-- Bill Buckner
Further Reading
Perhaps foreshadowing a bizarre night, with Buckner at the plate in the first inning, a Mets fan, Michael Sergio, parachuted onto the playing field. He would be escorted away by police, but not before getting some laughs and a high-five from Mets pitcher Ron Darling.
Earlier this year, New York attorney Eric Turkewitz interviewed Sergio for his blog. His story can be found here.
Stats/Notes To Remember
1-- There have only been three instances in World Series history in which a game ended on a play that was ruled as an error.
The Mets have been involved in two of them- this one and Game 4 of the 1969 World Series, in which the Mets won when Orioles pitcher Pete Richert hit J.C. Martin in the back with his throw on Martin's bunt attempt, allowing Rod Gaspar to score the winning run.
2-- Baseball Info Solutions, a Pennsylvania-based company, does video review of every play from every major-league game. Their video tracking found that in 2011, there were 20 balls hit to the same area, and at the same approximate speed that Wilson's ball was hit to Buckner. All 20 of those were turned into outs.
3-- Bill Buckner made his major league debut for the Dodgers on September 21, 1969. He pinch-hit in the ninth inning and popped out.
What was prominent about that game? The Giants beat the Dodgers that day, 4-3 in walk-off fashion.
The game ended on a ground ball to Dodgers shortstop Maury Wills.
It went through his legs for a game-ending error.