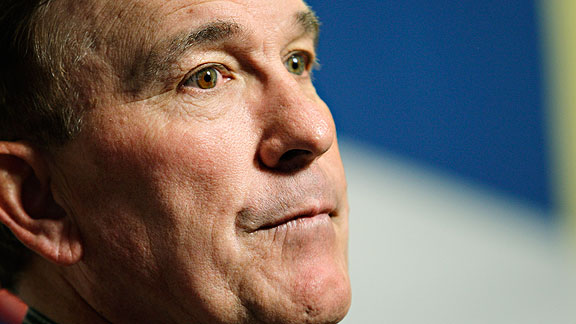 AP Photo/Frank Franklin II
Gary Carter coached his college baseball team in a pair of fall games in the past week.
Hall of Fame catcher Gary Carter helped coach his Palm Beach Atlantic University baseball team in a pair of fall games in the past week despite battling cancerous brain tumors.
"Dad's body did not allow him to coach at 100 percent, but his mind was sharp and he enjoyed calling the plays," Carter's daughter, Kimmy Bloemers, wrote in an online journal to which ESPNNewYork.com has been granted access. "Dad absolutely loves to be the skipper. After many hours coaching, dad was exhausted, but we were all proud of him for being there for his team."
Carter helped coach the second game on Wednesday despite having just completed a third round of chemotherapy the previous day, Bloemers indicated.
Carter enters his third season as the Division II college program's head coach. The private Christian university, located in West Palm Beach, Fla., has an enrollment of 3,659.
Former major league pitcher Kent Bottenfield is assisting Carter with the program's coaching duties.
Bottenfield, 42, last had been paired with Carter for the final game of Carter's Hall of Fame catching career -- a game in which Carter drove in the lone run in a 1-0 Montreal Expos victory against the Chicago Cubs at Olympic Stadium.
"I tell our players, 'Just so you know, he's quite a bit older than I am,' because everyone says, 'Oh, you played together,'" quipped Bottenfield, a rookie back in 1992 with the Expos.
Bottenfield relocated from Franklin, Tenn., where his family had lived the past six years, to join the program two months ago. He accepted the position after Carter was diagnosed with the brain tumors. The decision partly was based on loyalty to Carter, whose ability to participate with the program on an everyday basis has restricted by the cancer battle.
"I didn't submit an application. I wasn't looking for the job," Bottenfield said. "But the athletic director called me and told me all about it and said, 'Would you be interested in throwing your hat into the ring?' I took some time to talk to my wife about it. We spent some time praying about it. And we decided.
"We were certainly familiar with what Gary was going through at that point. We thought there were a lot of reasons that we needed to be back down here. That was a big one -- to help a friend and his family walk through a tough time and help him with the program that he was in the middle of building."
An examination at Duke University two weeks ago revealed that Carter's tumors have shrunk to one-quarter of their original size. As a result, the doctors treating Carter have encouraged him to be around the program for about an hour every day and contribute as his energy allows.
Said Bottenfield: "I think it's been extremely inspirational. I don't detect any kind of, 'Oh, no, Skip's here. Don't we feel bad for him?' No. Every time they see him, they have smiles on their faces. They love to have him there. And he really is doing well. With all that he's gone through and the tumors in his brain, you would think it could really affect his thought process. It really hasn't done that. He's been lucid. He's been great."
As for Carter's activity during practices, Bottenfield said: "He started a few weeks ago. When we were still doing our individual workouts, he was going up to the cage at the university, and he would sit outside the cage while guys were hitting and he would talk to them and work with them. And then when we started our team workouts, he's been out on the field. He's got a chair that he brings out, and sits by the dugout. When we're working on defense, he's yelling things out and talking to me about things. He'll pull guys aside when he sees something.
"It's his program. And that's the fine line I have to walk."