Chief operating officer Jeff Wilpon said Monday that the sale of small blocks of the team to minority investors is "going very well," but he declined to offer any specifics about the progress.
The Wilpons are seeking multiple small shareholders to offset the loss of the planned $200 million minority investment from David Einhorn, which fell through Sept. 1.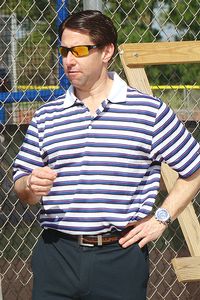 Adam Rubin
Jeff Wilpon declined Monday to disclose the progress of the sale of minority shares in the team.
Team sources previously told ESPNNewYork.com the Mets were looking to sell shares in varying amounts in the neighborhood of $15 million to $20 million apiece with the hope of raising in the vicinity of what Einhorn planned to invest.
Wilpon declined to identify anybody who has followed through and invested at that level.
"Some of the people don't want to be public," Wilpon said. "Some of the people might never be public. I don't think anybody knows all the minority shareholders in each of the other teams. Do you know all the minority shareholders in Atlanta or Kansas City or St. Louis, Cincinnati, the Yankees? It's just not widely known."
Wilpon went on to say that this would be a non-issue if the minority investors had come on board at the same time as his family bought in.
"If they were brought in Day 1, it would be just like any other [team's] situation," Wilpon said.
Of course, it is not like other teams' situations because Mets principal owner Fred Wilpon has estimated during the season that the organization would lose roughly $75 million in 2011. The family also still faces a lawsuit from the trustee trying to recover funds for victims of convicted swindler Bernard Madoff's Ponzi scheme.
Commissioner Bud Selig also acknowledged last week that the Mets had not repaid a $25 million loan from Major League Baseball, although Selig expressed confidence in the state of the team's finances.
"We're doing fine with the Mets," Selig said. "I don't have any concerns about the Mets, as I think I've told you before. They're working on an alternative financing plan, and they seem to be very encouraged, and I'm encouraged. I do have a lot of worries today, but frankly I'm happy to say the Mets are not one of them."
As for getting the minority investors all on board, Jeff Wilpon said: "There's an internal timetable that we're not going to share. There's not a deadline … that everything has to be done."