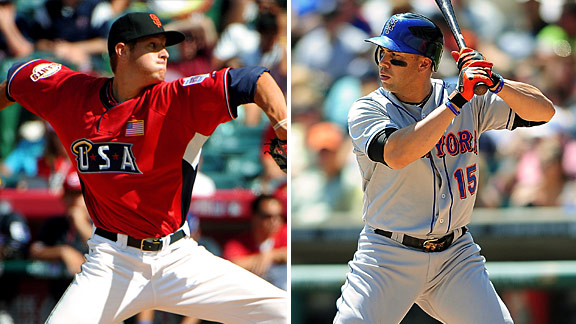 US Presswire
The Mets swapped Carlos Beltran (right) for Class A right-hander Zack Wheeler (left) in July. Three months later, Baseball America has anointed Wheeler the Mets' top prospect.
Baseball America has announced its top 10 Mets prospects. The list:
1. Zack Wheeler, rhp
2. Matt Harvey, rhp
3. Brandon Nimmo, of
4. Jeurys Familia, rhp
5. Cesar Puello, of
6. Jenrry Mejia, rhp
7. Kirk Nieuwenhuis, of
8. Michael Fulmer, rhp
9. Reese Havens, 2b
10. Wilmer Flores, ss
As for other categories, the magazine named Juan Lagares as the best hitter for average, Zach Lutz as the best power hitter, Danny Muno as the best strike-zone discipline and Pedro Zapata as the fastest baserunner.
In pitching categories, Wheeler claims the best fastball and curveball, with Harvey the best slider and Darin Gorski the top changeup and best control.