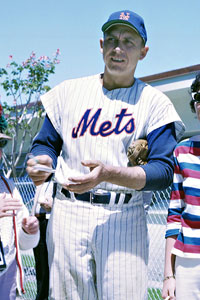 Getty Images
Gil Hodges wears the Mets' original home uniform during spring training in March 1962.
The Mets have called a news conference for next Wednesday to unveil uniform changes and other 50th-anniversary plans.
Rumblings are the primary home uniform will be close to the 1960s version -- with pinstripes, a Mets script logo in blue and orange (and no black shadow) and blue hats.
The black uniform tops should remain as an alternate jersey, but be worn only occasionally. The bright white jersey without pinstripes also should be around (also minus the black shadow on the lettering), but the pinstriped version should primarily be worn.
The Mets also are expected to have a patch on the uniform commemorating the 50th anniversary -- basically the commonly used city skyline and "50th anniversary."
Word is the bobbleheads in 2012 also may be past Mets greats.
As we mentioned in Thursday's chat, Banner Day even may make a comeback, although that was just educated speculation and not guaranteed.