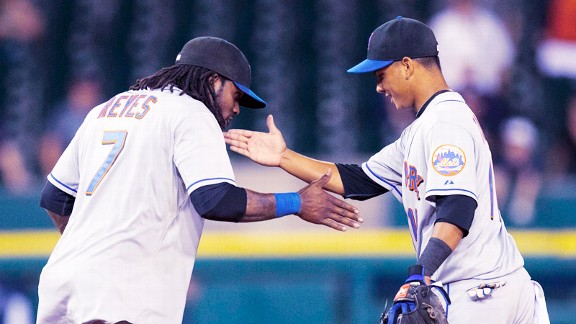 Rick Osentoski/US Presswire
Jose Reyes is passing the torch to a new shortstop with impressive defensive skills, Ruben Tejada.
Jose Reyes' departure from the New York Mets clears the way for a potential defensive standout in 2012.
Newest Mets everyday shortstop Ruben Tejada doesn't hit or run like Reyes, but his defensive work rates higher statistically in one notable area.
Baseball Info Solutions and Fangraphs.com chart every play in every game, which allows the calculation of an advanced defensive metric, Out of Zone plays.
A fielder gets credit for an Out of Zone play when he gets an out on a ball fielded in a spot in which fewer than 50 percent of players at his position recorded an out within that 365-day period.
Innings Per Out of Zone Play
Best Shortstops in 2011
In other words, a shortstop would get credit for an out of zone play on a ball fielded deep in the shortstop/third base hole, or on a ball that required ranging directly up the middle to make the play.
In 353 innings at shortstop, Tejada was credited with 24 Out of Zone plays. That's a significant number.
Tejada's rate of one Out of Zone play for every 14.7 innings played ranked best among all major league shortstops that played at least 350 innings at the position last season.
Additionally, Tejada's play at the position passes the eye test.
In addition to plotting the location of every batted ball, Baseball Info Solutions tags plays into 80 different subcategories of Good Fielding Plays (GFPs) and Defensive Misplays & Errors (DM&E).
Think of Good Fielding Plays as the sorts of plays you would see on Baseball Tonight's Web Gems segment. Most are awarded for "the recording of an unlikely out" based on the judgment of the company's video scout (a group of ex-amateur players) watching the game.
Tejada has 30 Good Fielding Plays in his 353 innings at shortstop last season (they came on 28 different plays—two plays resulted in his being awarded two Good Fielding Plays).
Examples of Tejada's best work included his diving catch against Clay Hensley in shallow centerfield on July 18, his ranging up the middle to snag a grounder and throw out Corey Hart on August 19, and his running catch of Chase Utley's popup that ended with Tejada crashing into the Citizens Bank Park tarpaulin.
That's a rate of one GFP credited for about every dozen innings played. That would put him on pace for more than 100 over a full season, a number that easily would have led major league shortstops last season.
Tejada had 12 Good Fielding Plays on ground ball outs (the kind most likely to earn Web Gem billing). Pro-rate that to 1,300 innings (approximately 144 games) and Tejada would be on pace to record 44 such plays in a season.
Last year's leaders among shortstops in Good Fielding Plays on ground ball outs were Alex Gonzalez (Braves) and Brendan Ryan (Mariners). Each finished the season with 34 such plays.
Tejada had three Web Gems at shortstop last season. He'll be looking to unseat Cleveland Indians shortstop Asdrubal Cabrera, who led the majors with 13, as Web Gem champ.