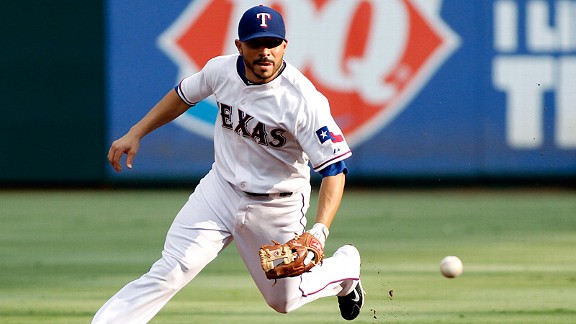 Ray Carlin/Icon SMI
Omar Quintanilla has signed a minor league deal with the Mets, a major league source told ESPNNewYork.com.
Needing options as a backup middle infielder who can handle shortstop behind Ruben Tejada, the Mets have signed Omar Quintanilla to a minor league contract, a major league source told ESPNNewYork.com.
Quintanilla, 30, appeared in 11 games for the Texas Rangers last season. He went 1-for-22 (.045) with a triple, two RBIs and nine strikeouts. At Triple-A Round Rock, Quintanilla hit .298 with five homers and 25 RBIs in 208 at-bats.
He is a .213 career major league hitter in 522 at-bats spanning six seasons, primarily with the Colorado Rockies.
The Mets have Justin Turner available as a backup option, but ideally need someone who also can step in at shortstop.
UPDATE: The Mets have confirmed the Quintanilla signing. They note he missed the beginning of last season while completing a 2010 50-game suspension for violating the minor league drug prevention and treatment program.