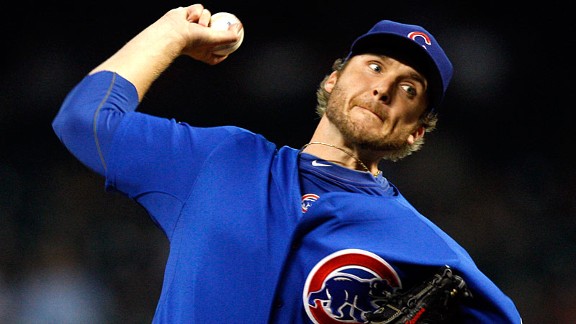 Bob Levey/Getty Images
The Mets have signed ex-Cub Jeff Stevens to a minor league deal.
The Mets have signed right-handed Jeff Stevens and infielder/outfielder Corey Wimberly to minor league deals, according to Baseball America. They were taken five picks apart in the sixth round of the 2005 draft.
Stevens, 28, had a 5.14 ERA in seven innings with the Chicago Cubs last season. He was a combined 3-0 with a 5.26 ERA in 42 relief appearances between Double-A Tennessee and Triple-A Iowa. Phil Rogers of The Chicago Tribune tweets: "His Cubs career was effectively ended the April day [manager] Mike Quade let him throw 80+ pitches [in relief]." Stevens did win a bronze medal with Team USA in the Beijing Olympics in 2008, during a season in which he pitched for Triple-A Buffalo when it was affiliated with the Cleveland Indians.
Wimberly, 28, hit .238 with no homers, 11 RBIs and 15 steals while manning multiple infield and outfield positions in 172 at-bats over 57 games with Triple-A Indianapolis in 2011.