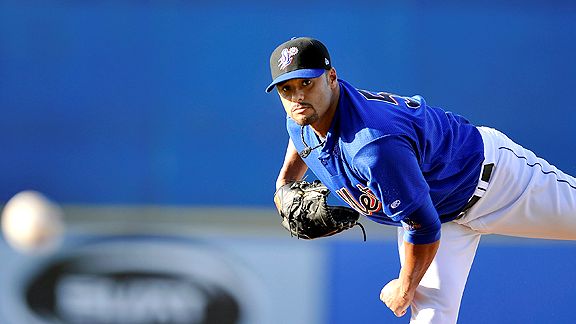 Brad Barr/US Presswire
Johan Santana pitches during a rehab start in late July with St. Lucie, after which his return was interrupted.
Trainer Ray Ramirez recently visited Johan Santana in Venezuela for 10 days. Santana, who is attempting to return from September 2010 surgery to repair a torn anterior capsule in his left shoulder, has been throwing on flat ground for three weeks. He has thrown at distances of up to 75 feet, as well as on consecutive days.
Sandy Alderson said he did not mean to set off alarm bells last month when he indicated he was unsure what the Mets would get from Santana in 2012. The GM said Thursday that anyone returning from such a large layoff for a serious procedure would inevitably be a question mark, and that it will be easier to exhale once Santana establishes in spring training that he consistently can rebound from repetitive work.
"He's in a normal progression toward spring training," Alderson said. "We expect to see him at spring training and he should be ready to go at that point. I didn't want to set off alarms the last time I talked about this, but we are talking about someone who is coming off a long rehab. I think ultimately the questions are going to be answered in spring training, not beforehand -- answered in terms of his ability to come back and pitch consistently on normal days' rest. We expect that to be the case. We have no reason to believe right now that it won't be the case, or any specific reason why it won't be the case. ...
"Right now we expect him to go through a normal spring training, but I think the ultimate test is going to be how he responds and whether he's able to come back on normal days' rest. I don't think that's anything we can predict with any accuracy. I certainly can't assure you that's going to happen, but that's certainly what we hope and right now what we expect."
The Mets have enough confidence in Santana's health that they are not seeking much more outside starting pitching help. Alderson reasons that if Santana, R.A. Dickey, Jon Niese, Mike Pelfrey and Dillon Gee are all healthy, they are entitled to fill out the rotation, so any additions would need to be able to swing to the bullpen or Triple-A.
Alderson said he briefly met with Chris Young, who is trying to return from the same surgery, while in San Diego during Christmastime. The GM said that's the type of signing the Mets may still make. Young's procedure was in May 2011, so he would not be ready for the beginning of the season under the best-case scenario.
"He's continuing his rehabilitation," Alderson said about Young. "He's the kind of guy that we might re-sign under the right circumstances. There are some others out there that are possibilities. But if you look at where we are now, our problem is that we've got five guys that we like, five guys that deserve to pitch in a rotation. And if you look at the younger guys that have the possibility of going up or down, like Dillon Gee for example, this is a guy who pitched extremely well for us during most of last season.
"All of our guys were remarkably dependable. The number of games that were pitched by our five starters after Chris Young went out was very high compared to the league average. So we can't go out and say, 'Hey, come to spring training and compete for one of the five spots.' It's not quite as flexible as it was last season. So we have to find a particular guy who is prepared to go to Triple-A and be there and not necessarily start the season with us. It's a little different proposition with Johan coming back and Gee establishing himself last year as a legitimate major league player and so forth.
"We're looking for a slightly different profile in that starting-pitching depth than we were last year. And it's a narrower market."