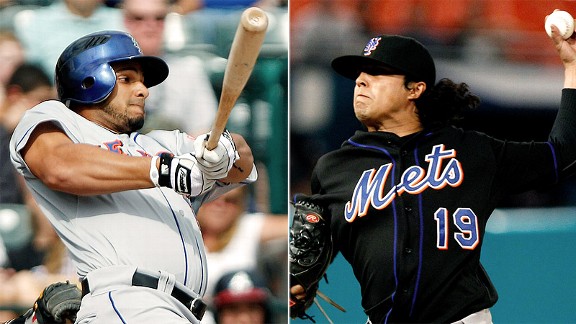 Associated Press
A source tells ESPNNewYork.com that Fernando Martinez and Daniel Herrera are expected to be bounced from the Mets' 40-man roster.
One-time top prospect Fernando Martinez as well as left-hander Daniel Herrera may be in their final days with the organization. A source told ESPNNewYork.com that both players are on waivers to clear the roster spots for Scott Hairston and Ronny Cedeno.
Martinez, 23, has faded as a prospect because of continual leg injuries. Even when healthy, an arthritic knee limits his mobility in the outfield. If Martinez clears waivers, the Mets can option him to Triple-A Buffalo. But Martinez's reputation could prompt another team to claim him at least to take a shot.
Martinez hit .227 in 11 games with the Mets last season. He hit .260 with eight homers and 30 RBIs in 223 at-bats at Triple-A Buffalo.
Herrera, 27, was one of two players to be named in the deal that sent Francisco Rodriguez to the Milwaukee Brewers -- really a salary dump to avoid K-Rod's contract vesting at 55 games finished with the Mets. Herrera had adequate numbers as a Met -- a 1.13 ERA in 16 appearances spanning eight innings -- but the organization concern is his effectiveness will fade as National League East opponents become more acclimated to his screwball.
Assuming Herrera clears waivers, he can declare free agency rather than report to the minors with the Mets.