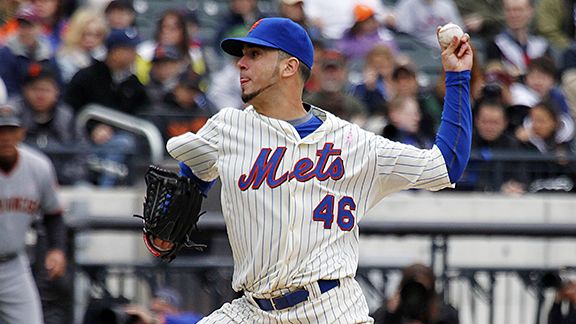 William Perlman/The Star-Ledger/US Presswire
The Mets won't trust using Oliver Perez except in blowouts, such as Monday, when Perez entered with the Mets trailing 15-6 to the San Diego Padres. Perez is in the second season of a three-year, $36 million deal.
ECON 101
What's spent is spent.
Sounds simple enough, right? Yet Major League Baseball teams often stick with things that aren't working simply because they're already on the hook to pay for it.
(Mets and Oliver Perez, anyone?)
Still, it's worth asking this: Are other industries just as resistant to eating bad contracts and moving on? Or are Major League Baseball teams particularly guilty of sticking with sunk costs?
Kenneth Shropshire, the director of the Wharton Sports Business Initiative at the University of Pennsylvania, believes sports teams generally are more averse to unloading sunk costs than other industries.
"Other businesses, you will offload somebody," Shropshire said. "You will go on and say, 'This just didn't work. Let's move forward and pay off whatever contract is left.'"
As for baseball teams' aversion, Shropshire added: "I think two things with these guys: First, they will not want to admit they're wrong. And that's real overt -- actually getting rid of somebody.
"I think the other thing is the fear that if you let somebody go somewhere else, that if they do finally find themselves, it can cause you problems. Those strike me as the reasons -- especially the latter -- why you may see it in other businesses but not as often in sports. 'This guy can finally find himself and hurt me, so let me just hold onto this guy.'"
For every case such as the Los Angeles Angels eating $21.5 million and sending unproductive outfielder Gary Matthews Jr. to the Mets on Jan. 22, there are many bad contracts teams refuse to unload -- with the rationale being the club otherwise would be obligated to pay an exorbitant amount for nothing in return.
Of course, perhaps the club is getting little in return anyway by holding onto the player -- or worse. The Mets are clogging up a valuable roster spot by holding onto Perez with no intent to use him other than in mop-up duty.
The bottom line: Are Mets officials keeping the struggling Perez around because he is a valued member of the 25-man roster, whom they are confident will have a pitching renaissance? Or are they loathe to releasing Perez -- who has declined to go to the minor leagues -- because he's in the second season of a three-year, $36 million deal?
Manager Jerry Manuel, after all, noted after Perez was lit up in relief in Milwaukee on Saturday that it would be difficult to find another opportunity to even use the southpaw in the bullpen barring a blowout.
Of course, most businesses aren't dealing with an employment contract of that hefty size.
"Entertainment executives, if you run a studio, those guys tend to have five-year deals and you get paid whether we keep you or not," Shropshire countered. "Sometimes you get people rolled into consulting roles to get rid of them. But sometimes they just let them go and people are kind of living off their contracts."
The Mets actually do discuss how efficiently baseball businesses are run compared with other industries, according to assistant GM John Ricco. While it's hardly an exact science, Ricco suggested top companies run at 60 percent efficiency, with factors such as lost worker productivity to time spent on the internet during work hours, et cetera.
A VESTED DEVELOPMENT
Infielder Alex Cora looks increasingly likely to return in 2011, without ever having to sign a new contract. Cora's $2 million deal for this season vests at the same amount for next year if he appears in 80 games. With Luis Castillo dealing with foot woes, Cora started Monday's series opener against the San Diego Padres. He already has appeared in 30 of the Mets' 52 games.
AMATEURS?
While it's not believed that Omar Minaya has seen in person the consensus top prospect in the draft, Bryce Harper, the Mets GM already had watched a half-dozen amateur players in person entering Memorial Day weekend. And Minaya expected to see four to six more before the New York Mets select seventh next Monday night in the first round of the draft.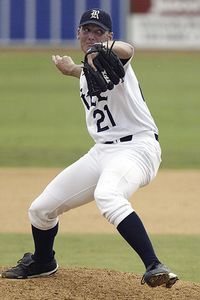 Aaron M. Sprecher/Icon SMI
The last time the Mets picked this early in the draft came in 2004, when right-hander Philip Humber was selected third overall out of Rice University.
The Mets enjoy their earliest pick since 2004, when the organization took Rice right-hander Philip Humber third overall, in the final draft before Minaya returned as GM.
Under Minaya, the Mets have picked in the first round only two years: in 2005, when they selected Mike Pelfrey, and in '08 when they chose Ike Davis and Reese Havens.
The other three years the Mets forfeited their first-round selections as penalties for signing free agents Billy Wagner, Moises Alou and Francisco Rodriguez.
"Over the years, we've been picking in the second round; the pool is so much bigger for the guys you want to draft," Minaya said. "But when we're picking this early, as a general manager, if I can lay my eyes on him, I'd like to lay my eyes on him."
Had the Mets played better in 2009, they would have lost their first-round pick this year, too, as a penalty for signing Jason Bay. However, the first 15 overall selections in any draft are protected. So the Mets, who had 92 losses last season, instead lost their second-round pick to the Red Sox as compensation for signing Bay.
"We're excited to be able to have a pick this early," Minaya said. "Of course, we don't go again until the third round. We'd like to be able to have more."
The Mets actually could have had two first-round picks, and three picks in the top 36 overall, next week. Instead, they essentially sold two of those selections to the Red Sox in a move that saved roughly $5.5 million.
How so?
By trading Wagner to the Red Sox last August, the Mets missed out on the chance to offer him arbitration after the season and pick up two top draft picks when he signed elsewhere as compensation.
The ability to buy two picks was one of the primary motivations for Boston in acquiring Wagner. In addition to having the reliever's services in September for a push for a postseason spot (at a cost of $2.2 million in salary and a $1 million buyout of his 2010 contract), the Red Sox also picked up two picks when Wagner signed as a free agent with the Braves. Boston will have Atlanta's 20th overall pick, plus a sandwich pick between the first and second rounds at No. 36, next week.
While draft picks can't officially be sold, it's essentially what the Mets did in that case. They saved the $3.2 million that would have been owed to Wagner, plus the cost of signing the two extra draft picks. Based on last year's signing bonuses, the Mets would have roughly had to pay a combined $2.3 million to the two picks.
In internal discussions before the trade, according to a team source, the Mets knew Wagner would not have accepted arbitration. Yet they made the trade anyway because saving $5.5 million was deemed more important than having two extra draft picks.
The impact of such a decision won't be felt for a few years, and probably will be under the radar even then. But there likely will be an impact.
Note this: Two of the Mets' top homegrown players were obtained with extra picks gained by losing a free agent -- David Wright, as a compensation pick for losing Mike Hampton to the Colorado Rockies; and Davis two years ago with a compensation pick for losing Tom Glavine to the Braves.
Chris Carter, whom the Mets acquired in the Wagner trade, was not a core Red Sox prospect and really was a cosmetic throw-in. He was due to be removed from Boston's 40-man roster after last season had he not been sent to the Mets for Wagner.
Wagner had been claimed by the Red Sox off waivers from the Mets last August. As a result, Boston did not have to offer the Mets anything for him. They did so to ensure the Mets did not pull Wagner back from waivers. But had the Mets pulled Wagner back, they would not have been able to trade him for the rest of the season and would have had to eat Wagner's salary -- something they were not inclined to do.
"We did get Carter in that trade," Minaya said. "But we also knew that by doing that, we were probably missing out on the opportunity to get a first-round pick."
As for what would be appropriate to select in the first round next week, the Mets definitely could use a college-groomed pitcher who potentially could contribute at the major league level as soon as 2011. After all, the Cincinnati Reds already are getting a major contribution from Mike Leake, the eighth overall pick last June out of Arizona State. (This year's draft is generally not considered as deep as '09.)
Regardless, Minaya said, the Mets will take the best overall player -- even if it's a high school talent. Minaya suggested it would be negligent to avoid taking a high school player simply because the current baseball operations department may not be running the Mets when that teenager is finally ready to contribute in the majors.
"You can't think that way," Minaya said. "I don't think that way. You owe it to the organization to draft the best player. And if you're here, great. If you're not, you're not. There are some high school kids that I've seen that I would definitely love to get my hands on. To me, we take the best player. Usually the ceiling is higher on the high school kid. But, to me, it doesn't matter."
The other issue with the Mets and the draft has been the concept known as "slotting." Trying to ensure draft-pick costs don't escalate each year to unsavory levels, Major League Baseball recommends to clubs how much each pick ought to get based on the draft position.
The Mets have been very strict in adhering to those guidelines, while many other big-market clubs have not. As a result, the Mets have passed on drafting some top-notch players that only slipped to their point in the draft because smaller-market clubs that drafted earlier were scared away from the expected signing-bonus demands.
The Mets did go over "slot" for their second-round pick last year, Steve Matz ($895,000 vs. the commissioner's office-recommended $506,700). But that was tolerable to the organization because the Mets did not have a first-round pick. In other rare occasions in which the organization went over slot, the Mets were able to pick up Pelfrey and Jon Niese, both in 2005.
TRIPLE-A RATING
The Yankees already have re-upped with their Triple-A affiliate, agreeing to remain with Scranton/Wilkes-Barre through 2014.
What about the Mets' relationship with Triple-A Buffalo, since their agreement expires after this season? Well, things now look promising for the Mets and Bisons to remain affiliated, after a horrid 2009 season in which Mets farmhands went 56-87 at the Triple-A level and strained the relationship.
"We really have not even really given much thought to this point," said Jonathan Dandes, the president of Rich Baseball Operations. "I will tell you, obviously, we're in first place -- or close to first place -- and the change has been remarkable. … I think they've done a great job."
Mike Harrington, who covers the Bisons as well as the NHL's Sabres for the Buffalo News, would be surprised if the Mets and Buffalo didn't remain affiliated beyond this season.
"I now think they're almost certain to stay as long as they don't screw it up," Harrington said. "The biggest thing the Mets have to do in the second half, this team cannot be shorthanded. They can't have 19 or 20 guys on the roster. And the Mets have done a better job this year -- even sending guys up from St. Lucie for a week. Making sure there's a full team is very important to the front office in Buffalo. That's been a big improvement this year as well."
The Mets began to repair things last offseason when they hired Terry Collins to run the organization's minor league system. Collins is a former Bisons manager, and was in line to be Buffalo's first big league skipper when Rich Baseball Operations was once in the mix to bring Major League Baseball to the city. Collins is in the Buffalo Baseball Hall of Fame.
"He's a beloved figure," Harrington said. "Any trust issues they may have had with the Mets went out of the window when they brought in Terry Collins because they trust him. And then the other thing they did, frankly, they went out and got some players.
"They didn't do a good job on free agents last year. They didn't do a good job on free agents this year, either. They did a great job on free agents this year," Harrington continued. "At one point, when (R.A.) Dickey was still here, they had the No. 3 ERA guy (in the league), they had the batting leader in (Jesus) Feliciano and the home run and RBI leader in (Mike) Hessman. All three were minor league free agents during the winter. You can't argue about that job at all."
The Toronto Blue Jays would be the primary alternative to the Mets for an affiliation agreement because of the proximity of Buffalo and Toronto -- 90 miles. But New York is an attractive media market in which to get attention for the Bisons. And there's a rivalry with Toronto that might cause complications. Already, the NFL's Bills annually lose a home game that's played in Toronto. And there's a heated Sabres-Maple Leafs rivalry.
"I think that would be the only other option," Harrington said. "People always ask about the Yankees, but now the Yankees have re-upped. I think Toronto is a very iffy proposition because a lot of fans, I think, would not want to be 'minor league' to Toronto. I mean, people don't like the Maple Leafs at all and their fans. And they don't like the Bills losing a game to Toronto every year. I think having to be a minor league affiliate of anything with Toronto would be very offensive to a lot of people.
"Everything about the affiliation with the Mets has been very good except the record on the field last year -- the exposure they've gotten with television and having games on SNY, merchandise sales went through the roof. They sold more merchandise before last season started than the whole previous season during the year because of the new affiliation, uniforms. They have merchandise available at Citi Field."
Adam Rubin's 'In-depth' look at the Mets will appear selected Tuesdays during the season