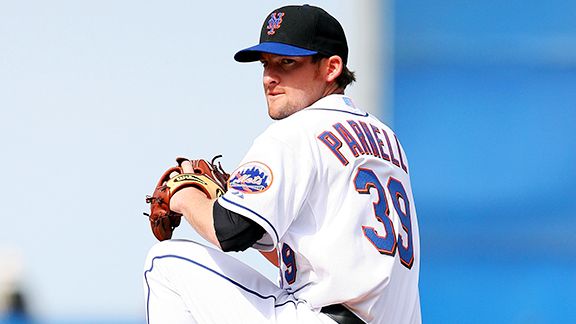 Doug Benc/Getty Images
Bobby Parnell tossed two perfect innings for Triple-A Buffalo on Tuesday and may be the next relief call-up.
Pitching coach Dan Warthen asked for a recommendation from Triple-A Buffalo pitching coach Ricky Bones and manager Ken Oberkfell about which relief pitcher the Mets ought to promote if the need arises in the near future. The consensus: Bobby Parnell or Manny Acosta would be an appropriate choice.
Parnell, who set a franchise rookie record for appearances last season with 68 at the major league level, has been buried at Buffalo for the first two months of the 2010 season.
He indicated he's no longer consumed with when a call is going to come, though.
"I filled up a lot of time worrying about that earlier in the year," Parnell said. "Now it's just kind of 'get better as I go.'"
The 25-year-old right-hander tossed two perfect innings Tuesday, striking out three Syracuse batters while notching his third save in Buffalo's 4-1 win. Overall, he's 0-1 with a 4.15 ERA in 30 1/3 innings. But Parnell has been particularly solid lately. He's struck out seven and hasn't allowed a hit or walk in his last three appearances, which have spanned 5 2/3 innings.
"He's making great progress," Warthen said. "I talked to Ricky and Obie yesterday. They're recommending either Acosta or him right now if we need somebody at any time in the near future. So Bobby has really stepped it up over the last couple of weeks and found a formula where he's able to find the same release point on all of his pitches."
Said Parnell: "They said they wanted me to work on my slider, my secondary stuff. I've been working on it. I'm comfortable with it. Even in spring training I was comfortable with it. I think I spent too much time working on my cutter that never really developed and got away from my slider. I feel like I'm in a position now where I can compete wherever they sent me. I'm here biding my time, I guess, trying to get better each outing.
"I guess I'm just working on innings," Parnell continued. "I've been going out and doing two- and three-inning stints. I've been pitching well. Every now and then I'll give up a weak hit, but I haven't been hit hard -- too bad. I'm just going out and getting innings in."
Organization leaders
Average: Jesus Feliciano, Buffalo, .395; Eric Campbell, Binghamton, .346; Josh Satin, St. Lucie, .324; Lucas Duda, Binghamton, .306; Wilmer Flores, Savannah, .303; Mike Hessman, Buffalo, .303; Stefan Welch, St. Lucie, .301; Ruben Tejada, Buffalo, .295; Nick Evans, Binghamton, .293; Kirk Nieuwenhuis, Binghamton, .286.
Homers: Mike Hessman, Buffalo, 18; Nick Evans, Binghamton, 12; Zach Lutz, Binghamton, 8; Kirk Nieuwenhuis Binghamton, 8.
RBIs: Mike Hessman, Buffalo, 55; Stefan Welch, St. Lucie, 38; Wilmer Flores, Savannah, 38; Nick Evans, Binghamton, 35; Juan Lagares, Savannah, 33.
Steals: Cesar Puello, Savannah, 19; Pedro Zapata, Savannah, 17; Emmanuel Garcia, Buffalo, 16; Juan Lagares, Savannah, 12; Kirk Nieuwenhuis, Binghamton, 10.
ERA: Jimmy Fuller, Savannah, 1.90; Brandon Moore, Savannah, 1.92; R.A. Dickey, Buffalo, 2.23; Taylor Whitenton, Savannah, 2.70; Collin McHugh, Savannah, 2.76; Pat Misch, Buffalo, 2.83; Josh Stinson, Binghamton, 3.09; Chris Schwinden, Binghamton, 3.28; Dylan Owen, Buffalo, 3.42; Armando Rodriguez, Savannah, 3.42.
Wins: Dillon Gee, Buffalo, 6; Elmer Dessens, Buffalo, 5; Jimmy Fuller, Savannah, 5; Pat Misch, Buffalo, 5.
Saves: Manuel Alvarez, Binghamton, 9; Elmer Dessens, Buffalo, 6; John Lujan, Buffalo, 6; Michael Powers, Savannah, 6; Jose Bierd, St. Lucie, 4.
Strikeouts: Brandon Moore, Savannah, 67; Jimmy Fuller, Savannah, 62; Dillon Gee, Buffalo, 54; Mark Cohoon, Savannah, 53; Armando Rodriguez, Savannah, 51.
Short hops
Daniel Murphy manned second base Tuesday for the first time since joining Triple-A Buffalo. He went 2-for-4, lifting his average to .313 with one homer and eight RBIs in seven games since joining the International League club. Mets officials wanted Murphy to remain at first base until it was clear the knee ligament issue that sent him to the disabled list for the start of the season was behind him. Murphy is expected to see action in left field, too, in addition to continued work at first base. … Jason Pridie and Fernando Martinez, the top center fielders at Buffalo, remain out with hamstring strains. … Nationals phenom Stephen Strasburg is due to face the Bisons on Thursday at 1 p.m. in an SNY-televised game in his final minor league start before being promoted to face the Pittsburgh Pirates next Tuesday. Strasburg is expected to throw six innings or 95 pitches in Buffalo. Right-hander Dillon Gee, who is 6-1, starts opposite Strasburg. … Bisons outfielder Jesus Feliciano, who lifted his average to .403 with a 5-for-5 performance Sunday, was given the following day's matinee off by Oberkfell. Feliciano, who has exclusively played center field since Friday after largely manning the corner outfield spots earlier in the season, went 0-for-3 with an intentional walk Tuesday against Syracuse. Feliciano's average slipped to .395. That's still the second-best average in minor league baseball. Triple-A Albuquerque first baseman John Lindsey, 33, is hitting .420 in 176 at-bats in the Pacific Coast League. … Left-hander Pat Misch rebounded nicely from his first 2010 loss. After getting charged with a defeat at Lehigh Valley despite only allowing two runs in six innings, Misch improved to 5-1 and lowered his ERA to 2.83 by allowing one run and five hits in seven innings in a 4-1 win against Syracuse on Tuesday. … Mike Hessman, the active leader in minor league homers, had three in four Memorial Day weekend games against Toledo, his former club. Hessman then belted No. 18 on the season Tuesday. … Left-hander Eric Niesen returned to Double-A Binghamton with 3 1/3 scoreless innings last Wednesday against Richmond. He had lost a month with Binghamton after suffering a concussion. Niesen was struck in the head with a throw from catcher Mike Nickeas on a steal attempt while on the mound April 23. The Wake Forest product walked five in 3 2/3 innings in his second outing since returning, but that may be partly attributable to revised mechanics he worked on with Mets instructors while away. Niesen formerly patted his glove at the start of his delivery, but has halted it. … Niesen's return pushed 2008 13th-round pick Scott Shaw (4-4, 7.58 ERA) from the rotation to the bullpen. That move allowed Show to add 2-3 mph to his fastball during a pair of weekend appearances against Akron, when he combined to allow one run (unearned) and seven hits in 6 1/3 innings. … Right-hander Brad Holt, the 33rd overall pick in '08, responded from his poorest outing with Binghamton by producing his best outing. After allowing seven runs in 2 2/3 innings at New Britain on May 21, Holt tossed five scoreless innings, allowing only one hit and walking three, against Akron on Friday. Holt, who started the season on the disabled list with a wrist injury, is 1-4 with a 9.90 ERA in seven B-Mets starts. … Catcher Omir Santos was 0-for-20 in Double-A before a fifth-inning double Tuesday. Santos had returned last Wednesday from an oblique strain that cost him 2½ weeks. Santos was dispatched from Buffalo to Binghamton in early May to ensure playing time, because Josh Thole has the priority at Triple-A. … B-Mets first baseman/outfielder Lucas Duda was activated from the disabled list Tuesday after missing three weeks with a right hamstring strain. Duda doubled, was twice hit by pitches and stole a base in his return. He had been the Eastern League's RBI leader with 31 when he landed on the DL. Nick Evans (.293, 12 HR, 35 RBIs), who homered twice Tuesday, since has overtaken Duda for the team lead in runs driven in. … Third baseman Eric Campbell, who was promoted to Binghamton once Zach Lutz suffered a stress fracture in his foot, had six straight multi-hit games. That streak was snapped when Campbell went 1-for-4 Monday against Akron, but Campbell nonetheless had a nine-game hitting streak continue until he was hitless Tuesday. The Boston College product is hitting .378 with a homer and 12 RBIs in 11 Double-A games. … Second baseman Reese Havens, who was suffering from back muscle issues, returned Friday after a one-week absence. Havens looked sharp while going 2-for-3 with a homer Sunday, but the infielder -- who is converting from shortstop to second base -- committed two errors the following day. … Right-handers Manuel Alvarez and Chris Schwinden, infielder Josh Satin and outfielder Sean Ratliff were named to the Florida State League's South Division All-Star team. Alvarez and Schwinden since have since moved to Binghamton, leaving St. Lucie only two representatives. The alternate was Campbell, who also has moved to Double-A. … St. Lucie shortstop Jordany Valdespin, who continues to draw rave reviews from Omar Minaya, returned to the FSL team's lineup Saturday after missing five weeks with a broken finger suffered in a slide and immediately belted a homer in his first game back. He's hitting .317 with three homers, 10 RBIs and two steals in 63 at-bats in the league this season. … St. Lucie left-hander Robert Carson, a 14th-round pick in 2007, has allowed more than two runs only once in his last eight starts. His fastball sits at 94 mph. Carson was 4-0 in May. … Citadel product Wes Wrenn has made two starts for St. Lucie with Eric Beaulac on the active roster but not in a game since May 20. … Savannah right-hander Brandon Moore leads the South Atlantic League with 67 strikeouts, in 51 2/3 innings. He ranks ninth in ERA at 1.92. … Left-hander Jimmy Fuller is second in the league in strikeouts with 62, fifth in innings pitched at 61 2/3 and is eighth in ERA at 1.90. … Gnats third baseman Jefry Marte has a seven-game hitting streak, during which time he's hit .357 (10-for-28) with a homer, four RBIs, three walks and six runs scored.
Adam Rubin's farm report appears Wednesdays during the season