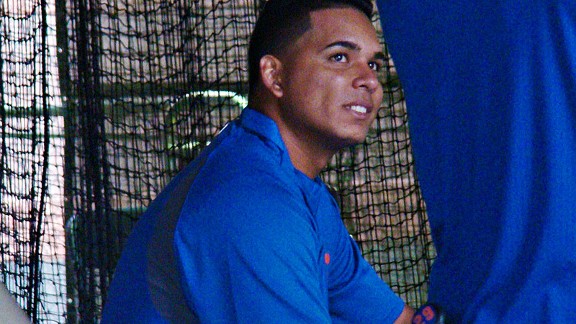 Adam Rubin
Ruben Tejada by the batting cages after arriving at camp.
Ruben Tejada's performance inevitably will be compared with his predecessor's contribution at Citi Field, but Tejada maintained after arriving at camp Sunday that he feels no burden replacing Jose Reyes.
"No, no," Tejada said. "I'm Ruben Tejada."
#11 SS
New York Mets
2011 STATS
GM

96

HR0

RBI36

R31

OBP.360

AVG

.284
Tejada reported on time to camp, although nearly all of the position players -- Ronny Cedeno was the other exception -- arrived early.
Terry Collins publicly expressed disappointment multiple times last week that Tejada did not report early. The two met early Sunday morning and the issue is now in the past.
"I had a little problem there," Tejada said during an interview that drifted between English and Spanish, with bullpen coach Ricky Bones providing some translation. "In Panama they closed the embassy a couple of days, so I wasn't here to play. … I wanted to come early, but because of the issue with the paperwork for the visa, I couldn't come in time. I'm here now."
Collins actually wanted Tejada to spend much of the winter at the Mets' Florida complex -- in part to work with strength coach Jason ("Nitro") Craig on bulking up, and in part to get acclimated to working with new double-play partner Daniel Murphy.
Tejada reminded inquisitors that he actually played about 20 games at shortstop with Murphy at second base in 2010 with Triple-A Buffalo.
As for the slightly framed Tejada -- he officially was listed at 5-foot-11, 187 pounds at the end of last season -- bulking up, teammates volunteered without prodding that he looked stronger.
"He does look jacked this year," Josh Thole said. "He did get stronger."
Said Tejada: "I had a personal trainer in Panama. I thought I was better off to stay there and work out with the personal trainer and get ready and strong. I decided to do it there. … I feel a little bit more stronger. Every year you work to get better. This year I feel really good."
Tejada hit .284 with no homers, 36 RBIs and five steals in 328 at-bats last season at the major league level. He started 53 games at second base and 38 games at shortstop. From Aug. 10 through the remainder of the season, Tejada did hit .327 (50-for-153), ninth-best in the National League during that span.
What did Tejada learn from Reyes?
"Stay happy every day," Tejada said. "Every day is a new game, a new day."
One thing he won't mimic from Reyes is the dreadlocks the ex-Met wore while in Flushing.
"No, no," Tejada said.