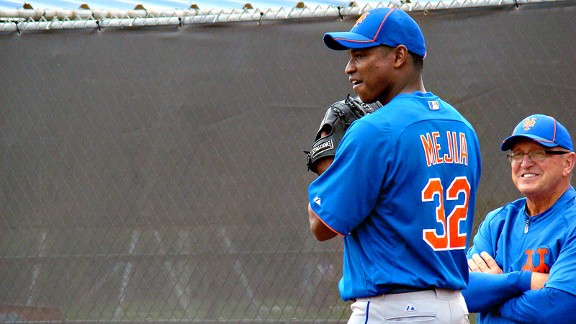 Adam Rubin
Jenrry Mejia throws from atop a mound Sunday as pitching coach Dan Warthen smiles in approval.
Jenrry Mejia, who threw on an incline last week for the first time since Tommy John surgery on May 16, 2011, pitched from the top of the mound Sunday and had a positive session.
Bullpen catcher Eric Langill squatted only a few feet in front of the plate, so the distance Mejia threw was nearly the full 60 feet, 6 inches. Mejia had been working his way up the slope of the mound since arriving in camp.
Mejia is projected to return to game action in May.
• Terry Collins spoke after Sunday's workout about his early morning meeting with Ruben Tejada, which closes the book on Tejada not reporting early to camp.
"I'm sure he got the message," Collins said. "There wasn't a lot of back and forth."
A lot of forth?
"That would be a good way to put it," the manager said with a laugh.
Collins noted to the media how Derek Jeter perentially arrives at Yankees camp early, and that sets a tone.
"Who was the first guy in their camp? The biggest baseball star in the city of New York," Collins said. "He does it all the time. It sends a message. If this guy does it, how come others can't? And [Tejada] got it. He really did. He's such a good kid. He was very upset to think he messed up."
Collins had wanted Tejada to work at the Mets' Florida complex all winter, with the exception of a holiday break to return to his native Panama. The manager explained his preference to Tejada at the end of last season.
Collins said there was nothing lost in translation during that end-of-season meeting, either.
"He recited it word for word to me today. That's why I knew he heard me and understood it," Collins said. "He just said, 'I did all those things you wanted me to do; I just did them back home.'"
• The Mets will stage their first full-squad workout Monday. Collins will deliver an address to the team at 9 a.m. before the players proceed outdoors for the workout.