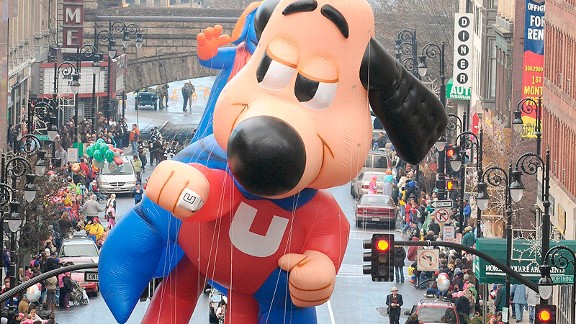 Mark M. Murray/Associated Press/The Republican
Move over Mr. Met. "Underdog" may be the team's appropriate mascot in 2012.
Inside the Mets clubhouse, Justin Turner showed off one of the orange T-shirts that were the brainchild of chief operating officer Jeff Wilpon.
The "U" logo from the old "Underdog" cartoon was printed on the T-shirts and sitting in each locker.
"The capes are coming next week," Turner kidded.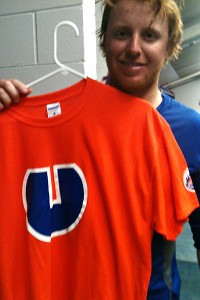 Adam Rubin
Justin Turner models the Mets' new Underdog T-shirt.
"I thought Jeff had a great idea. He made some T-shirts up -- 'Underdog' stuff," said Terry Collins, who rallied his team before Monday's first full-squad workout by telling them 29 teams think they're better than the Mets. "You know what? If it ticks you off, then we're doing our job. You've got to know how you're being felt out there.
"I remember in 1993 in Pittsburgh, after we lost [Barry] Bonds and [Doug] Drabek and those guys. Guys came into spring training, and you could just tell there was that [feeling], 'Hey, we don't have Barry anymore, we're not going to be any good.' And we didn't play very good. And I don't want that to happen here. These guys have got to understand, we are in a situation, we are in a market, we have a fan base that expects people to play the game right and play the game well. I have expectations of how this game is played. And I don't care who is sitting in those seats, it's got to be played that way."
David Wright, for his part, seemed lukewarm about an underdog tag on the Mets.
"I don't really like using the whole underdog thing," he said. "I don't like really playing that card. I think it's just a way to remind everybody in here that the outside expectations aren't the expectations that we have for ourselves. And I think Terry did a good job of kind of conveying it today, because obviously the expectations from the outside are low, and understandably so.
"But we in here kind of have to rally around that and get it going. I guess, at the end of the day, that is kind of an underdog theme. But we shouldn't view ourselves as that. We'll let everybody else view ourselves as that, because I think we kind of know what we're capable of doing."
For those unfamiliar, Wikipedia gives this write-up about the TV series "Underdog" ...
Underdog is an American animated television series that debuted October 3, 1964, on the NBC network under the primary sponsorship of General Mills, and continued in syndication until 1973, for a run of 124 episodes.
Underdog, Shoeshine Boy's heroic alter-ego, appeared whenever love interest Sweet Polly Purebred was being victimized by such villains as Simon Bar Sinister or Riff Raff. Underdog always speaks in rhymes, such as, "There's no need to fear, Underdog is here!" His voice was supplied by Wally Cox.