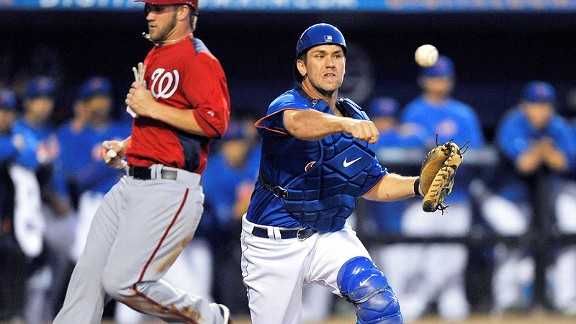 Brad Barr/US Presswire
Josh Thole turns an inning-ending double play in the second as Bryce Harper crosses the plate for naught.
Former San Francisco Giant Andres Torres got off to a quick start in the leadoff spot as a Met, reaching in each of his two plate appearances, although the Mets lost their Grapefruit League opener, 3-1, to the Washington Nationals on Monday night at Digital Domain Park.
Torres walked and stole second base in the first inning -- one of the Mets' five steals in six attempts in the game -- and scored when No. 2 hitter Daniel Murphy delivered an RBI single.
"Andres got on twice tonight. And, as I said before, when he gets on, he scores runs," Terry Collins said. "And he showed that in the first inning tonight."
• New closer Frank Francisco allowed a run in one inning and was tagged with the loss.
• Starter Dillon Gee allowed an opposite-field solo homer to Rick Ankiel in the second inning but no other damage. The Nats later loaded the bases that inning, in part because a grounder rolled through Justin Turner's legs while he subbed at third base for injured David Wright. But Gee stranded three Nats when he retired Andres Blanco with a changeup for a 1-2-3 double play.
"At this point it's just about getting a feel and repeating your mechanics, and just making sure everything is in line," Gee said. "I feel like every week something else has progressed a little bit better. I had decent control tonight. I thought I made some good pitches. That's all you're looking for at this point. The changeup felt good tonight. That's what I'm looking for, is the feel."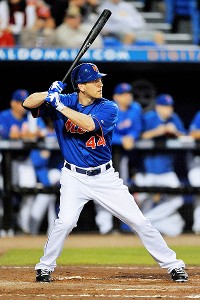 Brad Barr/US Presswire
Jason Bay went 0-for-2 during Monday's Grapefruit League opener.
• Highly regarded pitching prospect Matt Harvey, who replaced Gee for the third inning, walked three batters and plunked another among the eight Nats he faced. Harvey nonetheless did not allow any damage. Josh Thole caught Roger Bernardina stealing in the third inning. And, after Harvey consecutively walked Ankiel and phenom Bryce Harper and hit ex-Met farmhand Jesus Flores with a pitch in the fourth, Harvey got Xavier Paul to ground into an inning-ending 4-6-3 double play with a sinker.
"I had a good first inning, and I just got behind and tried to nitpick in the second inning," Harvey said. "But it was good. I got out of the inning. I had some good defense behind me.
"I felt pretty good. I didn't feel nervous at all. I think warming up, a little bit maybe some jitters. But it was more excitement, though. Like I've said last time, I just try to bring that in and use it toward energy. I was able to do that tonight."
Said Collins: "I think as we get into this, and he gets more comfortable, you'll see better. I just think he was nervous. You worry about being in the middle of the plate. I'm sure he's trying to keep the ball down. But he's still got that good breaking ball. He's just got to get a little better command of it."
Harvey and Harper met once last season in Double-A. Harper went 0-for-3 against Harvey in the Eastern League matchup, including two strikeouts.
The walk was Harper's lone plate appearance against Harvey on Monday night.
"He struck me out twice, made me look stupid," Harper recalled about 2011. "I knew he was going to come at me a little bit, and I knew he had that breaker in his back pocket. I just tried to stay back as best as I could and not try to get too out in front of it. It was good to get that under my belt."
Asked if their meetings this year might be at Citi Field or Nationals Park rather than Triple-A Buffalo or Syracuse, Harvey said: "Who knows? Not my call."
Overall, Harper finished 2-for-2 with a walk Monday night. That included hustling to beat out an infield single on a seemingly routine grounder to third baseman Vinny Rottino.
"When he was in college, they asked me to go out and see him play. And, shoot, he plays hard," Collins said. "He runs every ball out. He runs the bases hard and slides hard. It was pretty impressive."
Said Harper: "[Daniel] Herrera, he threw me a loopy curveball. It's pretty hard to stay back on that. So you try to do what you can do with it. So you try to put it on the ground or put it into left field or something like that. I just tried to 'Ichiro' it. That didn't happen. I just tried to put the bat on the ball. And it happened. And I started running."
• The Mets had some solid fielding efforts. Prospect Kirk Nieuwenhuis, who replaced Torres in center, lunged forward and made a diving catch on a sinking liner off the bat of Blanco to open the fifth inning. (Nieuwenhuis also dropped a routine fly ball in shallow center field on a one-handed attempt in the eighth after calling off second baseman Jordany Valdespin, which led to an unearned run with Miguel Batista pitching.)
In the sixth, Mike Baxter made a strong throw from left field to retire Brett Carroll trying to stretch a hit into a double. Baxter, during the weekend intrasquad games, had made a similarly strong throw to the plate while manning right field.
"It's better than people are aware of, for sure," Collins said about Baxter's arm. "He's been mostly in right field. And one of the reasons is he's got some arm strength."
• The middle-infield combo of Ruben Tejada and Murphy combined on a double play, and Murphy also ranged nicely to his right and retired Chad Tracy on a second-inning grounder.
• The Mets were running on the basepaths, although Collins said that was not a concerted effort. Even Josh Satin stole a base. He has stolen only five times over four seasons in the minors. As Robert Carson saw Satin reach second while watching on a TV in the clubhouse, the southpaw blurted aloud in amazement: "Satin stole a base."
• The Mets have split-squad games Tuesday. Johan Santana takes the home game in Port St. Lucie against the St. Louis Cardinals. On the bus to Kissimmee to face the Houston Astros include Lucas Duda, Murphy, Tejada and Chris Schwinden.