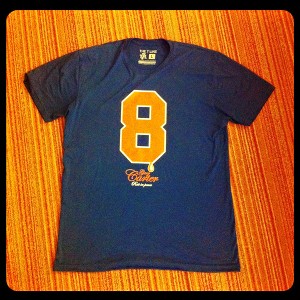 Courtesy of Darren Meenan
Underneath their spring-training jerseys Monday night, the Mets wore blue T-shirts with an orange No. 8 and the words "Gary Carter, rest in peace."
Justin Turner had distributed them to teammates, and said the proceeds from the sale of the shirts -- which were created by a friend unaffiliated with the Mets -- are going to the Gary Carter Foundation.
Here's an explainer from Turner's friend, Darren Meenan of The 7 Line:
"Those shirts the team were wearing were made by me for the Gary Carter Foundation. All of the profits from the sale of the shirts go to them and so far the donation is at $5,265. Here is a link to purchase the shirt. I became friendly with Turner over the past few months and I dropped off a bunch of them for him to distribute to the players. He gets total credit for passing them out."