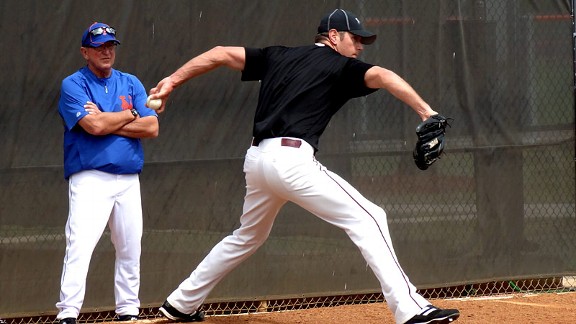 Adam Rubin
Sidearm left-hander C.J. Nitkowski auditions for the Mets on Thursday.
Left-hander C.J. Nitkowski, now a sidearmer, auditioned for the Mets late Thursday morning.
Nitkowski, who turns 39 tomorrow, is a sidearmer. A St. John's product and former first-round pick of the Cincinnati Reds, he last pitched in the majors in 2005 with the Washington Nationals. He pitched in Korea and Japan from 2007 through 2010. Nitkowski did not pitch last season.
J.P. Ricciardi and pitching coach Dan Warthen watched Nitkowski's tryout.
Nitkowski last year sought out the same doctor who injected stem cells into Bartolo Colon. Nitkowski had the same procedure performed on his shoulder. He wrote this story for Sports Illustrated last summer regarding his "first-hand experience with stem cell treatment" in his pitching arm.