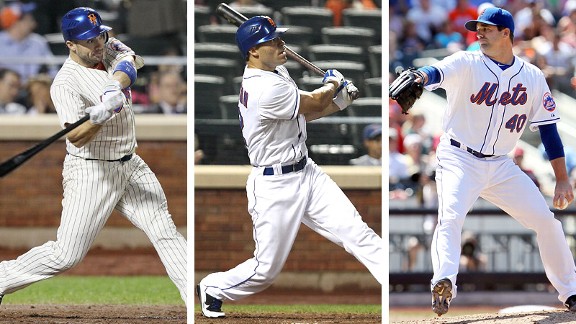 Getty Images/US Presswire
The Mets' sizable injury list includes David Wright (rib cage), Scott Hairston (oblique) and Tim Byrdak (knee).
There are only 54 players in Mets big league camp. Yet, somehow, the Mets already have amassed quite a massive injury list. The summary:
RHP Pedro Beato: Officially suffering from right shoulder inflammation, Beato is listed to return Wednesday in Lakeland against the Tigers. However, Beato has not yet returned to a mound, so that's unlikely. Regardless, he is likely ticketed for Triple-A Buffalo to open the season.
LHP Tim Byrdak: Suffering from sore left knee. As was the case with Pedro Feliciano before him, the Mets have little depth as a lefty specialist and likely will carry no other southpaw in the Opening Day bullpen. So keeping Byrdak on the field is vitally important. Other left-handers in camp include Chuck James, Daniel Herrera, Garrett Olson and Robert Carson. The Mets also are often borrowing Josh Edgin from minor league camp.
1B Ike Davis: Not showing any ill effects from a suspected case of valley fever and routinely playing in Grapefruit League games, but Davis said the issue could take a year to get out of his system.
RF Lucas Duda: For a third straight day, Duda had been expected in the lineup and did not appear because of back stiffness. Duda did work out with teammates pregame, though.
OF Scott Hairston: Strained the same oblique that landed him on the DL to close last season, and appears likely to be inactive to open this season as well. If Hairston is placed on the DL, that means both backup outfield spots -- the lefty and righty hitter -- are up for grabs. However, Vinny Rottino is the only right-handed person in camp who fits the profile. From the left side, Adam Loewen would have a leg up on Mike Baxter in part because Loewen can back up Andres Torres in center field, which was supposed to be Hairston's role.
2B Reese Havens: Prospect continues to be tormented by back issues and has been idle for most of camp.
RHP Jenrry Mejia: Not a camp injury. Mejia is in the final stages of recovering from Tommy John surgery and should be in minor league games beginning in May.
CF Kirk Nieuwenhuis: Added to injury list Sunday with right oblique strain.
3B David Wright: Has yet to appear in a Grapefruit League game because of a left rib-cage issue. So far he has just fielded grounders, but has not swung a bat or thrown. Team doctor Struan Coleman could clear Wright for increased activity tomorrow.
Mended:
LHP Robert Carson: Had a right oblique strain, but returned to Grapefruit League action Saturday in Viera.
CF Andres Torres: Returned to game action Saturday after a limited absence with right glute tightness.
IF Zach Lutz: Drilled a week ago in the left elbow by a pitch from Bobby Parnell, Lutz since has returned to action.