After Terry Collins lost two more players on Tuesday morning -- Ruben Tejada to a groin strain and Ronny Cedeno to knee tendinitis -- the manager blurted in the clubhouse while scratching Tejada from the lineup: "Shocker. It's not serious. It doesn't have to be here. You need an aspirin, you're off for a day."
Four hours later, a more-analytical Collins had a lengthy discussion with media about the bevy of Mets injuries. Collins acknowledged even meeting with strength and conditioning coordinator Brad Andress, who is in his second season with the club, to see if there were any ideas he had. Andress has been in a comparable role with other major league teams for 20 years.
Here's what Collins had to say during his postgame news conference: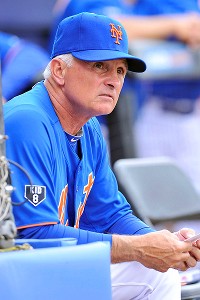 Brad Barr/US Presswire
Terry Collins has grown frustrated with the bevy of Mets injuries.
"Injuries are part of our game. The issue becomes: You're trying to get your team read, and it's pretty to get them out there when nagging little injuries are occurring. I just addressed it the other day to the entire unit about making sure when they get out there, they keep themselves good and warm and get themselves good and loose. You lose two guys in one morning workout. Again, nothing serious. And I know we have three weeks left. Three weeks from tomorrow we leave.
"So, yes, we have a lot of time left. I'm well aware of that. But it's about the whole process of executing the fundamentals that we came down here to work on. We have a baserunning drill coming up, because baserunning is a big factor. Guess who's going to not be in it? Not just one or two, but four won't be in that drill. That's the frustration part.
"Hey, look, I know they're going to be fine. I know they're going to come back, because we're going to rest them and we're going to get them ready. But there's a reason why we're down here this long. ... It throws off the whole scheme of what you have set up for spring training. We take a lot of pride -- I take a lot of pride -- in the scheduling side. I don't know how many other teams take infield; we take infield because I think it's an important phase of the game to throw to the bases. So we've got some baserunning things we do. We've got some stuff that you have to physically speed up as the game does. And now we've got to back guys off. So it throws off the entire schedule of spring training for us."
Asked how he balances players sucking it up and playing through injuries with being prudent, Collins added:
"No. 1, you'll never ask anyone to suck it up in spring training. That's not the purpose of spring training. The purpose of spring training is to go out and get the work done. My issue is when you're banged up, you can't go get the work done. That's the issue. Now, during the season, they'll suck it up. There's no doubt in my mind. This team has been known to suck it up -- more than anybody. I mean, David [Wright] showed it. Carlos Beltran did it. Jose [Reyes] has done it. Everybody has done it. Dan Murphy last year was hitting .325 and did everything he could before a game to get him out on the field because he was absolutely wiped out. So they play above and beyond when the season starts. But when you're trying to prepare for the season, you can't do the fundamental things to get ready, that becomes an issue.
"I've said the first day here: We've got to get out of the gate. That's huge for us. We've got to get out of the gate. And if we don't have the at-bats or the innings played or the execution side down right, we're not going to get out of the gate. That's where it gets frustrating.
"I am getting feedback from everybody. I met with Brad this morning, Brad Andress, and we talked about the whole thing. Guys are doing what he's asking them to do, doing what he wants them to do. The other day I brought up a list of things that we talked about in my office -- Are you staying hydrated? It's hot down here. This might be the most humid spring I've been in, in a long time. It's hot. Are you staying hydrated? It's important. Are you getting rest? Are we monitoring the workloads?
"I've actually changed the way we hit. The extra hitting we do, it's monitored 100 percent, where years and years ago, guys hit just as much, but they didn't get hurt. So we're trying to take a look at the whole total package and readjust it. ... Everybody has had inputs. We're just going to have to back off a little bit and get everybody back on the field. Those last two weeks we're going to ramp it up."
Collins insisted the frustration is from the missing of preparation time and not directed at anyone in particular, such as Tejada.
"I'm not mad at Ruben," Collins said. "Not by a long shot. As a matter of fact, he was out there doing his drills. And Teuf [Tim Teufel] took it upon himself -- which he did exactly the right thing -- and said, 'Look, we don't need anybody else hurt. Go in there and get that looked at.' We'll rest him today. We're going to rest him tomorrow and go from there. But no, no, I'm not mad. I'm not mad at anybody. I'm allowed to be frustrated. This is a team I'm trying to get ready to win.
"I'm sitting here in front of you telling you that we're going to compete. But, I'll tell you what: We aren't going to compete if we don't have our players on the field. So we've got to get them ready. ... We were just talking on the bench. You know, last year, we played one day in spring training where we put our lineup on the field. Not one time all season did we ever put them back on the field. This spring, so far, we have been unable to put the team on the field. We eventually have to do that.
"I talk about patience. Right now, I'm out of them. So I've got to regain it. I've got to go back tonight and have my wife beat me up so I can find my patience again. I had a buddy that used to have a bear -- a pet bear. He used to, when he got mad, the bear would go kick him around the cage. And he finally said, 'OK, I'm back down to earth now.'"