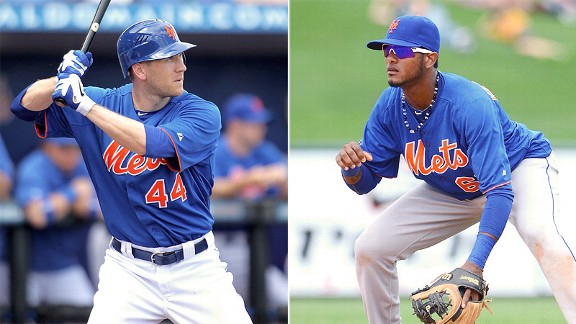 Getty Images
With Andres Torres suffering a left calf strain, Jason Bay and Jordany Valdespin will get looks in center field.
With Andres Torres suffering a left-calf strain Tuesday night and projected backup Scott Hairston already on the shelf with a left oblique strain, Terry Collins wants as many options as possible. So the manager indicated after Tuesday's 2-0 win against the Washington Nationals that he will experiment with Jason Bay and middle-infield prospect Jordany Valdespin in center field in the near future.
"I've got figure out options," Collins said. "I can't leave here saying, 'I should have ran Valdespin out there just to see what we might have.' So I'm going to do that."
Bay last played center field with the Pittsburgh Pirates in 2005. After Torres left Tuesday's game, Bay volunteered to Collins to dabble at the position in the next two weeks. He has started 37 career major league games at the position.
Valdespin, meanwhile, has appeared in only one game in the outfield as a member of the Mets organization -- in 2007 in the Dominican Summer League in left field. He has not played in the outfield at all in winter ball. First base/outfield coach Tom Goodwin plans to give him a crash course beginning Wednesday. Collins reasoned that Valdespin was the best athlete in camp, so he would be a logical candidate.
"We're trying to figure out what's the best fit, and this kid is athletic as heck," Collins said. "I asked Jordany today, 'Can you play center field?' He said to me, 'Yes I can.' I said, 'Well, you better take some fly balls, because I'm going to run your butt out there.' When you look at the pure athleticism on this club, he might be as athletic as anybody. He's got power. He's got a great arm. So we'll just see."
Mike Baxter will start in center field on Wednesday in Jupiter against the St. Louis Cardinals, and Adam Loewen also has been exposed to the position.
Natural center fielder Kirk Nieuwenhuis already has been dispatched to minor league camp. He is on the 40-man roster and can always return, but Collins noted that Nieuwenhuis needs at-bats as he returns from shoulder surgery. Also relevant: The manager did not believe Nieuwenhuis has played in minor league games since the reassignment because of an oblique issue suffered while in major league camp.
"When we sent Kirk out, we told him, 'Go down there and get your stroke down. Get better and get that stroke back, because you never now what's going to happen,'" Collins said.
The hope is that Torres' injury only sidelines him for a handful of days, but Collins is not taking any chances. Collins reiterated Tuesday night that Hairston is the primary alternative to Torres, but Hairston is no guarantee to be ready for the Opening Day roster. He may not begin swinging a bat until the weekend at the earliest as he returns from an oblique strain.
"We'll have to wait and see tomorrow," Collins said about Torres. "You know, he's wound pretty tight. He's one of those guys that's hard as a rock. We'll see how he's doing. He's had such a good spring, I don't want to certainly rush him. When [trainer] Ray [Ramirez] checks him tomorrow, we'll know more."