For a third straight day as he returns from an abdominal muscle tear, David Wright did full pregame work with teammates. And all signs point to Wright making his first Grapefruit League appearance Tuesday against the Atlanta Braves in Port St. Lucie.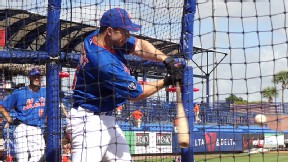 Adam Rubin
David Wright, who has been taking batting practice with teammates, may be in his first game Tuesday.
Wright has taken batting practice, but he has yet to stand in the batter's box as an actual pitcher delivers a pitch. Terry Collins said he hopes Wright will stand in the box as a pitcher works on Sunday, even if it's just tracking balls without swinging against a minor league pitcher.
That could set up Wright's first Grapefruit League game on Tuesday, when the Mets play the first of three straight home games.
"I'd love to see David by Tuesday," Collins said. "For sure."
In fact, the manager hopes to have as much of his full lineup as is healthy ready to play on Tuesday. Collins wants to play his starters for three straight days while the Mets are hosting the consecutive games at Digital Domain Park. The Washington Nationals visit Port St. Lucie on Wednesday. The Houston Astros visit for a night game Thursday.
"We've got to start running our team out there," Collins said. "We've got to start getting them at-bats. We've got to start getting them on the field together, getting them used to each other. Even if it's only a couple of at-bats a night, they've got to get consistent at-bats."