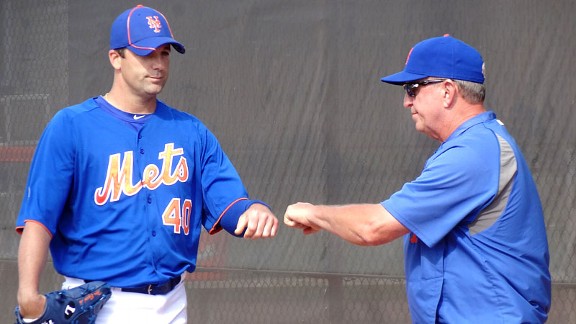 Adam Rubin
Tim Byrdak and Dan Warthen exchange fist bumps after the southpaw's first mound session since surgery to repair a torn meniscus.
Tim Byrdak may be overly optimistic, but the left-handed reliever said he is "pushing" to be ready for Opening Day.
Byrdak threw off a mound Wednesday for the first time since March 13 surgery to repair torn meniscus cartilage in his left knee and had no apparent issue. He hopes to pitch in a minor league game Friday, assuming he feels OK tomorrow, but it's not clear the organization will let him push that rapidly.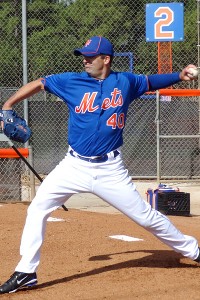 Adam Rubin
Tim Byrdak throws off a mound Wednesday.
If Byrdak does not appear in a Grapefruit League game during the final week of spring training, he only would be required to miss the first four games of the regular season on the disabled list because of backdating rules. The Mets are preparing to take Daniel Herrera north as a short-term plug for Byrdak.
Byrdak being ready for the April 5 opener against the Atlanta Braves -- albeit not the likely scenario -- would alleviate the need to clear a third 40-man roster spot. The Mets are expected to need to clear room for backup outfielder Mike Baxter and reliever Miguel Batista, and potentially another spot if Andres Torres (calf) were not ready.
Byrdak was in good spirits during Wednesday's session with bullpen catcher Dave Racaniello.
"You ready to be amazed?" the comedic Byrdak asked Racaniello at the outset.
"I'm already amazed a man your age can pitch," Rac shot back.
After throwing a pitch, Byrdak then exclaimed: "Like I've never missed a beat."
"Lot of movement," Byrdak told Rac mid-session.
"Lot of movement," Rac repeated.
"That's not a bad thing to have," Byrdak said.