Terry Collins plans to have Lucas Duda bat sixth in the opening series against the Atlanta Braves, to avoid stacking lefty hitters Ike Davis and Duda consecutively. After all, Collins does not want to make it easy for Braves counterpart Fredi Gonzalez to summon stellar southpaw relievers Jonny Venters and Eric O'Flaherty without having Jason Bay split the two lefty hitters.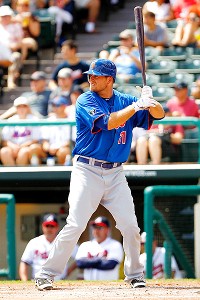 Debby Wong/US Presswire
Lucas Duda may not last in the No. 6 hole beyond the first series.
But Duda's time in the No. 6 hole likely will not last beyond the first three games, assuming he continues to look sharp at the plate. Collins would be less resistant to stacking Davis and Duda in the second series against the Nationals, because there is not a comparable left-handed reliever to Atlanta's Venters and O'Flaherty.
Sean Burnett is the top southpaw in Washington's bullpen, with Tom Gorzelanny and Ross Detwiler slated to make the team as long men.
Lefties hit .127 against Venters and .195 against O'Flaherty last season. They hit a still-not-shabby .200 against Burnett.
Duda went 2-for-4 with an RBI triple Wednesday in the Mets' 3-2 loss to the Nationals. He is hitting .325 with four homers and nine RBIs in 40 Grapefruit League at-bats.
The projected Opening Day lineup, assuming Andres Torres is ready:
Andres Torres, cf
Daniel Murphy, 2b
David Wright, 3b
Ike Davis, 1b
Jason Bay, lf
Lucas Duda, rf
Josh Thole, c
Ruben Tejada, ss
Johan Santana, lhp