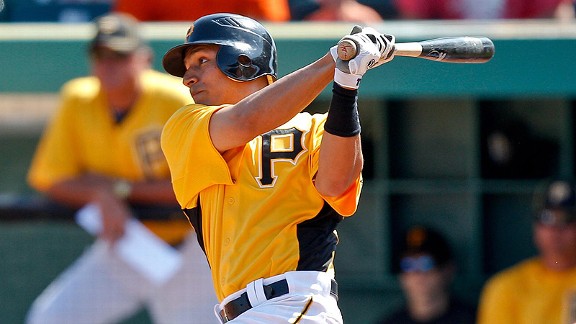 Derick E. Hingle/US Presswire
Josh Rodriguez during a spring training exhibition game in 2011 with the Pirates. He has signed a minor league deal with the Mets.
The Mets have signed middle infielder Josh Rodriguez to a minor league deal.
Rodriguez, 27, went 1-for-12 with a walk and eight strikeouts with the Pirates last season after being selected with the first overall pick in the Rule 5 draft by Pittsburgh. (The Mets took Brad Emaus and Pedro Beato in the same Rule 5 draft.) Rodriguez was returned to Cleveland on April 29, then subsequently reacquired by the Pirates on June 21 for cash.
Between Double-A Altoona and a pair of Triple-A teams in 2011, Rodriguez hit .258 with seven homers and 30 RBIs in 295 at-bats while playing 37 games at second base, 23 games at shortstop and eight games at third base. He primary is viewed as a solid, versatile defensive player.
He had been in minor league camp with the Pirates this spring training.