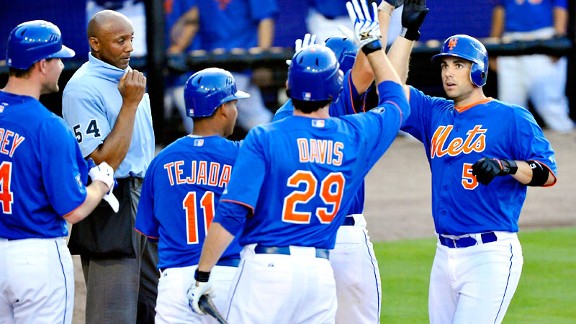 Brad Barr/US Presswire
David Wright celebrates after his fourth-inning grand slam handed the Mets an 8-1 lead.Mike Pelfrey retired the final 10 batters he faced and David Wright belted a grand slam as the Mets beat Livan Hernandez and the Houston Astros, 9-1, Thursday night at Digital Domain Park.
In by far his most successful spring-training showing, Pelfrey limited Houston to one run and three hits while striking out three and walking none in 6 1/3 innings. He shaved his Grapefruit League ERA from 11.49 to 8.59. He had allowed at least four earned runs in each of his first four exhibition starts.
"He was keeping the ball down," said Josh Thole, who went 2-for-4 with two RBIs and threw out a would-be base stealer. "This is the most aggressive I've seen him in a while as far as the ball sinking and just everything -- the mix of his pitches. He was just aggressive. Right out of the gate, he just came out on fire."
Said Terry Collins: "He's a pro and he's been here a long time and he might downplay it, but I'll tell you, I was real happy with what I saw. I saw all the things today that I've heard about. I saw a power sinker that had great movement -- beating it into the dirt. He threw his curveball for strikes. Josh said his split was outstanding tonight. They didn't swing at many of them, but the point is I thought it was really a step forward for him. I think his new delivery [with hands above his head rather than at his belt] has helped. I thought it was a positive.
"I felt bad for Mike because he came in with we had to see something. Here's a guy who has never had very good spring trainings, always went out and gave you quality innings. But he had to show us he was OK, that there was still something there. And he did tonight. For sure."
Pelfrey actually downplayed the need to demonstrate to himself that he had a performance like this in him.
"After I threw the last start, I thought it was getting there," Pelfrey said. "… I don't worry. For me, if the ball is coming out good, and I feel good, I think I'm going to be OK. I know last start I pounded it and threw a lot of strikes and the ball was coming out good. And today I thought I did a good job of locating even better. I was pretty pleased.
"Like I told you the other day, I would always love to go out there and not give up a hit. At the end of the day, in spring training, that's not what it's all about. You want to get your work in. You want to build it up. I feel like I'm making progress. And I've been saying ever since two weeks ago when I faced these guys that the ball is starting to come out [well] and we're getting there."
Afterward, Pelfrey also was able to lightheartedly talk about being outed in R.A. Dickey's book as having attempted 50-yard field goals during spring training last year.
Asked his longest career field goal Thursday night, Pelfrey replied: "Oh, boy. Fifty yards. I might have kicked a 55. I've got a little power in that leg. I straight-toed it with baseball cleats on. My thing is, I get about seven kicks and then my shin blows up. I think I kicked the ground the last one and fell over. And I couldn't push the gas pedal driving home. I have a little 'boot' in there."
• Wright played in his third game in four days since returning from a strained abdominal muscle. The intention is to play Friday in Jupiter against the St. Louis Cardinals to get a day game after night game under his belt. Wright suggested -- and the grand slam off Hernandez indicated -- the third baseman is doing just fine.
"I felt relatively good -- each game, I guess, a little better," Wright said. "The important thing is I made it six innings. That's the longest outing this spring. It's a nice test for tomorrow, with the quick turnaround. That's my last chance to get that day game after a night game in. Tomorrow will be a nice day to judge where I'm at physically."
• Daniel Herrera, Jon Rauch and Josh Edgin combined for 2 2/3 of scoreless relief innings, with the only hit coming on a ninth-inning single against Edgin.
• Tim Byrdak, after pitching back-to-back days on a mound while working back from surgery to repair torn meniscus cartilage in his left knee, will wait until Saturday to pitch in a minor league game, he said. Byrdak said he felt some "fatigue" in the surgically repaired area from throwing back-to-back days. He had been idle since the March 13 procedure, and described the fatigue as expected given the downtime.