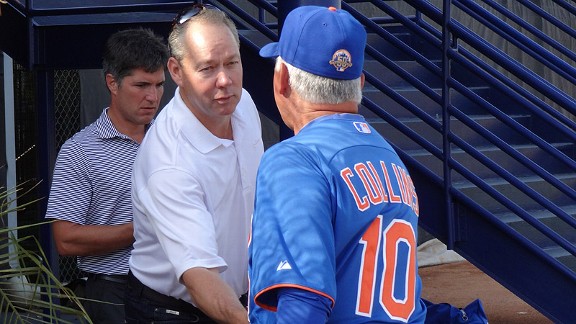 Adam Rubin
Astros owner Jim Crane meets Terry Collins during a tour of the Mets' spring-training facility.
Houston Astros owner Jim Crane received a tour of the New York Mets' spring-training complex Saturday morning.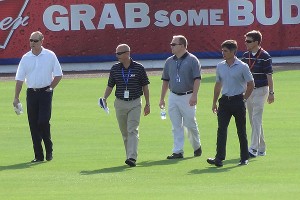 Adam Rubin
Astros officials tour the main stadium.
Mets officials hope to convince Crane to have the Astros share the Port St. Lucie, Fla., facility with the Mets, to counterbalance the departure of teams from the eastern side of Florida, including the Los Angeles Dodgers from Vero Beach to Arizona and the Baltimore Orioles from Fort Lauderdale to Sarasota.
Florida Governor Rick Scott has become involved in trying to preserve baseball on the eastern coast of Florida, a Mets source said.
Paul Taglieri, the Mets' head of Florida operations, provided the tour of the facility. Crane met Terry Collins and David Wright during the visit.
Local officials recently put $2.5 million into the Mets' complex in the hopes of landing a second team. The Mets are stuck playing primarily division opponents unless they trek more than two hours by bus. The Astros would be particularly welcome because they are moving to the American League.
The Astros reportedly are committed to Osceola County Stadium in Kissimmee through 2016. Crane owns a golf course near Port St. Lucie and has been eyeing the area.
"I'd like to see more teams on this side of the state, for sure," Collins said. "No disrespect to the Marlins or the Nationals, but you get tired seeing those same faces every day, especially the teams in our division. To have another team come in -- no matter who it is or where it is -- is good for us."