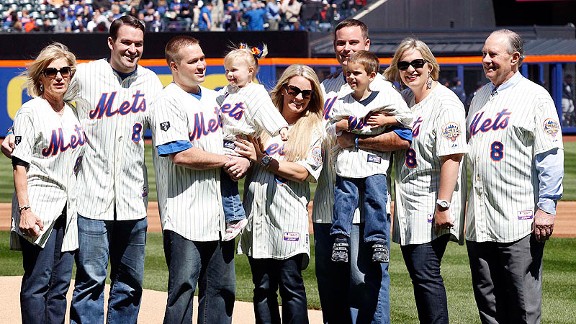 William Perlman/Star-Ledger/US Presswire
Gary Carter's family members are recognized on the field on Opening Day at Citi Field.The Mets honored the memory of Hall of Fame catcher Gary Carter -- who died Feb. 16 following a 10-month battle with brain cancer at the age of 57 -- prior to Thursday's Opening Day game against the Braves at Citi Field.
The Mets will wear "KID 8" home-plate logo patches on their right uniform sleeves throughout the season. That same logo was unveiled by Carter's family on the left-center field wall next to the 385-foot marker.
The Mets have Carter's No. 8 jersey hanging in their dugout. They all wore his blue No. 8 jersey during pregame workouts.
"In all trueness and fairness, I wish I could've lived like him," Darryl Strawberry said in a media conference before the game. "I really do. I really wish I could've lived my life like him as a player and as a person."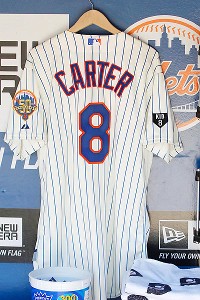 William Perlman/THE STAR-LEDGER/US Presswire
Gary Carter's jersey was hanging in the Mets' dugout on Thursday.
Carter played with the Mets from 1985-89, hitting .249 with 89 home runs and 349 RBIs. He was a vital cog on the 1986 World Series championship team, and is perhaps best known for starting the Mets' unfathomable 10th-inning rally in Game 6 with a two-out single.
Most of the Mets players hated Carter when they played against him, Mookie Wilson said. But Carter quickly endeared himself to his New York teammates both on and off the field.
"He really cared about his team," Wilson said. "Yes, he loved the camera, yes he did, but he was genuine."
Carter made an immediate impact in his first game as a Met, drilling a 10th-inning walk-off home run off Cardinals reliever Neil Allen on Opening Day in 1985.
"In your gut, you knew we had just turned the corner," Strawberry said.
Carter's nickname -- "Kid" -- was a fitting one.
"He was happy among a bunch of animals," Strawberry said. "He never said anything negative or bad about anybody. How do you do that?"
Carter's wife, Sandy, son D.J., and daughters Kimmy and Christy and their families were out in the outfield to help unveil the hope plate logo.
There was a moment of silence for Carter before the game.
Fans held signs that said "We will never forget" and "We love you Gary" and chanted "Ga-ry Car-ter!" during the ceremony.
Even though Carter was inducted into the Baseball Hall of Fame in 2003, his number hasn't been retired by the Mets.