Andres Torres' trip to the disabled list is expected to result in Kirk Nieuwenhuis making his major league debut this weekend, a team source told ESPNNewYork.com.
The lefty-hitting, righty-throwing center fielder had been held back in Port St. Lucie last weekend as his teammates left for Triple-A Buffalo in case Torres wasn't ready for Opening Day. He eventually was cleared to join the Bisons, and played center field on Thursday night at Pawtucket, but now appears headed for Citi Field.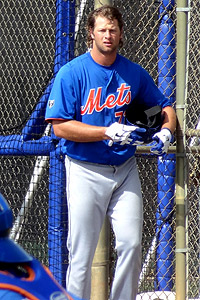 Adam Rubin
Kirk Nieuwenhuis is expected to join the Mets in place of Andres Torres.
Nieuwenhuis hit .298 with six homers and 14 RBIs last season at Buffalo before requiring surgery for a torn labrum in his non-throwing shoulder. He was slowed in spring training by an oblique strain, but returned to action on the minor league side March 29.
A Division I football recruit by programs such as Colorado, Colorado State and Air Force, Nieuwenhuis instead opted to focus on baseball at Azusa Pacific University. He was selected in the third round in 2008 by the Mets, and has taken that football mentality to the baseball field -- sometimes to his detriment. Unafraid to crash into walls, Nieuwenhuis has suffered his share of injuries because of his aggressiveness. He underwent surgery on his left, non-throwing shoulder last July 11, after playing in 53 games with Buffalo during the first half.
Large for center field at 6-foot-3, 215 pounds, many scouts still believe Nieuwenhuis moves well enough to man that position.
"My concern about him is his ability to stay on the field," one scout said. "He's been hurt a lot the last three years, and I have questions about his durability. I see him more as a platoon guy."
Nieuwenhuis hit .254 against left-handers last season as opposed to .320 against right-handers. The previous year in Triple-A, it was .125 versus .261. So it's conceivable Scott Hairston could get some starts against southpaws, including when the Mets face Atlanta's Mike Minor on Sunday.