On Saturday afternoon, R.A. Dickey's "mediocre" knuckleball was good enough.
Dickey fended off cold and windy weather conditions to pitch six solid innings and pick up the victory in his first start of the season. He gave up just two earned runs on five hits, striking out three while walking four.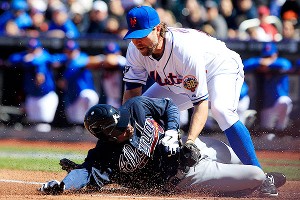 AP Photo/Frank Franklin II
R.A. Dickey made a big play in the first inning, tagging out Michael Bourn at home plate.
Dickey, who threw 58 of his 94 pitches for strikes, picked up his 13th straight quality start, the longest streak in the majors. Dickey's run dates back to July 25, 2011. He has a 2.49 ERA over the stretch.
Dickey was upset, however, over a pair of two-out walks he issued. The last of the two -- to Michael Bourn in the fifth -- preceded Martin Prado's two-run homer to left, the only blemish on Dickey's line.
"Those were two gargantuan mistakes," Dickey said. "I gotta be better than that."
Manager Terry Collins said Dickey told him throwing his knuckleball on the 55-degree day was like "throwing a piece of glass."
"He just keeps competing," Collins said. "Sometimes it's a real good [knuckleball], sometimes it isn't. But it's hard when it's cold and windy."
Dickey got off to a 1-4 start in April 2011 with a 3.82 ERA.
• • •
Kirk Nieuwenhuis had a major league debut to remember.
The 24-year-old center fielder went 2-for-4 at the plate, legging out his first MLB hit on an infield single in the fourth. He later lined a base knock to right in the seventh.
"I wish it would've been harder," he said of his first hit, "but I'm taking that single every single day."
Nieuwenhuis didn't see if any of his teammates tried to play a trick on him and pretend to throw the ball over the dugout and into the crowd.
"I didn't see, but it's awfully dirty from all the hops it took," he said.
Nieuwenhuis did get the ball as a souvenir. He'll have Sunday off with left-hander Mike Minor set to take the ball for Atlanta.
• • •
The Mets' bullpen has logged seven scoreless innings to begin the season. In 2011, they ranked 28th in the majors in ERA (4.33).
Closer Frank Francisco is 2-for-2 in save opportunities. He gave up a pair of hits, but got Matt Diaz to swing through a 93 mph sinker to seal the Mets' 4-2 victory.
"We made enough phone calls in spring training about our new guys," Collins said. "They told us, 'Don't watch [his] spring training. When the season starts and the light come on he gets going.' So far, that's exactly what's happened."
Reliever Bobby Parnell pitched a scoreless seventh and had a strikeout. Catcher Josh Thole said the key to Parnell's success has been the addition of a 93 mph sinker to his repertoire.
• • •
Prado's two-run homer snapped the Mets' team scoreless streak at 22 innings dating back to last season. ... David Wright went 3-for-5 after going 2-for-3 on Opening Day. ... Josh Thole has three straight multi-hit games dating back to last season. ... The Mets are 2-for-17 with RISP this season. ... The Mets started 4-0 in 2007. ... Ruben Tejada went 0-for-4 with a walk out of the No. 1 spot in the lineup.