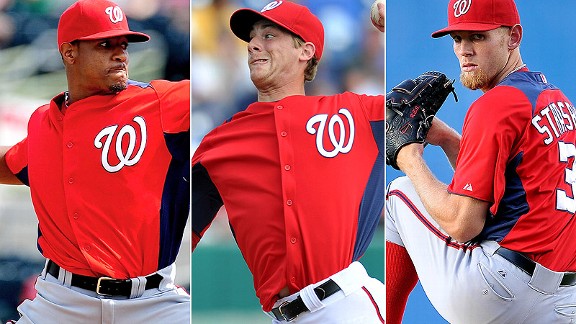 US Presswire
Edwin Jackson makes his Nats debut Monday against the Mets, followed by Ross Detwiler on Tuesday and Stephen Strasburg on Wednesday.
METS (3-0, first place/NL East) vs. WASHINGTON NATIONALS (2-1, second place/NL East)
Monday: RHP Mike Pelfrey vs. RHP Edwin Jackson, 7:10 p.m. ET
Tuesday: RHP Dillon Gee vs. LHP Ross Detwiler, 7:10 p.m. ET
Wednesday: LHP Johan Santana (0-0, 0.00) vs. RHP Stephen Strasburg (0-0, 1.29), 1:10 p.m. ET
Nationals short hops
• Ross Detwiler claimed the fifth-starter's job over fellow southpaw John Lannan, in the spot available because Chien-Ming Wang strained his left hamstring March 15. Lannan, assigned to Triple-A Syracuse, asked GM Mike Rizzo for a trade after the decision, then sent an email to beat reporters the following day acknowledging the request. After Wang suffered the injury, manager Davey Johnson had said Lannan would be the fifth starter. Lannan is due to earn $5 million this season. The Nats are only expected to trade Lannan if they get something of consequence in return, since they will need starting pitching depth during the season. Detwiler's spring-training ERA was 3.06, to Lannan's 5.14. The Nats did not think Lannan would be comfortable in the bullpen, so they sent him to Syracuse and instead carried Craig Stammen in a major league relief role.
• Cleanup hitter Michael Morse is expected to be activated from the disabled list as soon as Tuesday. He homered Friday, during a rehab assignment with Double-A Harrisburg, as he returns from a right lat muscle tear. After coming to New York on Saturday for preplanned treatment, Morse returned to the Eastern League club Sunday to continue a rehab assignment. Bergen Catholic product Mark DeRosa started in left field the first two games of the season, while ex-Met Xavier Nady manned the position Sunday. DeRosa was signed at winter meetings to fill the void after Chris Marrero suffered a hamstring injury in winter ball in November that will sideline him the first half of the season. DeRosa has undergone three wrist surgeries in past two years, but appears healthy now. Nady signed in mid-March after being jobless.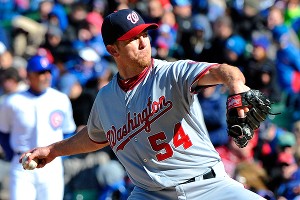 Rob Grabowski/US Presswire
With Drew Storen on the DL, ex-Phillie Brad Lidge picked up the save on Opening Day at Wrigley Field.
• Jayson Werth is expected to play center field against left-handed pitchers, with Nady manning right field. Primarily the right fielder, Werth is due to make $13 million in 2012, in the second season of a seven-year, $126 million deal. He hit .232 with 20 homers, 58 RBIs and 19 steals in his first season with the Nats.
• Roger Bernadina has started in center field the first three games against right-handers, while fellow lefty-hitting outfielder Rick Ankiel opens the season on the disabled list with quadriceps tightness. Ankiel, who originally re-signed with the Nats on a minor league deal, will earn $1.25 million this season. He has started a rehab assignment, but is not eligible to be activated until Saturday.
• Chad Tracy spent last season in Japan, where he hit only .235 with one homer and 19 RBIs in 149 at-bats with Hiroshima. Tracy has been big off the bench so far. After making the Opening Day roster because of Ankiel's quadriceps injury, Tracy already twice has delivered successful pinch hits -- including a two-run, go-ahead single in the eighth Saturday against Carlos Marmol, who was attempting a four-out save.
• Stephen Strasburg started Opening Day and limited the Cubs to one run and five hits while striking out five and walking one in seven innings. Strasburg breezed through the first two innings, requiring only 14 pitches. He ultimately received a no-decision. The Nats have pledged to cap Strasburg's innings at 160 this season after he missed most of last season rehabbing from Tommy John surgery, although playoff contention would test that commitment.
• Drew Storen, who recorded 43 saves last year, opened the season on the disabled list with right elbow inflammation. Brad Lidge, who signed a one-year, $1 million deal, and flame-throwing Henry Rodriguez will close in Storen's absence. Lidge, 35, picked up the save on Opening Day at Wrigley Field -- only the ex-Phillie's second save since Sept. 27, 2010. The Nats have an ultra-deep bullpen. Rodriguez has been clocked at 101 mph, with a 94 mph changeup. Set-up man Tyler Clippard (3-0, 1.83 ERA in 2011) earned an All-Star invitation last season.
• Third baseman Ryan Zimmerman agreed to a six-year, $100 million extension Feb. 26. The deal is on top of the combined $26 million he was due to earn between this season and 2013. The Nats have a team option for 2020.
• Edwin Jackson signed a one-year, $11 million contract Feb. 2, which essentially sealed Lannan's fate. Jackson, 28, underwhelmed during spring training, though, while producing a 6.51 Grapefruit League ERA. He went a combined 12-9 with a 3.79 ERA last season between the White Sox and Cardinals. The White Sox officially traded Jackson and Mark Teahan to the Blue Jays last July 27. That same day, the Blue Jays flipped Jackson to the Cardinals in an eight-player swap that landed Colby Rasmus in Toronto. Jackson was the loser in Game 4 of the World Series. He walked seven while allowing three runs in 5 1/3 innings against the Rangers. Derek Holland and Neftali Feliz combined on a two-hit shutout that game.
• The Nats acquired 2011 All-Star Gio Gonzalez from the Oakland A's in December for four players, including Brad Peacock and Tommy Milone. Gonzalez -- who does not face the Mets -- had career bests with 16 wins, a 3.12 ERA and 197 strikeouts last season. He signed a five-year, $42 million extension with the Nats after the trade. Gonzalez lasted only 3 2/3 innings in his Nats debut Saturday. He allowed four runs.
• Catcher Wilson Ramos dealt with a traumatic offseason ordeal. He was abducted at gunpoint in his native Venezuela in November and held for 50 hours before being freed during a government commando operation. Ramos started all three games behind the plate in Chicago. Jesus Flores, the former Rule 5 pick from the Mets, who has been tormented by shoulder woes early in his major league career, is Ramos' backup.
• First baseman Adam LaRoche had a career-high four hits Saturday, including his first homer since last April 24. He then went deep again in the ninth inning Sunday -- a two-out, two-run shot off Jeff Samardzija that pulled Washington within 4-3. The Nats' bid for a third straight late-inning comeback fell short, though, as Marmol entered and got Nady to pop out after walking Werth. LaRoche gutted through the first month and a half of last season with an injury to his left, throwing shoulder before getting it surgically repaired and missing the remainder of the season.
• Outfielder Bryce Harper, the top pick in the 2010 draft, already is off to a quick start at Triple-A Syracuse. Harper, who is currently working on his center field aptitude, is expected to be in the major leagues no later than June. He is a near lock to spend at least the first 21 days of the season in the minors, to ensure he does not get credited with a full year of major league service time. Spending at least three weeks in the minors delays Harper, a Scott Boras client, from being a free agent until after the 2018 season.
Matchups
Pelfrey vs. Nationals (career: 4-7, 4.02 ERA)
Adam LaRoche .636, 4 RBI, 2 BB, 1 K, 13 PA
Wilson Ramos .500, 1 RBI, 1 K, 2 PA
Danny Espinosa .500, 1 HR, 2 RBI, 1 BB, 2 K, 11 PA
Jesus Flores .286, 1 RBI, 2 BB, 1 K, 9 PA
Ian Desmond .278, 1 HR, 4 RBI, 1 BB, 2 K, 19 PA
Chad Tracy .273, 5 RBI, 1 BB, 12 PA
Jayson Werth .273, 2 RBI, 3 BB, 6 K, 38 PA
Ryan Zimmerman .220, 1 HR, 5 RBI, 2 BB, 8 K, 52 PA
Roger Bernadina .200, 1 HR, 1 RBI, 3 BB, 1 K, 13 PA
Mark DeRosa .000, 1 RBI, 4 PA
Gee vs. Nationals (career: 3-0, 3.09 ERA)
Jesus Flores .500, 1 RBI, 2 PA
Jayson Werth .250, 3 BB, 5 K, 15 PA
Ian Desmond .231, 1 HR, 1 RBI, 1 BB, 5 K, 15 PA
Ryan Zimmerman .167, 1 BB, 3 K, 13 PA
Wilson Ramos .167, 2 BB, 1 K, 8 PA
Roger Bernadina .111, 1 HR, 1 RBI, 1 K, 9 PA
Danny Espinosa .091, 3 RBI, 1 K, 15 PA
Adam LaRoche .000, 3 PA
Xavier Nady 1 HBP, 1 PA
Santana vs. Nationals (career: 6-2, 3.00 ERA)
Jesus Flores .444, 1 RBI, 1 K, 9 PA
Ian Desmond .400, 5 PA
Ryan Zimmerman .316, 1 HR, 4 RBI, 4 BB, 3 K, 23 PA
Adam LaRoche .300, 1 RBI, 2 BB, 5 K, 12 PA
Jayson Werth .250, 1 HR, 2 RBI, 3 BB, 7 K, 31 PA
Xavier Nady .222, 1 BB, 2 K, 11 PA
Mark DeRosa .063, 1 BB, 3 K, 17 PA
Brett Carroll .000, 1 BB, 3 K, 6 PA
Jackson vs. Mets (career: 0-0, 9.00 ERA)
Lucas Duda .500, 1 RBI, 1 BB, 1 K, 3 PA
Josh Thole .333, 1 RBI, 3 PA
Jason Bay .300, 1 HR, 1 RBI, 2 BB, 4 K, 12 PA
Ronny Cedeno .250, 2 K, 9 PA
Scott Hairston .000, 2 K, 7 PA
David Wright .000, 1 RBI, 1 BB, 1 K, 3 PA
Ruben Tejada .000, 1 BB, 3 PA
Detwiler vs. Mets (career: 1-1, 4.50 ERA)
Ike Davis 1.000, 1 PA
David Wright .500, 1 HR, 4 RBI, 1 K, 8 PA
Jason Bay .250, 1 BB, 5 PA
Justin Turner .250, 1 BB, 1 K, 5 PA
Lucas Duda .200, 1 BB, 1 K, 6 PA
Mike Nickeas .000, 4 PA
Ruben Tejada .000, 1 PA
Josh Thole 1 HBP, 1 PA
Strasburg vs. Mets (career: 0-0, 3.60 ERA)
Josh Thole 1.000, 1 RBI, 1 BB, 2 PA
Ike Davis .500, 1 BB, 3 PA
Jason Bay .500, 1 RBI, 1 K, 2 PA
David Wright .333, 1 K, 3 PA
Ronny Cedeno .000, 2 K, 2 PA
Ruben Tejada .000, 1 K, 2 PA
Last series results
Washington won, 4-0, at Citi Field, Sept. 12-15, 2011 (AP game recaps)
Nationals 3, Mets 2: Blame this loss on the hats. Terry Collins did. Stephen Lombardozzi made his first big league hit and RBI count, driving in the go-ahead run in the seventh. For the second straight day, the Mets found themselves discussing Major League Baseball's decision to deny their request to wear caps from emergency-service units during Sunday's 9/11 remembrance day game. David Wright made his fourth error in three games to help the Nats score an unearned run in the fifth. Ross Detwiler and R.A. Dickey (8-12) each gave up one hit through four innings. Jayson Werth had three hits and Rick Ankiel and Wilson Ramos drove in runs for Washington. Todd Coffey got one out in the sixth, Tyler Clippard pitched two perfect innings and Drew Storen finished. In contrast to his last start six runs allowed against the Mets on Sept. 2, Detwiler was cruising until he walked Justin Turner and Lucas Duda with two outs in the sixth. Wright followed with an RBI single and Angel Pagan doubled in another run to tie it 2-all.
Nationals 3, Mets 2: Dillon Gee, Nick Evans and Ruben Tejada all failed to get down bunts, and the Mets blew a two-run lead. Gee struck out attempting to bunt after Josh Thole's leadoff double in the fifth. With two on and no outs in the sixth, Evans struck out following a fouled bunt attempt. And after Jose Reyes' leadoff single in the seventh, Tejada popped to first on a bunt. New York (71-77) has lost four in a row and six of seven since pulling within a game of .500. On "Star Wars" night, fans stayed away from Citi Field as if fleeing Darth Vader. With the score 2-2 in the seventh, Washington went ahead when pitcher Craig Stammen (1-1) singled off Dale Thayer (0-2) for his first hit since July 30 last year. Ian Desmond singled him to second with one out, Rick Ankiel advanced Stammen by grounding into a forceout against Tim Byrdak, and Ryan Zimmerman lined a single off Bobby Parnell.
Nationals 2, Mets 0: Brad Peacock pitched five impressive innings, blanking the Mets on a mere two singles and earning his first major league win as the Nationals held off New York. Center fielder Rick Ankiel made a diving catch in left-center on Jose Reyes' liner with runners at the corners for the final out. The Nationals won their fourth in a row and improved to 70-77, topping last year's victory total. They also pulled into a virtual tie with the Mets for third place in the NL East. The franchise has not finished third or higher since 2002, when it played in Montreal. Michael Morse and Jayson Werth hit RBI singles with two outs in the third after yet another error by third baseman David Wright, sending the Mets to their fifth straight loss.
Nationals 10, Mets 1: Ian Desmond had a career-high five hits and Tommy Milone earned his first major league win, leading the Nats to a four-game sweep. Afterward, Terry Collins said he was "disgusted" with his team's play. "The perception I have right now: We folded it up. And I won't stand for that," he said. As a tight game turned into a rout in the late innings, David Wright committed his sixth error in six games and eighth in the last 10. The Mets went 0-for-11 with runners in scoring position. Desmond drove in three late runs and Ryan Zimmerman had two RBIs for the Nats, who moved past the Mets into third place. Making his third major league start, Milone (1-0) allowed one run and three hits in 5 2/3 innings. Wilson Ramos added three hits and three runs. Chris Schwinden (0-2) tossed five solid innings in his second big league start but received little support.