With his father, former major league outfielder Greg Vaughn, watching from the stands in Salisbury, Md., last summer, Cory Vaughn homered in the South Atlantic League All-Star Game.
Then, once fellow center fielder Matt den Dekker moved from high-A St. Lucie to Double-A Binghamton -- and once Vaughn's low-A Savannah team clinched its first-half division title -- Vaughn was promoted to St. Lucie.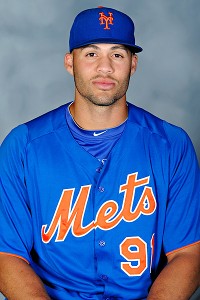 Courtesy of New York Mets
Cory Vaughn
He had a subpar transition to the higher level.
Vaughn hit a modest .219 with nine homers and 29 RBIs in 210 at-bats, along with two steals in five attempts in the Florida State League.
Now, though, Vaughn is repeating at that level. And with last year's acclimation period behind him, the 22-year-old outfielder figures he should enjoy a solid first half and use that as a springboard to move onto Binghamton.
Vaughn, a fourth-round pick in 2010 out of San Diego State, where he played for Tony Gwynn, is hitting .333 with three doubles, a homer and four RBIs through five games this season with St. Lucie.
"It was a little bit of everything," Vaughn said about last season's adjustment period to high-A. "I wasn't really as comfortable. I was the new guy there, different coaches. And the pitchers had a better idea of how to attack you. You had to change the game plan a little bit, and you couldn't just go out there and try to wing it. You really had to come with an approach. It just took me a little bit to get used to that."
Vaughn's background is far deeper than growing up in a major league household. His father played 15 major league seasons, primarily for Milwaukee, Tampa Bay and San Diego.
Vaughn was diagnosed with juvenile diabetes at 11 years old and continues to have to closely monitor his blood sugar levels, even during games. He keeps a test kit on the bench and carries a pump in his back pocket while in the outfield.
"It's just part of it," Vaughn said. "Basically, I just have to test my blood sugar six to seven times a day -- sometimes more during the game, because I want to make sure I'm on top of it. I have to count carbs. I go to an endocrinologist every three to six months just to make sure my hemoglobin A1c is all right, which is basically just a calculation of your blood sugar the past six months. It's really not that bad besides just counting carbs and trying to lay off sweets here and there.
"I'm pretty used to it right now."
Vaughn, by the way, said he is not the most successful of his siblings athletically. His 17-year-old sister Genay is an accomplished equestrian rider. Vaughn believes she may represent the United States in the Olympics in London this summer.
"She has a really good shot," Vaughn said. "She's 17, but she's riding against people who are 30 and stuff."
As for the outfield, Vaughn primarily has played right field as a professional. But this season in St. Lucie, so far he only has played left field.
"They told me they wanted me to start working into left field, because they said they want me to be able to play all the positions, which I guess helps me out in the long run," Vaughn said. "I've just been taking balls in left, right, center -- a little bit here and there -- and just getting used to all the different spots."
Organization leaders
Average: Darrell Ceciliani, St. Lucie, .444; Dustin Lawley, Savannah, .400; Jefry Marte, Binghamton, .375; T.J. Rivera, Savannah, .348; Luis Nieves, Savannah, .333; Vinny Rottino, Buffalo, .333; Cory Vaughn, St. Lucie, .333; Zach Lutz, Buffalo, .300; Richard Lucas, St. Lucie, .294; Allan Dykstra, Binghamton, .267.
Homers: Valentino Pascucci, Buffalo, 3; Aderlin Rodriguez, Savannah, 2.
RBI: Aderlin Rodriguez, Savannah, 9.
Steals: Danny Muno, St. Lucie, 4.
ERA: Daniel Herrera, Buffalo, 0.00; Darin Gorski, Binghamton, 0.00; Kevin Mulvey, Binghamton, 0.00; Greg Peavey, Binghamton, 0.00; Angel Cuan, St. Lucie, 0.00; Chase Huchingson, St. Lucie, 0.00; Cory Mazzoni, St. Lucie, 0.00; Marcos Camarena, Savannah, 0.00; Jack Leathersich, Savannah, 0.00; Alex Panteliodis, Savannah, 0.00; Tyler Pill, Savannah, 0.00; Logan Verrett, Savannah, 0.00; Jared West, Savannah, 0.00.
Wins: Jeremy Hefner, Buffalo, 1; Dylan Owen, Buffalo, 1; Chris Schwinden, Buffalo, 1; Darin Gorski, Binghamton, 1; Greg Peavey, Binghamton, 1; Angel Cuan, St. Lucie, 1; Gonzalez Germen, St. Lucie, 1; Chase Huchingson, St. Lucie, 1; Jeffrey Kaplan, St. Lucie, 1; Alex Panteliodis, Savannah, 1; Carlos Vazquez, Savannah, 1; Jared West, Savannah, 1.
Saves: Fernando Cabrera, Buffalo, 2; Josh Edgin, Binghamton, 1; Daniel Herrera, Buffalo, 1.
Strikeouts: Jack Leathersich, Savannah, 9; Marcos Camarena, Savannah, 8; Darin Gorski, Binhgamton, 7; Matt Harvey, Buffalo, 7; Tyler Pill, Savannah, 7.
Short hops
• 2010 first-round pick Matt Harvey's first two Triple-A starts had mixed results. On Opening Day for the Bisons in Pawtucket, Harvey allowed four runs on seven hits and four walks while also uncorking two wild pitches in a 95-pitch effort that lasted only 4 1/3 innings. Harvey was erratic up in the zone. That prompted a between-starts bullpen session with pitching coach Mark Brewer in which they worked to get full extension and a downward plane; Harvey had been opening up his front shoulder and the ball was coming out flat. In Triple-A start No. 2 on Tuesday night, Harvey allowed two runs, seven hits and a walk while striking out four Rochester batters in a 92-pitch effort that lasted five innings.
• Buffalo's other highly regarded pitching prospect, Jeurys Familia, limited Pawtucket to one run on five hits and three walks while striking out four in a 95-pitch effort over 4 2/3 innings in his Triple-A debut Friday. Amped up early, Familia faced runners in scoring position in four of his five innings. Familia draws Yankees prospect Dellin Betances in the Bisons' home opener Wednesday.
• Middle infielder Jordany Valdespin would appear a consideration for second-base duty at the major league level if David Wright lands on the DL with a fractured pinkie and Daniel Murphy shifts to third base. For now, though, Valdespin has continued to get a crash course in center field. Since Kirk Nieuwenhuis' promotion to the majors to fill Andres Torres' roster spot, Valdespin has now started four straight games in center field for Buffalo. He has tracked down the routine balls and has not yet been challenged. Assuming major league needs with Wright's injury do not alter the plan, the goal is to expose Valdespin to center field four to five games a week, with his other starts primarily at second base.
• Outfielder Sean Ratliff, who was struck in the right eye with a foul ball in a Triple-A game late in spring training in 2011, may be nearing the resumption of his stalled career. Ratliff, who remained behind in Port St. Lucie when Double-A Binghamton broke camp, has been working out with the St. Lucie Mets, testing his vision wearing contact lenses while tracking fly balls under the lights at night. He may get into a Florida State League game soon. Ratliff, a fourth-round pick in 2008 out of Stanford, hit a combined .298 with 21 homers and 80 RBIs in 503 at-bats between St. Lucie and Binghamton in 2010. He has undergone four eye surgeries since the spring-training accident.
• 2011 fifth-round pick Jack Leathersich, the left-handed reliever who struck out 26 in 12 1/3 innings with Brooklyn last season after the draft, continues to accumulate Ks. The UMass-Lowell product leads the organization with nine strikeouts, which have come in five innings over two relief appearances with Savannah.
• Until Dylan Owen surrendered a homer Monday, Buffalo's bullpen had tossed 15 2/3 scoreless innings. That included a pair of scoreless two-inning relief efforts from left-hander Daniel Herrera. Fernando Cabrera is the Bisons' primary closer.
• After going 0-for-3 in Buffalo's opener, third baseman Zach Lutz has put together a five-game hitting streak. Lutz, who missed significant time last season with a pair of concussions, is hitting .300. Vinny Rottino also extended his hitting streak to five games Tuesday night. Rottino, who has exclusively played left field since the beginning of the regular season, is hitting .333.
• Zack Wheeler, Darin Gorski and Greg Peavey consecutively made their Double-A pitching debuts as part of a Binghamton rotation that also includes Collin McHugh and Mark Cohoon. Wheeler, the organization's top prospect, who was acquired for Carlos Beltran last July, allowed two runs on four hits, three walks and a hit batter in three innings against Akron. Gorski, a southpaw who was named the organization's top pitcher last season, then limited Akron to one hit in six scoreless innings Saturday. Peavey, a sixth-round pick in 2010 from Oregon State, followed that with 5 2/3 scoreless innings Monday against Erie. He allowed two hits and did not issue a walk.
• 2011 first-round pick Brandon Nimmo, who was not assigned to a full-season team, is expected to play at Brooklyn this season.
• With outfielder Raul Reyes promoted to Buffalo to take Nieuwenhuis' roster spot, speedy Pedro Zapata has shifted from a DH role on Opening Day with Binghamton to left field. That has moved Juan Lagares to right field, with den Dekker remaining in center. First baseman Travis Ozga would be the primary outfield backup, with Eric Campbell an alternative.
• The B-Mets boast a strong pen, with Josh Edgin serving at the back end as closer. Several of the other relievers have starting pedigrees, including left-hander Robert Carson and former Mets top pick Kevin Mulvey, who has returned to the organization after being released by the Arizona Diamondbacks. Elvin Ramirez, a Rule 5 pick by the Nationals in December 2010, who was finally returned to the Mets, also finds himself in Binghamton's pen.
• Wilmer Flores, who had been off to a 1-for-18 start at St. Lucie, broke out Tuesday with a two-hit game against Charlotte. Flores exclusively has played third base so far this season as he makes the transition from shortstop. The 20-year-old Flores previously has been exposed to third base and second base with Margarita in the Venezuelan winter league.
• When the Mets drafted left-hander Alex Panteliodis in the ninth round last season out of the University of Florida, they were aware he would be unable to contribute the remainder of that season because of an existing hip injury. So Panteliodis finally made his pro debut last weekend for Savannah. He limited Augusta to an unearned run in five innings. Panteliodis has an 88-92 mph fastball and changeup that should benefit from working with Gnats pitching coach Frank Viola.
• Left-hander Chase Huchingson, who signed with the Mets after going undrafted out of the University of Central Arkansas in 2010, carried a no-hit bid into the sixth inning for St. Lucie against Bradenton on Saturday.
• The good news for Savannah third baseman Aderlin Rodriguez: He has two homers and nine RBIs through six games. The bad news: He committed five errors in the first three games of the season.
• Savannah catcher Charley Thurber landed on the DL with a right oblique strain.
• 2011 10th-round pick Matt Budgell, a high school right-hander from California, had minor hand surgery for a freak, non-baseball accident. He is expected to be good to go Saturday, when the minor leaguers aiming for short-season teams arrive in Port St. Lucie for their spring training.
Adam Rubin's farm report appears Wednesdays during the regular season