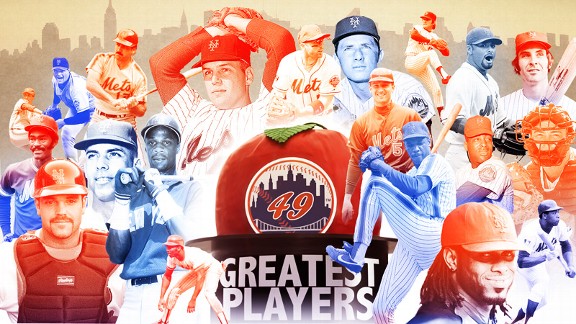 ESPN.com Illustration
On the 50th anniversary of the 1962 Mets' first-ever home game at the Polo Grounds (they lost, 4-3, to the Pittsburgh Pirates, before 12,447 diehards), ESPN New York presents our list of the 49 Greatest Mets, as selected by a select panel of Mets fans and experts.
Let's face it, we didn't leave many great players on the cutting-room floor (sorry, Butch Huskey). Hardly any, actually. So we need your help.
Use the comments section below to nominate the 50th Greatest Met, or vote in the poll at right. Or both! Did we miss anybody? (Please don't say Tom Glavine -- he is not, nor has he ever been, a real Met.)
Feel free to take issue with our list, and use our handy ranker tool to submit your own. And here's to a little more fun and a little less futility in the next 50 years!