WHAT IT MEANS: David Wright is back. After a three-game absence, Wright homered on the first pitch he saw from Vance Worley on Saturday while playing with a fractured right pinkie. The Mets went on to beat Philadelphia 5-0. On Sunday afternoon, the 6-2 Mets will bid for their first series sweep in Philly since June 13-15, 2006.
Jon Niese, Bobby Parnell and Jon Rauch combined on only the Mets' second shutout at Citizens Bank Park since the ballpark opened in 2004. The other came Aug. 7, 2010, when Johan Santana combined with Francisco Rodriguez, who had a five-out save.
WRIGHT STUFF: Wright went 3-for-5, with one out coming on a hard-hit smash up the middle that deflected off Worley to shortstop Jimmy Rollins for an unlucky double play.
The first-inning homer gave Wright 730 career RBIs, within three of matching Darryl Strawberry for the franchise record. Wright is now hitting .588 (10-for-17) with two homers and five RBIs on the season.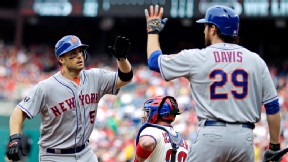 Matt Slocum/Associated Press
Ike Davis congratulates David Wright after the third baseman homered on the first pitch he saw since Monday.
Wright had quipped pregame that his throwing is generally subpar anyway and wouldn't be affected as much as hitting by the broken pinkie on his right hand. He nonetheless had a couple of rough throws.
The first came in the second inning with an off-line toss to Ike Davis after Wright fielded John Mayberry Jr.'s grounder, although Davis reached down the line for the throw and made the play. The second off-the-mark throw came in the sixth, when Wright fielded Placido Polanco's grounder and tried to initiate a double play. Wright bounced the throw to second baseman Daniel Murphy, but Murphy scooped the ball and the Mets got the out at that base.
No worries, though. Wright then made consecutive 5-3 putouts to end the inning, including ranging wide to his left to field Hunter Pence's grounder, spinning and throwing on target to Davis for the final out of the sixth.
DUUUDE: Lucas Duda snapped an 0-for-15 drought with a two-run homer off Worley in the fourth that staked the Mets to a 4-0 lead. The Mets had loaded the bases with none out in that inning before Jason Bay grounded into a run-scoring 6-4-3 DP that set up Duda's at-bat with one runner aboard. It was Duda's third long ball of the season. He had a two-homer game against Atlanta on April 7, with the shots coming against Jair Jurrjens and Chad Durbin.
THAT'S NIESE: Coming off a season debut in which he took a no-hit bid into the seventh inning against Atlanta, Niese did not have comparable drama this time, surrendering a single to No. 2 hitter Polanco in the first inning. Yet Niese took a scoreless effort into the seventh for a second straight outing. This time, he was pulled with his pitch count at 102, two out in the frame and one runner on base after Carlos Ruiz was announced as the pinch hitter. Parnell recorded the final out, then pitched a scoreless eighth as well. Niese's line: 6.2 IP, 5 H, 0 R, 1 BB, 5 K.
THIEF: The Mets stole their first base this season when Mike Baxter walked and swiped second in the ninth. Baxter then scored the Mets' fifth run on an RBI by Ruben Tejada. The Mets' first steal coming in Game 8 was the third-longest drought to start a season in franchise history. It took 17 games in 1963 and 12 games in '62.
WALLBANGER: Center fielder Kirk Nieuwenhuis has a reputation for not fearing walls, which contributed to his suffering injuries in the minor leagues. That fearless play was on display Saturday. Nieuwenhuis went deep into the right-center gap to track down Brian Schneider's shot near the wall and end the second inning.
WHAT'S NEXT: Mike Pelfrey opposes Cole Hamels on Sunday as the Mets bid for their first series sweep in Philly in six years. Pelfrey's career ERA at Citizens Bank Park: 8.60, in eight starts. Hamels, though, has 10 losses against the Mets, more than against any other opponent. The southpaw's lifetime 4.46 ERA against the Mets is better than his ERA against only two National League opponents -- the Houston Astros (5.02) and Colorado Rockies (5.09). Of course, much of the career damage against Pelfrey has been inflicted by injured Ryan Howard (.372, 3 HR) and Chase Utley (.333, 4 HR).