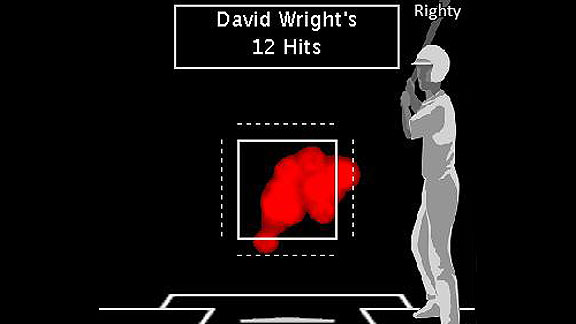 David Wright has had a very specific approach to getting hits in 2012.
David Wright has gotten off to pretty good starts before, but he's on some kind of hot streak right now.
Wright has hit safely in each of his first six games this season, still less than halfway to his best season-starting hit streak (14 games), but the way he has gotten to a .571 batting average is what might be most impressive.
#5 3B
New York Mets
2012 STATS
GM

6

HR2

RBI5

R4

OBP.615

AVG

.571
Over the past couple of seasons, Wright got into some bad habits with his swing choices. He was susceptible to the breaking ball away and was tentative against the inside pitch.
Wright's percentage of pitches out of the strike zone against which he chose to swing, and his rate of swings that missed, both reached unusually high levels and as a result, his strikeouts rose.
But Wright has been very choosy about what he's swung at this season. Here are the numbers that illustrate that.
Wright has seen 53 pitches this season that Pitch F/X deemed to be out of the strike zone.
The Wright of 2009 to 2011 would have swung at 14 of those pitches.
The Wright of 2012 has only swung at nine so far.
Wright has swung at a total of 43 pitches this season.
The Wright of 2009 to 2011 would have missed 10 times.
David Wright 2012 Season
The Wright of 2012 has missed only five.
Wright has settled in nicely to hitting coach Dave Hudgens' pick-out-your-pitch philosophy. He's swinging at three out of every four pitches thrown in the strike zone, a bit higher than his 64 percent rate from 2009 to 2011.
The heat map above shows the pitch locations where Wright has gotten his hits this season. He's picked out that middle-in area as his spot to focus on.
The results have been terrific. Of the 20 balls he's hit, seven have been line drives. Of his nine fly balls, two have left the ballpark. Those line drive and home run rates are ones that any major league player would love to have, even for just a week.
In other words, it's the right (or Wright) combination.