Retiring Chipper Jones' last regular-season visit to Citi Field as a player will be Sept. 7-9. And Terry Collins acknowledged the Mets will find a suitable way to recognize the moment.
"I heard the story that one time Gordie Howe said, 'When they're booing you, they know who you are.' Everybody knows who Chipper Jones is," Collins said. "And we will certainly do something to honor him being a great player -- not just because he beats up the Mets."
Before the Mets opened a three-game series Monday at Citi Field, Jones reflected on the division, the current Mets and -- most interestingly -- the rivalry. Jones, you may recall, named a son Shea, and also bought a pair of seats from the Mets' former stadium.
Here's what he had to say ...
Is this the most parity you've seen in this division?
Chipper: "This is the best I've seen the National League East in a very, very long time. I think, from top to bottom, you've got five teams that can go out and beat anybody else's starter on any given day. That usually hasn't been the case. It's kind of like the SEC East has been for a long time. You've got a couple of stalwarts up top and then a couple of doormats at the bottom. We've been both over my time here. But you look at it top to bottom, you look at the rotations in the National League East, you look at the lineups, and I think if you look at the records at the end of year, you'll see why this is such a competitive division."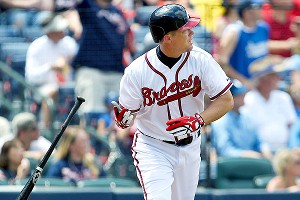 Daniel Shirey/US Presswire
Chipper Jones discussed his rivalry with the Mets before Monday's series opener.
Why do you include the Mets in those five? A lot of people entering the season did not.
"Well, I think, the Mets were a little unfairly treated preseason. I think getting [Johan] Santana back is a tremendous boost to their rotation. And you've got some young guys that are kind of stepping in to their own. I mean, there's a reason why Jon Niese got extended. There's a reason why, at the end of the season, Dillon Gee arguably was New York's best starter. These guys are pretty good at what they do, and they're starting to realize what it takes to win at the major league level. That's always a scary thing when you're the opponent."
When you start doing your farewell tour, and you get that cowboy hat as a gift from Craig Biggio in Houston in a pregame ceremony, does it become more real that there's a finality to your career?
"It was real the day I had my press conference. That being said, it was awfully classy of them to do that in Houston. It was not expected. When you set out to do something, you always hope to make an impact. And for them to do that was awfully nice and let me know that through 23 years of professional ball, all has not gone unnoticed."
You still have the seats you purchased from Shea Stadium, I presume?
"I do."
Would it almost be comical if the Mets gave you something when you retired?
"It might be a recording of all my plate appearances where they announce my name and the chorus of boos rained down. I don't know. Like I said, I'm not expecting anything. But anything would be appreciated."
When the Mets said they were going to acknowledge you, it set off a firestorm in New York.
"I got an email. It was from a guy that calls himself 'Barstool.' It had made the rounds through some of my friends. And it finally got back to me. And it was colorful, let's put it that way. He let everybody know what he thought. I thought it was kind of funny."
So would it be strange to be honored over there?
"Well, yeah. It's no secret my relationship with the fans of New York. And I can only say that some of the games I've had on that stage up there is a big reason why. That, and one comment I made back in the day. They don't let you forget. That's the way it should be. You know, the fans of New York are so, so pro-New York Mets, New York Yankees, and throughout the other sports, that they're going to do whatever they can to take the other teams' players out of the game. And they're good at doing it."
How would you like to be remembered?
"I don't know. I've never really thought about it. Just respect the fact that I'm a good player playing on a good team and respect the fact that we played the game the right way. We had some knockdown drag-outs with the Mets and Yankees over the years. Some of them good. Some of them not so good. I think that will be one of the things I miss the most, is playing on that stage, because it was a lot of fun. A lot of fun."
You may be the baseball equivalent of Reggie Miller.
"That would be pretty good. I didn't have an argument with Spike Lee throughout the years. I didn't see Spike at too many games."
What do you remember about the early comment?
"Oh, back in the day, I forget what year it was, [John] Rocker had just come off the mound, chirping at somebody. There was a guy that had a jersey on and a hat that was split down the middle, Yankees and Mets. And he had the hat the same way. It flew all over me, because I thought you were one or the other, pretty much. You can't play both sides of the fence. And he was probably the ring leader of the guys that were giving it to us over top of the dugout. We had just beaten them. I came in. It was actually, they were two games out with two games left, with Cincinnati, for the playoffs. I said, 'Now all the Mets fans can go home and put their Yankees stuff on' -- not knowing what a firestorm that would light up. And obviously they win two. Cincy loses two. They go up and beat them. And then we end up facing them in the LCS. So that one almost really came back to bite me. It taught me a valuable lesson -- to keep my mouth shut."