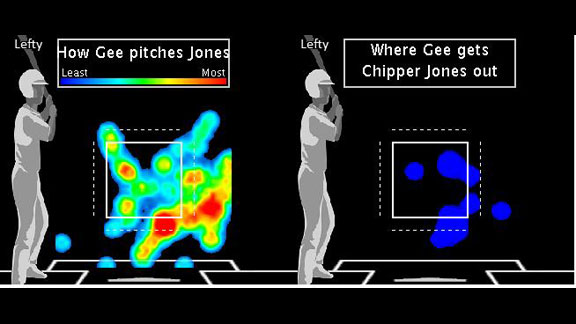 The Dillon Gee-Chipper Jones matchup.Mets fans wish every Met could pitch like Dillon Gee does against Chipper Jones.
Gee got Chipper Jones out all three times that the two faced off. Jones is now just 1-for-11 against Gee for his career.
The heat map atop this piece shows how Gee has pitched Jones throughout his career. He's walked Jones three times, but even when he hasn't, he's been extremely careful at working to him.
Of the 58 pitches that Gee has thrown Jones, 40 have been on the outer-third or further away. Of the 11 pitches he threw Monday, nine were to that area. None were on the inner-third.
That wasn't the only thing Gee did right on Monday.
There were a couple of differences for Gee between his first and second starts of the season, the latter the win in Atlanta on Monday night.
Among them:
• He was much better with two strikes, getting 11 outs (as opposed to nine) and allowing only one hit (instead of four).
• He located his fastball much better against right-handed hitters. Nationals righties got four hits against him, but Braves righties saw 14 strikes on 17 fastballs and were hitless against it, making five outs.
• Gee was also able to get the Braves lefties to chase his fastball, most notably Eric Hinske and Juan Francisco in the seventh inning.
The start resembled a couple that Gee had against the Braves early last season. He allowed one run in 5 2/3 innings against them a year ago Monday, then pitched seven scoreless against the Braves at Citi Field on June 4.
On June 15, he was on his way to another nice effort, tossing four scoreless innings before being pulled due to a rain delay.
Gee's last three starts against the Braves in 2011 didn't go too well, as he allowed 12 runs in 15 1/3 innings. The changeup that was effective in those first three starts was not as good in the last three, yielding six hits, including a home run.
Gee's start rated a 69 on the Game Score scale, the same as that June 4 game against the Braves, which is tied for the third-best of his major league career.
Game Score, for those unfamiliar, is a Bill James-devised metric that rates a pitcher's start on a scale that's usually between 0 to 100, and is based on innings, runs, hits allowed, strikeouts and walks.
The 69 rated the best by a Mets starter in any game this season.