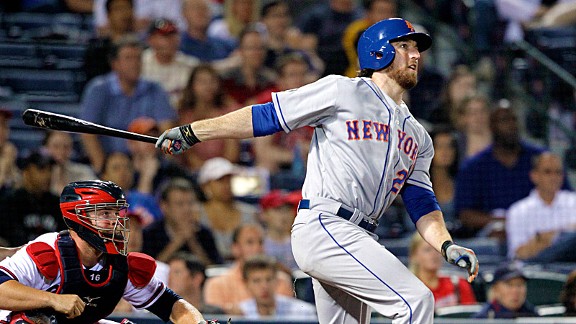 David Goldman/Associated Press
Ike Davis delivers a tiebreaking three-run homer against Tommy Hanson in the sixth inning.
Ike Davis had been 2-for-12 with six strikeouts against Tommy Hanson in their brief careers entering Monday night. And, Davis estimated, he had seen a curveball on all but a handful of pitches during those encounters,
So after an intentional walk to David Wright in a tie ballgame in the sixth inning, Hanson threw five straight curveballs to Davis. And Davis delivered a homer on the fifth curveball, for a three-run homer that gave the Mets a 4-1 lead en route to a 6-1 victory.
Davis is still hitting .139 this season, but he has now homered in consecutive games. He went deep against Cole Hamels on Sunday in Philadelphia.
"He's thrown it every at-bat, every pitch, every time I've faced him," Davis said, referring to curveballs from Hanson. "If you go back at the records, it's probably maybe three or four fastballs in something like 30 at-bats. The Braves really throw me a lot of off-speed most of the time. So I think the first series I saw three fastballs to open the year off of them the whole series. So obviously they think I'm a fastball hitter. And I haven't had great success against them, because they've thrown pitchers' pitches with their off-speed pitches."
Said Jason Bay: "I was screaming at it to get out. They've been flipping him curveballs nonstop. It's one of those things, until you do that, you're going to keep getting it. I told him, 'Man, that had to feel pretty good.' He said, 'Yeah, it felt great.'"
Asked if he was onto something with the consecutive games with homers, Davis said: "I'm just trying to survive. I feel great. The last three games I've felt really relaxed in the box. I mean, I haven't got a lot of hits. But I've hit a couple of balls hard."
It meant something extra to hit a game-tying homer against Hanson.
"Especially against a guy I've never done anything against," Davis said. "I struck out almost 80 to 90 percent of the time I've faced him. To hit a curveball off of him in a big situation like that, it feels good. For me, it's hard to pick up. I can see other ones a lot easier than I can see Tommy's. And obviously they know that. They keep throwing it. Eventually, hopefully, I can find something to key off of on it and hit it more consistently."
As for the intentional walk to Wright preceding his at-bat, Davis noted he needs to perform better at the plate so the third baseman sees pitches to hit.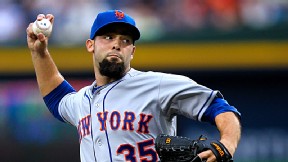 Daniel Shirey/US Presswire
Dillon Gee worked out of a seventh-inning jam and limited the Braves to one run in his outing.
"Obviously, David's a great hitter. Especially the way I've swung the bat this season, it fires me up a little bit because I want them to stop," Davis said. "I want David to have a chance to hit instead of being walked every time in front of me. Obviously I needed to step it up. It makes you concentrate a little more, because you don't want this to happen to the guy in front of you. I want to hit behind David so I can hopefully allow him to get better chances. And this season I haven't done that, so people have taken advantage of me not doing it and walked him more. Hopefully I can get them to stop doing that."
Said Terry Collins: "If you're around Ike Davis, the one thing he doesn't lack is confidence. He believes in himself. He believes in his ability. He knows he's off to a rough start. The same guy, though, last year got off a hot, torrid start. He understands that it's there."
• Bay had a déjà vu moment when he leaped over the wall to take away ex-Pirates teammate Jack Wilson's would-be homer in a tie ballgame in the fifth. He had done the same thing at Turner Field to Alex Gonzalez last season.
"Robbing homers is not a huge part of my game," Bay said. "So it was just weird that two years in a row -- same spot, same everything."
Wilson remained homerless since Aug. 27, 2009 with Seattle.
Bay also homered in the ninth against Livan Hernandez after missing one game with the jammed right ring finger.
Given Wright homered in his first game back from a broken pinkie on Saturday, Collins was in a joking mood.
"TC made a joke after I came in," Bay said. "He said, 'I want everyone to line up.' And I wasn't really sure where he was going with the whole thing. 'Everyone is going to dive back to first and jam fingers.' And then I got it."
Bay mostly was fine, but he did feel finger irritation when he broke his bat during his third at-bat, which was to be expected.
"That one felt like one of those 30-degree, hit-it-off-the-end days where your hand stings for a while," Bay said.
• The Mets staff viewed Dillon Gee working out of a two-on, no-out jam in the seventh after a catcher's interference call against Josh Thole as a definite growth movement. Gee retired the next three batters, two via strikeout, while relying on his fastball to do so.
"Like Dan Warthen told me on the bench, the seventh inning, this is a growth time," Collins said. "This is a time for him to step up and show everybody that last year was not a fluke, that he belongs in this league."
Said Gee: "I was trying to throw it hard. You get in a tough situation. I've been throwing them a lot of off-speed stuff. I was trying to just catch them looking with fastballs."