Johan Santana's last pitch before surgery to repair a torn anterior capsule in his left shoulder came in the fifth inning at Turner Field on Sept. 2, 2010. And the southpaw most certainly thought about suffering the injury in Atlanta as he retook the mound at the same site 19 months later for another matchup against the Braves.
The result was his shortest career start. Santana recorded only four outs in what became a 9-3 loss to the Braves on Tuesday night.
"When I went to the bullpen, I pictured the whole thing," Santana said. "And even when I walked in to the mound the first inning I pictured it. I looked at the rubber. I was like, 'OK.' But, again, I put it away. I just had another short outing here -- again. Back to back. Hopefully the next one will be longer."

#57 SP
New York Mets
2012 STATS
The silver lining: Santana insisted the surgically repaired shoulder felt fine in Tuesday's outing, when he was charged with six runs (four earned).
"I felt fine," he said. "It was just a rough one. I got behind in the count and they hit the ball a couple of times in the right spot. They took advantage and made me throw a lot of pitches. Even though I felt good, I warmed up and felt good, that's one of those days where things didn't work out the way we wanted to."
Said Terry Collins: "Obviously he didn't hit any of his spots. He fell behind in the count, and that's not him. It's just one of those nights. It's probably something he's never experienced before. It's just one of those things."
Santana threw only 55 pitches in the outing, but 34 came in the second inning, when he recorded only one out, in part because of Ike Davis' throwing error. And Collins did not want to risk overtaxing the southpaw in only his third regular-season start since the surgery.
Santana said he understood the hook. His previous shortest career start had been three innings, which he had done three times.
"No question. He told me, 'Too many pitches in that inning,'" Santana said. "He didn't want to take any risk. I understand. It was a good thing, I guess. I want to compete. I want to stay in the game. But, at the same time, I know the plan at the beginning of the season is to make sure everything is fine and not go too crazy. I understand that. And, believe me, I want to stay out there. It's just the plan and I have to be very careful and it just happened."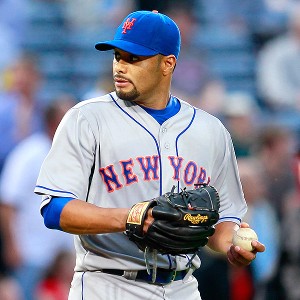 Kevin C. Cox/Getty Images
Santana is still in search of his first win of 2012.
One particular second-inning at-bat epitomized Santana's night. Facing Freddie Freeman, Santana worked ahead in the count 1-2 before a foul, ball, foul, foul, foul, ball, foul and then a double on pitch No. 11.
"When I warmed up I felt fine," Santana reiterated. "Everything was fine. It's just, in that situation, the way they battled, fouling off a lot of pitches, it was a little tough. It's just one of those days."
Said Collins: "In the second inning, there were a couple of really good at-bats. Freeman's at-bat was an outstanding at-bat, where he couldn't put him away. That just shows you he couldn't make the pitch he wanted to make. I wasn't going to let him just stay out there and throw and throw and throw. I thought he had thrown enough pitches for the game, so that's why I got him out."
Santana had limited the Braves to two hits in five scoreless innings on Opening Day at Citi Field.
"It's different facing him at night than during the day there [in New York]," Braves left fielder Matt Diaz said. "There's a glare there. The hitter's eye [backdrop] is not that wide. So he might get a little more deception on his changeup. However, I think he would probably tell you his changeup wasn't as good tonight as it was there. He had more depth on Opening Day.
"I would say we were probably a little more anxious on Opening Day than we were today, and we chased. That's not to say we're going to go out and score five off of him every time. He's way too good a pitcher for that. But we can have a better approach than we did Opening Day."
Collins sounded resigned to knowing Santana would have a clunker at some point returning from shoulder surgery.
"You just hoped it was going to be a little later," the manager said. "But you knew there was going to be one."
Santana will again have an extra day of rest to recuperate and regroup before his next scheduled start, Monday against the San Francisco Giants at Citi Field. After that, though, he is due to test his shoulder throwing on the fifth day, April 28 against the Colorado Rockies in Denver.
Is he ready?
"I'm getting there," Santana said. "I feel better. Physically I feel much better. I think my arm, my shoulder is better. And we'll see how it goes. The next couple of weeks are going to be important. We'll see how everything goes. Again, today was just a rough day."
As for his shortest career start, Santana added: "I didn't even sweat. It's just one of those things. It's going to happen sometimes. I didn't want it to happen like that."