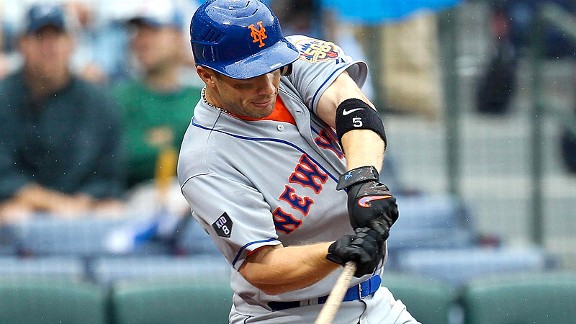 Daniel Shirey/US Presswire
David Wright had three RBIs on Wednesday to pull even with Darryl Strawberry for first on the franchise's all-time list at 733.As a youngster growing up in Norfolk, Va. -- where the Mets' Triple-A team was located throughout his childhood -- David Wright used to try to replicate Darryl Strawberry's swing.
"I remember as a kid, just going out there and trying to give the big leg kick," Wright said. "Seeing quite a few Mets games growing up on TV, he was just always a guy you try to go out in the backyard trying to be -- Darryl Strawberry for the day."
DRIVEN
Career RBI leaders for each MLB team.
Now, the two share the franchise record for RBIs in a Mets uniform.
Wright drove in three runs in Wednesday's rain-soaked 14-6 loss to the Atlanta Braves at Turner Field, giving him 733 RBIs and tying Strawberry for the Mets' career mark.
"It's an honor," Wright said. "Straw was a great, great player. A great honor. But, like I said before, you can't get caught up too much in that stuff while you're playing. That's something more to be proud when you're done playing to look back on it, because it doesn't mean that much, especially after today's game. You can't sit there and feel too good about yourself in the middle of the year and try to prepare for games. It doesn't work out all that well."
Wright often has downplayed statistical achievements as milestones approach.
He ranks:
• Fourth in franchise history with 185 homers, trailing Strawberry (252), Mike Piazza (220) and Howard Johnson (192).
• Seventh in games played at 1,115, trailing Ed Kranepool (1,853), Bud Harrelson (1,322), Jerry Grote (1,235), Cleon Jones (1,201), HoJo (1,154) and Mookie Wilson (1,116).
• Third in hits with 1,265, trailing Ed Kranepool (1,418) and Jose Reyes (1,300).
• Second in runs scored with 704, trailing only Reyes' 735.
"I've never gotten caught up too much in the numbers part of it," Wright said. "I think that's something to enjoy when it's all said and done, look back and kind of beat your chest after you're done. It's so tough to do that now because we're a couple of weeks into the season and we haven't played too well the last couple of games. It's tough to sit back and really enjoy something like that, especially after a day like today."
In each of his first nine games of the season, Wright has reached base at least twice (by hit, walk or hit by pitch) -- the first major league player to do so since Mike Cameron in 2002 with the Seattle Mariners. The past five games, Wright has played with a broken right pinkie.
"I think the offense has clicked," Wright said, deflecting the credit. "I think the guys in front of me and behind me deserve a lot of that credit, because I'm getting pretty good pitches to hit."
Make no mistake, though. The pinkie is not 100 percent.
"So far, so good, but I still have to understand that it's going to take some time to heal," Wright said. "Obviously, for me, the sooner the better for that. It's just something you have to work through. I think that, as I've mentioned 100 times, they've done a really good job in giving me some tips to keep it loose. The biggest thing is just keeping it from stiffening up and trying to get the majority of the swelling out of there. The exercises they've given me have really helped with that.
"Lately, I've been swinging and missing, so that's been good. And when I have made contact, I haven't really hit it too much off the end or got jammed," Wright continued, noting that's the type of contact that causes the pinkie to sting. "Tomorrow should do me pretty good -- get a whole full day of really not doing anything and hopefully rest it, and get most of the day Friday."
Jokingly told his statistical milestones must make him old, Wright replied: "I'm not old."
Told that was debatable, he reiterated: "No, I'm not old. I'm not old."
Young men don't lead teams in RBIs, someone told him.
"I'm still 29, for the next few months at least," said Wright, who turns 30 on Dec. 20.