R.A. Dickey said the rainy conditions wreaked havoc with his knuckleball. But on a day his streak of quality starts ended at 14, snapping the longest active run in the majors, Dickey said he could not solely blame the dampness.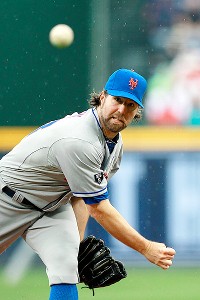 John Bazemore/Associated Press
R.A. Dickey's streak of quality starts ended at 14 on Wednesday afternoon at Turner Field.
"It was tough conditions today, but that can't be an excuse," said Dickey, who surrendered three homers, two on knuckleballs. "I still have to find a way to keep us in the ballgame, and today I didn't give us a very good chance.
"But when the balls are moist like that, it can pose a problem. It was disheartening, because when I started the game, the knuckleball I had, I thought we had a good chance of doing something kind of neat today. It just didn't keep rolling that way. Perhaps I need to rethink my strategy when there's some wetter conditions. Maybe there are some things to learn from. We'll check the tape and see."
Dickey postulated that maybe he should go to a somewhat more conventional arsenal when it is raining.
He was charged with eight runs in 4 1/3 innings in the Mets' 14-6 rubber-game loss to the Braves.
Asked if the rain affects grip, or the way the ball moves in the wet conditions, Dickey said: "Both. It's like throwing water balloons. Imagine a wet water balloon. It's hard to get the feel of it just right.
"But I was getting dry balls too and throwing poor knuckleballs with them. So it wasn't just the weather. It was poorly executed pitches too."