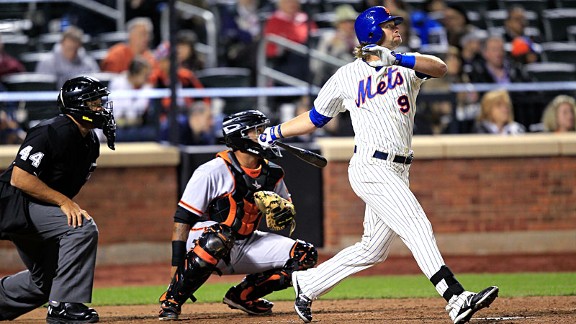 Chris Trotman/Getty Images
Kirk Nieuwenhuis continued his fine play on Friday night, despite the Mets losing to the Giants.
A home run. A Web Gem-worthy catch.
Josh Thole had one word to describe Kirk Nieuwenhuis' night: "Awesome."
"His play [Friday night] says it all," Thole said of Nieuwenhuis, who went 1-for-3 in the Mets' 4-3 10-inning loss to the Giants at Citi Field. (Nieuwenhuis is now batting .371.) "I've known Nieuwey for a while. We kind of came through the minor leagues a little bit, and he's been the same player. I think the fans are gonna have fun watching him play."
Leading off the fifth inning, the Mets' rookie center fielder drilled a 1-0 curveball from Barry Zito into the Party City Deck in left field for his second homer this season. It was the first opposite-field home run over the wall by a Mets left-handed hitter in Citi Field history.
Prior to that homer, Nieuwenhuis had been 0-for-7 off left-handed pitching in his brief major-league career
"It was one of those where you see it and you react," said Nieuwenhuis, who has hit safely in seven straight games.
Nieuwenhuis ended the eighth by taking an extra-base hit away from Hector Sanchez.
The Giants catcher drilled a ball into the left-center field gap. Nieuwenhuis raced back and dove to make the catch on the warning track.
"I knew I had enough room," Nieuwenhuis said.
With Andres Torres on the disabled list, Nieuwenhuis has taken full advantage of his opportunity since being promoted after Opening Day.
Now he's just trying to stay consistent.
"I'm not gonna get into who's gonna play center field in two weeks, because nobody knows, but he's played very, very well," manager Terry Collins said. "He's really been impressive. He gives maximum effort every day."
Collins said Nieuwenhuis is normally quiet and relaxed, but once it's time to play, he turns on the intensity.
Sounds like an attitude that should bode well for the 24-year-old going forward.
"I came in and I just wanted to enjoy being part of the team," Nieuwenhuis said. "It's an honor to be here."
• Frank Francisco has now given up four runs in his last three appearances.
But the Mets' closer doesn't seem too concerned about it.
"The only thing you can control is where you throw the ball," said Francisco, who left a pitch up that Sanchez hit softly into center for a go-ahead single with two outs in the top of the 10th inning.
Sanchez's clutch hit came after Francisco issued a four-pitch walk to Melky Cabrera leading off the frame.
The Mets pitched out and tried to nail Cabrera going to second, but he picked up the 34th stolen base in the last 37 attempts since 2008 against Francisco.
"I think I made a decent pitch, and I got a soft base hit," Francisco said. "The only thing you can control is where you throw the ball."
Francisco said there's no difference between entering a game in a save situation and a no-save situation.
"I think it's the same thing. You gotta go out there and get three outs. But I guess [Friday] wasn't my day," he said.
Collins thinks Francisco has struggled because he hasn't gotten consistent work.
Francisco saved all three games during the Mets' season-opening series sweep of the Braves, but has pitched just three times in 12 days since.
"They've been using me," Francisco said. "I pitched the other day to get some work."
• Jon Niese, who labored through a 109-pitch, six-inning outing in which he gave up three runs on seven hits Friday night, said he was having trouble commanding his fastball early.
Niese gave up all three runs in the third inning, but worked out of trouble elsewhere and picked up another quality start in the process.
Niese said his curveball helped him find some command of his fastball.
Johan Santana and R.A. Dickey had combined to go six innings over the previous two games, so it was big for Niese to give the Mets some length.
• Thole, who delivered the game-tying single through the right side of the infield with one out in the ninth, has reached safely in all 12 games he has played this season.
• Jon Rauch tossed a perfect eighth inning to extend his career-best scoreless innings streak to start a season to eight.
• Angel Pagan's third-inning solo shot gave him 16 home runs at Citi Field, and broke a tie for the second-most at the ballpark since it opened in 2009.