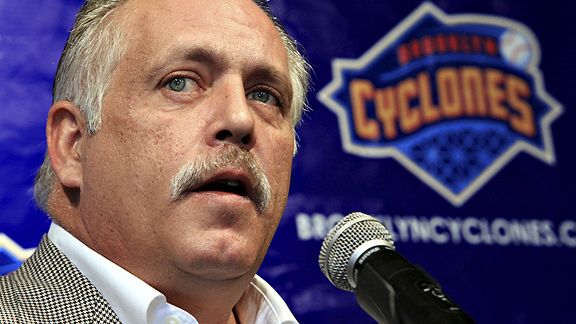 AP Photo/Bebeto Matthews
Wally Backman pictured in November when the Mets officially name him Brooklyn Cyclones manager.
WALLY BALL
When the Class A Brooklyn Cyclones open their season June 18 at Staten Island, Wally Backman will be managing for an MLB-affiliated team for the first time since his hiring as Arizona Diamondbacks skipper unraveled four days after being named the major league skipper in November 2004.
And with Backman's official return 10 days away, two former pupils now in the majors sang his praises to ESPNNewYork.com.
"He's one of my all-time favorite managers -- just people in baseball, bottom line," said Florida Marlins second baseman Dan Uggla, who played for Backman at high-A Lancaster (California League) in the Diamondbacks system in 2004, on a team that also included Mark Reynolds, Conor Jackson and Carlos Quentin. "He really cares about the game. He really cares about his players. And he cares about winning. Wally, I know he's been through some tough times, but he is seriously one of the best guys I've ever met in baseball. He helped me out a ton."
Said ex-Met Jeremy Reed, who played for Backman at Double-A Birmingham in '03, in the Chicago White Sox's system: "He's definitely the best manager that I've had throughout the minor leagues. He puts people in situations to succeed. He's a fiery guy, a hard-working guy and a guy that when you play for him, you want to succeed so much because of the way he goes about his business every day. Every day we had to work tremendously hard to get better before the game. And then after the game, if things kind of didn't go our way, he was still the same way and still respected the player. He didn't bash the player. Sometimes you get a cold shoulder from a manager. He was the same every day, and it was fun to go to the park every day."
Uggla and Reed both maintained Backman's fiery side rubs off on his players. Of course, Backman had his share of ejections -- six alone in the season with Lancaster, to go along with two suspensions, the second for 10 games for bumping an umpire.
"Well, obviously he's very passionate with protecting his players," Uggla said. "I'll tell you what, if you play for Wally Backman, you're going to be able to run through a brick wall, because we have the same emotions toward him as he has toward us. I mean, I would have run through a brick wall for him. Everybody is playing hard -- I think playing above their ability -- when they play for a guy like that.
"Of course, he's going to go out and argue calls and he's not scared of getting ejected. He had some five- and 10-game suspensions there. It was pretty cool to see him get out there and get your back and argue calls, and do it the way he did."
Reed praised Backman's communication skills.
"I played every day for him, but he would let me know ahead of time if I wasn't in there," said Reed, who is now with the Toronto Blue Jays. "You could just have conversations. He'd call me into his office and ask me if there was anything I felt like I needed to do differently, if I needed a day off. Just the communication was very solid. You just don't get that at a lower level. You get that a little more at the big league level because I think guys kind of know their role a little more. At the minor league level, you don't really get that, because for the most part they have their guys they have to play. But he found a way to get every guy in there regardless of what their situation was. To be honest -- and I'm not a pitcher -- I think it was the best I've ever seen a minor league manager run a bullpen."
Uggla struggled to find a manager who is comparable.
"I heard Larry Bowa was very energetic," Uggla said, trying to find a parallel. "I wouldn't say Lou Piniella, because I've never played for him. I've only seen him on the field with arguing calls. No. I wouldn't say there's anyone like him.
"He's old school. That's who he is. Nobody cares. He's Wally."
BEDFELLOWS
The Mets had a public squabble with Scott Boras in January over whether client Carlos Beltran had permission to have knee surgery.
Then, another Boras client, Oliver Perez, refused to go to the minors. And GM Omar Minaya contradicted Boras by saying the agent never asked the Mets to place Perez on the disabled list a month ago and see a sports psychologist, as had been reported.
So what did the Mets do Monday night? They selected a Boras client in the first round of the draft: UNC right-hander Matt Harvey from Mystic, Conn.
Asked about the status of the Mets' working relationship with Boras, Minaya said on a draft conference call: "As far as a working relationship, the word is a working relationship with Scott. We have conversations with Scott. He's the agent of a player, and we definitely have a relationship with him."
Boras also represents Mike Pelfrey, who is making $500,000 this season. Pelfrey has three years of arbitration upcoming, beginning this offseason, and won't be a free agent until after the 2013 season.
Minaya's arrival in September 2004 actually had thawed an ice-cold relationship between the Mets and Boras, stemming from issues including the recruiting of Alex Rodriguez under Steve Phillips.
BODY OF EVIDENCE
Major League Baseball is awaiting medical records from the Mets regarding Perez. The left-hander, who had been unwilling to go to the minors, abruptly landed on the disabled list Saturday when the Mets activated Jon Niese.
Perez suddenly had complained of discomfort with the knee that was surgically repaired last year. He had been dispatched Friday to the Hospital for Special Surgery for an MRI after bringing up the issue.
In placing Perez on the DL, the Mets announced Perez had tendinitis. But MLB officials found the circumstances curious enough that they at least want to take a closer look.
Still, it's hard to imagine anything transpiring as the result of the medical records request.
Any major league player in his 30s likely has enough wear and tear that can turn up on an MRI to justify a disabled list trip. And, a source noted, it could be difficult for MLB to dispute the findings of a reputable medical facility, such as the Hospital for Special Surgery, which diagnosed an issue, according to the team announcement.
An issue could arise, though, if the Mets try to keep Perez on the DL longer than a few weeks with only a tendinitis diagnosis.
ROAD BACK TO MAJORS
Had Duaner Sanchez not stepped foot in a taxicab and headed south on Interstate 95 in Miami in the early morning hours of July 31, 2006, the Mets likely never would have crossed paths with Perez , much less signed him to a three-year, $36 million extension through 2011.
In the hours before the '06 trading deadline, the vehicle in which Sanchez was a passenger was struck. The Mets kept the accident quiet long enough to acquire veteran reliever Roberto Hernandez as well as Perez from the Pittsburgh Pirates for outfielder Xavier Nady. The Mets had turned down that deal earlier in the month, but were in a bind because of Sanchez's loss.
Sanchez's shoulder blade was sticking out as the result of the accident. And, after two surgeries, he still was unable to regain his pre-accident form. He was released by the Mets in spring training in 2009, briefly pitched for the San Diego Padres that season, then was released by them, too.
Sanchez, 30, is still trying to get back to the majors.
After having wrist surgery last year, Sanchez opened this year by pitching for a month and a half in Mexico. Convinced he would get more exposure for a return to a major league organization in independent baseball in the United States, he agreed to join the Sussex Skyhawks, a Can-Am League team that plays at Skylands Park in Augusta, N.J. He has appeared in four games, and recorded four saves while allowing one hit and no walks in 3 1/3 innings.
"I just decided to come here and show people -- or anybody there is around -- that my arm is good," Sanchez said. "This was a better choice than Mexico."
Sanchez said his velocity, which was way down before getting released by the Mets, was in the low-90s while pitching in Mexico.
"When I was in Mexico, I was throwing 90 mph -- to 93-94 sometimes," Sanchez said. "I mean, as long as you know how to pitch, I don't think you need any more than that."
As for the career-altering taxicab accident, Sanchez said he cannot dwell on it.
"No, no, no," Sanchez said. "There's nothing to think about. It's over. What's done is done. If I could go back and fix it, I would. But that's impossible. So, with me, I just have to let it go and move forward."
THE 31-YEAR-OLD ROOKIE
Washington Nationals flamethrower Stephen Strasburg will make his major league debut against the Pittsburgh Pirates on Tuesday. Right fielder Mike Stanton, the top prospect for the Florida Marlins, is due to be promoted that day, too. And the Mets have confirmed their intention to summon their own rookie: outfielder Jesus Feliciano, who has persevered despite never appearing in a major league game since being drafted in the 36th round in 1997.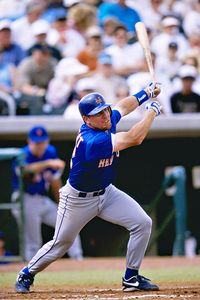 Stephen Dunn/Allsport
Outfielder Shawn Gilbert remains the oldest position player to make his major league debut with the Mets.
While there have been plenty of Asian pitchers to come to the United States after professional careers elsewhere and debut in their 30s -- plus Cuban defector Raul Valdes this season -- Feliciano will become the second-oldest position player in franchise history to make his major league debut in a Mets uniform. He turned 31 on Sunday.
Outfielder Shawn Gilbert made his major league debut with the Mets on June 2, 1997 at age 32 years, 82 days. He appeared in 32 games over two seasons for the Mets, logging only 25 at-bats during that span. He then was traded on June 10, 1998 to the St. Louis Cardinals for outfielder Wayne Kirby.
Kirby had 31 at-bats for the Mets the remainder of that season and never played in the majors again. Gilbert had two at-bats in '98 for the Cardinals, 20 at-bats in 2000 for the Los Angeles Dodgers and then was done with his major league career.
"It seems like it's been so long ago," said Gilbert, now an assistant baseball coach at Fresno Pacific University, the program that sent Double-A Binghamton pitcher Chris Schwinden to the Mets in the 22nd round in 2008. "I had been playing a lot of games in the minor leagues. In fact, one of the writers had asked me when I got to New York, 'You've played a lot of games, but not very many in the big leagues …" I said, 'No, this is my first time in the big leagues.' I had a decent minor league career, and it was just one of those things where I was waiting for that call.
"Bobby Valentine -- I had played for him the year before at Norfolk, Va., in Triple-A -- and he always told me I deserved a chance to play in the big leagues. When he got the opportunity, he called me up. It was pretty much a dream come true, obviously when you wait that long. But I tried not to think about it like that. You just keep playing every day."
Here is a list of the players who made their major league debuts with the Mets in their 30s and beyond. The only position players are Gilbert and Mike Glavine, the brother of pitcher Tom Glavine:
Ken Takahashi 40.016 May 2, 2009
Satoru Komiyama 36.201 April 4, 2002
Dae-Sung Koo 35.245 April 4, 2005
Hisanori Takahashi 35.005 April 7, 2010
Masato Yoshii 32.350 April 5, 1998
Raul Valdes 32.135 April 11, 2010
Shawn Gilbert 32.082 June 2, 1997
Ryota Igarashi 30.315 April 8, 2010
Mike Glavine 30.233 Sept. 14, 2003
HOME/ROAD DIFFERENTIALS
The Mets have struggled to explain their disparity between home and road performance. And perhaps their next road trip, to also-rans Baltimore and Cleveland, will be a recipe for closing the gap. As of now, the Mets already are approaching the biggest home/road win differentials in franchise history -- and it's just a third of the way into the season.
The Mets have 22 home wins and eight road wins in 2010. That difference of 14 would rank fourth in the team's history. Here are the biggest win differentials between home and road:
Year Diff. Home Road Season notable
1963 17 34-47 17-64 22-game road losing streak snapped 7/30
2000 16 55-26 39-42 Last World Series appearance
1989 15 51-30 36-45 Dwight Gooden's 100th win.
2010 14 22-9 8-18 COO Jeff Wilpon visits Atlanta
1983 14 41-41 27-53 Mets acquire Keith Hernandez
1964 13 33-48 20-61 Shea Stadium opens, hosts All-Star Game
1990 13 52-29 39-42 Bud Harrelson replaces Davey Johnson as skipper
1996 13 42-39 29-52 Bobby Valentine replaces Dallas Green as skipper
2005 13 48-33 35-46 "New Mets" debut with Pedro, Carlos Beltran
Seven times in franchise history the Mets had more road wins than home wins.
Adam Rubin's 'In-depth' look at the Mets will appear selected Tuesdays during the season