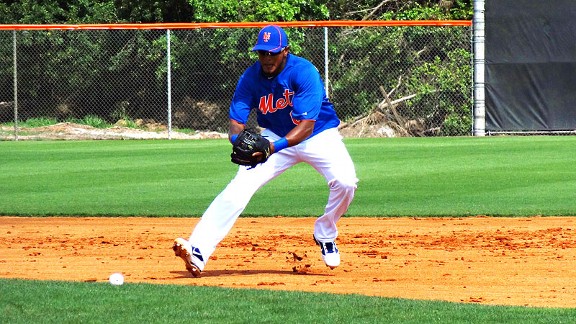 Adam Rubin
Prospect Jordany Valdespin takes grounders at second base during spring training.
Ronny Cedeno landed on the disabled list before Monday's doubleheader with an intercostal strain on his left side.
Right-hander Jeremy Hefner officially was promoted to back up Miguel Batista. Then the Mets can add Jordany Valdespin in that spot after getting through the doubleheader with the extra pitcher.
Valdespin technically is on a taxi squad at the moment, allowing him to participate with the Mets for up to 24 hours without being activated.
The taxi squad is new under the collective bargaining agreement. Josh Satin similarly was brought to Philly last road trip without being activated because of uncertainty about David Wright's pinkie. No injury uncertainty needs to exist, though. Any taxi squad player just needs to leave the following day if he's not joining the 25-man roster.
Valdespin, 24, was hitting .276 with two homers and seven RBIs in 76 at-bats with Triple-A Buffalo. He has appeared in center field -- a new position for him in the Mets organization -- in 14 of his 17 games.
Valdespin took a taxi with Hefner after learning this morning his services were needed. The Bisons were playing at Lehigh Valley.
"It's not difficult. It's good," Valdespin said about being proficient at three positions -- second base, shortstop and center field. "I'm a young guy. If I can play three positions in the field, I can help the team much better. I can be a utility guy. I just worked hard. If the Mets need me in the outfield, I'll play outfield. If they need me at second, I'll play second. I'm ready for the chance to play in the big leagues."
Hefner has not yet appeared in a major league game. He twice was claimed off waivers this offseason, by Pittsburgh from San Diego, and then by the Mets from Pittsburgh.
Meanwhile, left-hander Josh Edgin is expected to join Buffalo from Double-A Binghamton. Edgin, who was added to big league camp midway through spring training, had a 1.42 ERA and two saves while allowing five hits and two walks in 6 1/3 innings with the B-Mets. He struck out five during that span.